Published 09-09-13
Submitted by Teens Turning Green
Youth led non-profit Teens Turning Green (TTG) is mobilizing high school and college students in the US and worldwide to green lifestyles, schools, and communities through Project Green Challenge 2013. Now in its third year, PGC is a 30-day eco lifestyle challenge from October 1 – 30. Participants will take on a challenge a day, each focused on a unique theme aimed at building a powerful, diverse and far-reaching movement of change makers. The goal is to inspire youth to transition from conventional to conscious living by taking small steps that will help to sustain a healthy, just and thriving planet.
Participants share responses, experiences, and deliverables on the projectgreenchallenge.com digital platform and TTG's social media outlets to acquire points and win prizes each day. Up to 14 finalists will be selected to attend the Challenge Finals: Green University, a three-day eco-summit held in the Bay Area in California from November 22 – 24. "Green University gave me the opportunity to join a community of like minded environmental youth activists, learn from renowned leaders, and share my own experience from Project Green Challenge 2012. The network of students and mentors created at Green U has been an incredible resource both for campaign building and friendship," said Anna Hankins, a PGC 2012 finalist and PGC 2013 Campus Rep at University of Massachusetts Amherst.
Finalists will be flown to San Francisco where they will work with esteemed eco leaders, present experiences from their 30-day experience and co-develop unique platforms for social action that will be implemented by TTG and youth worldwide in 2014. Green University will culminate with the selection of the Project Green Challenge Champion by a panel of judges. The champion will win the Grand Prize package valued at over $12,000, including a $5,000 Green Award, trip to the Natural Products Expo in Anaheim from Aubrey Organics, $1,000 Whole Foods Market gift card, organic bedding from Under the Canopy, a trip to the Gaia Herbs farm, head-to-toe eco makeover including clothing and body care products, along with an awesome selection of eco items to continue on the path from conventional to conscious living.
"The Challenge offers a multitude of simple, fun and high impact entry points into conscious living, informing my generation about better practices and products that are relevant to our daily lives and school campuses," said Erin Schrode, 22, co-founder of TTG. "This is about the collective impact of individual actions and collective efforts to bring about the healthy and just world we wish to see."
PGC seeks to mobilize thousands of students at hundreds of schools in the US and worldwide to become informed, active, conscious citizens.
The TTG team and 23 interns spent the summer developing challenges, partnerships, and an outreach strategy to over 6,000 schools, including commitments from University of California Santa Barbara, University of Southern Mississippi, Johns Hopkins University, Ohio State University, New York University, Virginia Tech, Rice University, University of Alabama, University of Illinois, University of Arizona, University of Georgia, University of San Diego, and many more.
The PGC 2012 global initiative hosted 2,700 student participants, representing 464 campuses in 49 states and 33 countries. In 2013, TTG worked with students to build out the social action platforms developed at last year's Challenge Finals, including focuses on banning single use water bottles, the nationwide Conscious College Road Tour, PGC Curriculum to launch later this month, the #nongmo students for the right to know campaign, Conscious Eats, the Food Book: A Conscious Approach to College Cooking and Eating, the Conscious Collections, and the Green Girls Blog, among others.
"The global response to PGC 2013 from students, school leaders, businesses, and non-profit organizations has been vast and inspiring. The will to collaborate can sustain our planet! It is unique to have partners from so many sectors join forces to mentor this generation of magnificent youth and affect tangible change," said Judi Shils, Founder and Executive Director of Teens Turning Green. "With this energy, transformation in our daily lives, on school campuses, and in our communities becomes possible."
For more information, to sign up, or to get involved, visit TeensTurningGreen.org or call 415.289.1001.
Project Green Challenge 2013 Sponsor Team
Platinum Sponsors include: The Shaw Fund
Gold Sponsors include: Lisa and Douglas Goldman Fund, Whole Foods Market, Kimpton Hotels, Nature's Path
Silver Sponsors include: Acure Organics, Amy's Kitchen, Aubrey Organics, Crofter's Organic, Dr. Bronner's Magic Soaps, Good Earth Natural Foods, Guayaki Yerba Mate, JetBlue Airways, Natracare, Numi Organic Tea.
Bronze Sponsors include: Annie's Homegrown, EO Products, Fred Gellert Family Foundation, Juice Beauty, Kejriwal Paper, Manitoba Harvest, Nourish, Swisspers Organic, U Konserve, Under the Canopy, and Green Smart.
Copper Sponsors include: Ecojot, Eileen Fisher, Nativas Naturals, RW Garcia, Vermont Soapworks.
Non Profit Partners include: Global Action Through Fashion, Whole Foods Market Whole Kids Foundation, Women's Voices for the Earth, Environmental Working Group, NRDC, and more.
Media Partners include: CSR Wire, Earth 911, Ecofabulous.com, Organic Beauty Talk, GretaGuide.
About:
Teens Turning Green is a student led movement devoted to education and advocacy around environmentally and socially responsible choices for individuals, schools, and communities. TTG seeks to promote global sustainability by identifying and eliminating toxic exposures that permeate daily life, often unknowingly, yet threaten public and environmental health. What began in California in 2005 now has a presence at elementary, middle and high schools, universities, and student organizations across the United States, and around the world as well as a strong virtual platform and media presence. Chapters nationwide lead grassroots efforts that aim to raise awareness, encourage behavior change, and lobby for policy that will lessen local and global impact.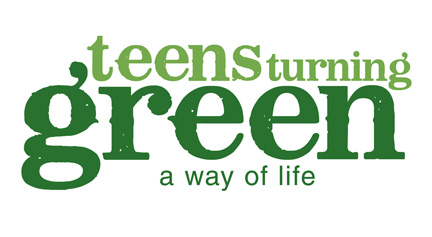 Teens Turning Green
Teens Turning Green
Teens Turning Green is a student led movement devoted to education and advocacy around environmentally sustainable and socially responsible choices for individuals, schools, and communities. TTG seeks to engage students in the transition from conventional to conscious, empowering the next generation and mobilizing action to sustain our earth!
More from Teens Turning Green