Published 09-03-13
Submitted by B Lab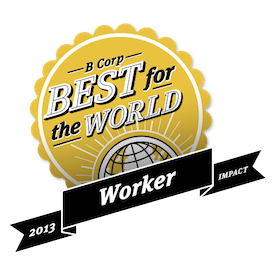 Today, 79 companies across 39 industries and 6 countries were recognized for creating the most positive impact for their workers by the nonprofit B Lab, with the release of the 'B Corp Best for the Workers List', the third installment in its 2013 'B Corp Best for the World' series.
Companies earning this honor include fast-growing venture-backed e-commerce businesses like Etsy, well known employee-owned brands including Dansko, King Arthur Flour and New Belgium Brewing Company, and worker-cooperatives Cooperative Home Care Associates, Home Care Associates and Namaste Solar. 25% of honorees are based outside the US, including 14 Canadian companies and a telecommunications company in Afghanistan (Roshan), a recycling company in Chile (Triciclos), and an investor in smallholder farmers in Kenya (Juhudi Kilimo). Over 90% of honorees are services businesses. (Full list of honorees below.)
"Study after study shows that being 'best for workers' means being best for shareholders because the name of the game is winning the war for talent", said Jay Coen Gilbert, co-founder of B Lab, the nonprofit organization that certifies B Corporations and governs the B Impact Assessment. "The B Corp Best for Workers honorees are the companies people want to work for and invest in because they've proven they're the best of the best by meeting rigorous, comprehensive third party standards people can trust."
The 'B Corp Best for Workers List' honors businesses that earned an overall score in the top 10% of all Certified B Corporations for their positive impact on their workforce, as measured by the B Impact Assessment, a comprehensive assessment used by more than 10,000 businesses to measure their impact on their workers, community and the environment. This analysis includes metrics regarding worker ownership, compensation and benefits, management and worker communication, training and education, work environment and occupational health and safety.
Each honoree is a Certified B Corporation, a new type of company that uses the power of business for good and meets rigorous standards of overall social and environmental performance, accountability, and transparency. Today there are over 800 Certified B Corporations across more than 60 industries and 27 countries, unified by the common goal to redefine success in business.
In April, B Lab recognized 67 companies as 'Best for the World' (overall impact); in June, 63 companies as 'Best for the Environment'; and in November, will release a final 2013 list recognizing companies as 'Best for Communities'.
B Lab is a nonprofit organization that serves a global movement to redefine success in business. It's vision is that one day all companies will compete not only to be the best in the world, but best for the world.
B Lab drives this systemic change through a number of interrelated initiatives: 1) building a community of Certified B Corporations who lead this movement and make it easier to tell the difference between "good companies" and good marketing; 2) passing benefit corporation legislation to create a new kind of corporation legally required to create value for society, not just shareholders; 3) helping businesses and investors assess, compare and increase their impact through use of the B Impact Assessment, a free educational tool and the B Analytics, a flexible, customizable data platform.
Executives from each honored company available for comment. For more information contact Katie Kerr at katie@bcorporation.net, (610) 293-0299.
2013 'B Corp Best For Workers' Honorees
Midsize Businesses (50+ Employees)
3Degrees Group Inc. (CA)
3Degrees Group provides green power and carbon offset products and services to Fortune 500 companies, utilities, green building firms, and other organizations that are working to make their operations, products, and services more sustainable.
Change.org (CA)
Change.org is the world's largest petition platform.
Cooperative Home Care Associates (NY)
CHCA is the nation's largest worker-owned cooperative, providing high-quality home care services to elders and individuals living with disabilities—primarily African-American and Hispanic residents of the South Bronx, Harlem and Washington Heights.
Dansko (PA)
Dansko is a leader in providing innovative comfort footwear while standing at the forefront of sustainable and ethical business practices.
Etsy (NY)
Etsy is an e-commerce website focused on handmade or vintage items, as well as art and craft supplies.
First Rate, Inc. (TX)
First Rate® provides investment performance measurement and analysis solutions to the wealth management industry.
Home Care Associates (PA)
HCA is committed to the care and improvement of human life and strives to deliver high quality, cost effective healthcare in the communities we serve. Home Care Associates of Philadelphia (HCA) has dedicated itself to a quality care through quality jobs mission. By providing quality home care jobs, HCA works to ensure quality care across the Philadelphia metropolitan area for elders and people with disabilities.
King Arthur Flour Company (VT)
King Arthur Flour Company is an employee-owned retailer of specialty flours, cookbooks, baking tools, ingredients and baked goods.
LATITUD 90 (Chile)
LATITUD 90 provides travel and outdoor programs.
Namaste Solar (CO)
Namaste Solar provides PV design, engineering, installation, maintenance, and consulting services to residential, commercial, builder, non-profit, and government customers throughout the U.S.
New Belgium Brewing Co, Inc. (CO)
New Belgium Brewing is a regional, employee owned brewery and the maker of Fat Tire Amber Ale and a wide variety of award winning beers.
PeaceWorks Technology Solutions (ON, Canada)
PeaceWorks Technology Solutions provides first-rate technology solutions that enable organizations to achieve their mission with increased ease and efficiency.
Rally Software (CO)
Rally Software is a cloud computing-based solutions for managing Agile software development.
Roshan (Telecom Development Company Afghanistan Ltd.) (Afghanistan)
Roshan is Afghanistan's leading telecommunications provider.
Scientific Certification Systems (CA)
SCS Global Services promotes environmental stewardship and social responsibility by providing trusted third-party certification and auditing, and driving the development of science-based leadership standards in support of sustainable development.
Sungevity (CA)
Sungevity is one of the nation's fastest growing residential solar companies. They seek to make solar installation more accessible and affordable to the community by providing education, an online iQuote process that relieves the hassle of home visits, and various lease options to reduce upfront financial burden.
The Redwoods Group (NC)
The Redwoods Group is a social enterprise using insuring and risk management solutions to make the world better.
Trico Homes (AB, Canada)
Trico Homes is a builder of new single and multi-family homes which creates value by providing meaningful product choices through controlled, consistent processes and best practices.
Small Businesses (10-49 Employees)
Abacus Wealth Partners, LLC (PA)
Abacus Wealth Partners provides wealth management and investment advice.
Audacious Inquiry (MD)
Audacious Inquiry advances the interests of leading institutions by applying their experience in health information systems integration, master data management, and web application development.
Azavea (PA)
Azavea provides geographic web and mobile software as well as geospatial analysis services.
Baldwin& (NC)
Balwin& is an advertising and branding agency.
Bullfrog Power (ON, Canada)
Bullfrog Power offers renewable power and electricity generation and distribution services.
ChangeIt (ON, Canada)
ChangeIt® is a patented process that leverages the rapid shift from cash to electronic payments by providing automated charitable giving through the creation of Virtual Change® on eWallets, payment cards, etc.
Community Wealth Partners (formerly Community Wealth Ventures) (DE)
Community Wealth Partners offers strategy and implementation services to nonprofit organizations and philanthropic foundations, partnering with them to design and implement innovative approaches to growth and sustainability.
Corporate Knights (ON, Canada)
Corporate Knights is a media, research and financial products company focused on quantifying and animating clean capitalism drivers for decision makers.
Enrollment Resources Inc. (BC, Canada)
Enrollment Resources helps schools become more efficient in their business operations resulting in clients becoming more viable and vibrant.
focus (Chile)
focus is a research and consulting firm specializing in public policies, program planning, assessment, design, implementation and advisory in social development matters in both the private and public sectors.
ForceBrain.com (CA)
ForceBrain.com helps companies implement, optimize, automate, and extend their CRM system.
Green Building Services/BuildingInsigts LLC (OR)
Green Building Services provide services and tools to design, construct, and operate buildings and communities that are responsible, enduring and healthy.
Green Living Enterprises (ON, Canada)
Green Living Enterprises is Canada's leading cause-marketing agency focused on social and environmental program development.
Greentech Capital Advisors (NY)
Greentech Capital Advisors is a global investment banking firm dedicated to serving companies that are transforming the world's energy, industrial and resources infrastructure.
Impact Makers, Inc. (VA)
Impact Makers delivers information technology and management consulting professional services, focused on the healthcare industry.
Juhudi Kilimo (Kenya)
Juhudi Kilimo finances agricultural assets for smallholder farmers and rural enterprises across Kenya.
Milepost Consulting (WA)
Milepost Consulting is a women-owned management consulting firm that guides clients to their desired destination creating a compelling success story that can be shared with others for years to come.
Myplanet Digital (ON, Canada)
Myplanet Digital is a design and technology company specializing in the process and practice of envisioning, designing, and building digital products.
Partnership Capital Growth (CA)
Partnership Capital Growth is a global merchant bank with an exclusive focus and expertise in consumer-oriented markets across health, wellness, active lifestyles and sustainable products and services.
ProtoTest (CO)
ProtoTest helps clients test mobile and web software to ensure a positive user experience, including functionality, performance and security.
RocketOwl Inc. (ON, Canada)
RocketOwl Inc. is a game development company that specializes in creating high-quality, fun and engaging games for online social and mobile networks.
SMART Watering Systems Inc. (ON, Canada)
SMART Watering Systems provides irrigation design and rainwater harvesting systems.
The CAPROCK Group (ID)
The CAPROCK Group develops customized, comprehensive and strategic financial solutions for high net worth individuals and families who don't have the expertise or the time to do so on their own.
Triciclos (Chile)
Triciclos is a recycling company based in Santiago, Chile.
Trillium Asset Management (MA)
Trillium Asset Management is an independent investment advisor devoted exclusively to sustainable and responsible investing (SRI).
Varsity Technologies, Inc. (CA)
Varsity Technologies helps schools and non-profits make strategic information technology decisions.
Veris Wealth Partners (NY)
Veris Wealth Partners is a wealth management firm committed to helping align customer's wealth with their mission.
Wasmer, Schroeder & Company, Inc. (FL)
Wasmer, Schroeder & Company is an investment advisory firm specializing in fixed-income portfolio management for families and institutions with a focus on providing a broad range of solutions designed to accomodate client's specific needs.
WorkplaceDynamics (DE)
WorkplaceDynamics is an employee survey company in the US, surveying more than 4,500 companies and 1.5 million employees.
Micro-Enterprises (<10 Employees)
A&R Solar (WA)
A&R Solar specializes in the design and installation of solar photovoltaic and solar hot water systems.
Beartooth Capital (MT)
Beartooth Capital is an investment firm that buys and sells exceptional ranch properties in the American West to generate strong investment returns, real conservation results and community benefits.
BluPlanet Recycling Inc. (AB, Canada)
BluPlanet Recycling is Calgary, Canada's, premiere provider of mixed-materials (co-mingled) recycling collection services for both multi-family residential and commercial properties.
C-Level Management, Inc. (CA)
C-Level Management is a leading business strategy and technology consulting firm which prides itself on empowering socially conscious companies.
Dharma Merchant Services (CA)
Dharma Merchant Services offers merchant services, merchant accounts, credit card terminals and online payment gateways while pursuing a mission to provide excellent service while showing compassion for the environment, their communities, their customers and themselves.
Ecotrust Forest Management (OR)
Ecotrust Forest Management is a forestland investment management and advisory services company that generates long term value for both investors and society by facilitating positive environmental outcomes and supporting job creation in rural communities.
Education Funding Partners (CO)
Education Funding Partners provides Fortune 500 corporate marketing sponsorships exclusively for major public school districts
Emerge Financial Wellness (CA)
Emerge Financial Wellness is a workplace-based financial wellness program that partners with employers to help their workers plan their financial futures.
Exygy (CA)
Exygy builds world-class technology to create positive social change. They work with changemakers and empower them with software to amplify the good work they do.
Farmland LP (CA)
Farmland LP acquires conventional farmland and converts it to organic, sustainable farmland, in a structure similar to a private farmland REIT.
Good for Business (WI)
Good for Business is a full service creative communications firm dedicated to serving only socially-responsible and sustainably-conscious businesses.
Idealist Consulting (OR)
Idealist Consulting is dedicated to providing organizations (businesses, public sector and government) with advanced technical solutions that help them run more effectively.
Invested Development (MA)
Invested Development invests in seed stage, for-profit social enterprises with innovative solutions to poverty in mobile technology and alternative energy.
Little Pickle Press (CA)
Little Pickle Press is a publisher of high quality, high impact media for children.
Mark Leibowitz Photography Inc. (CA)
Mark Leibowitz Photography Inc. creatively develops and executes sustainable photography and video services for advertising, editorial, private and non-profit clients.
Maxwell Health (NY)
Maxwell Health is designed to simplify health for small businesses, and middle class families in the individual market.
NRG Insurance (WA)
NRG Insurance is an independent insurance brokerage with a long history of doing things differently.
OneRoof, Inc. (CA)
OneRoof supports the belief that Internet access should be a Universal Right for people of all walks of life. Its market-leader CyberCafePro® management software is distributed free worldwide to help bridge the digital divide by supporting the sustainability of private Internet cafes and public computing telecentres (via improved management and capturing social metrics for continued public funding).
Opticos Design, Inc. (CA)
Opticos is an architecture, urban design and city planning firm that works with cities and developers to help sustainable communities emerge and livable communities thrive.
Palmetto (London, UK)
Palmetto offers a fully integrated service to lead organizations towards cost-effective and sustainable solutions through customized planning to deliver tangible investment opportunities totalling over $10 billion to date towards a clean energy future.
Pivotal Production (IL)
Pivotal Production is an event design and production company committed to giving back.
Praxis Consulting Group (PA)
Praxis Consulting Group is an organizational development consulting firm which assists mission driven businesses and nonprofits to develop high-performing, sustainable workplaces.
Purpose Capital (ON, Canada)
Purpose Capital is a management services company that works exclusively with socially and environmentally purposed businesses and entrepreneurs to launch and scale their ventures.
RSF Capital Management, Inc. (CA)
RSF offers investing, lending, and giving services that generate positive social and environmental impact while fostering community and collaboration among participants.
Sarona Asset Management Inc. (ON, Canada)
Sarona Asset Management is a leading impact investment asset manager which acts as a bridge between private capital markets and investment opportunities in emerging and frontier markets.
SEQUIL Systems, Inc. (FL)
SEQUIL Systems, Inc. is a professional services firm which provides highly technical building commissioning, LEED program management, energy modeling and sustainability consulting services to the architecture, engineering and construction industry.
Sourcemap Inc. (MA)
Sourcemap provides supply chain analysis and related software development and distribution.
Takt-etik (QC, Canada)
Takt-etik provides eco-advising for organizations and events.
The Earthkeeper Alliance (CA)
The EarthKeeper Alliance is dedicated to the conservation, preservation, restoration and thoughtful development of large tracts of land previously slated for large-scale development.
The Hub LA (CA)
The HUB LA offers members access to 4,000 square feet of creative industrial space to work, meet, learn, collaborate and play. It provides a curated community of values-aligned individuals and companies and custom programming and events focused on personal and professional development.
Water Power Group LP (ON, Canada)
Water Power Group develops community-based and community invested, carbon positive small hydro projects under the Ontario Feed-In-Tariff program.
World Leadership School (CO)
World Leadership school empowers young leaders to find new and innovative approaches to the world's pressing problems.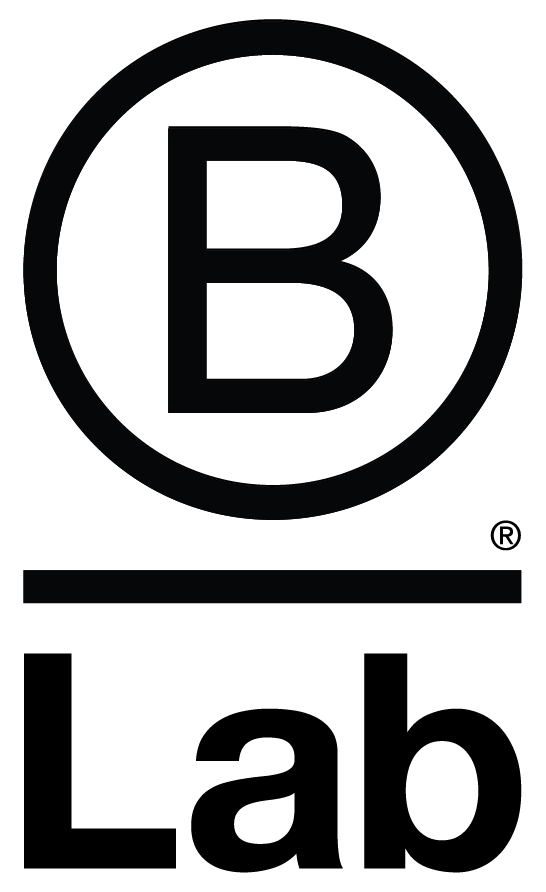 B Lab
B Lab
B Lab is a nonprofit organization that serves a global movement to redefine success in business. It's vision is that one day all companies will compete not only to be the best in the world, but best for the world.
B Lab drives this systemic change through a number of interrelated initiatives: 1) building a community of Certified B Corporations who lead this movement and make it easier to tell the difference between "good companies" and good marketing; 2) passing benefit corporation legislation to create a new kind of corporation legally required to create value for society, not just shareholders; 3) helping investors invest for impact through use of the B Analytics data platform; and 4) helping businesses measure, compare and improve their social and environmental performance through use of the B Impact Assessment as a free powerful educational tool.
More from B Lab