Published 08-14-13
Submitted by Bread Financial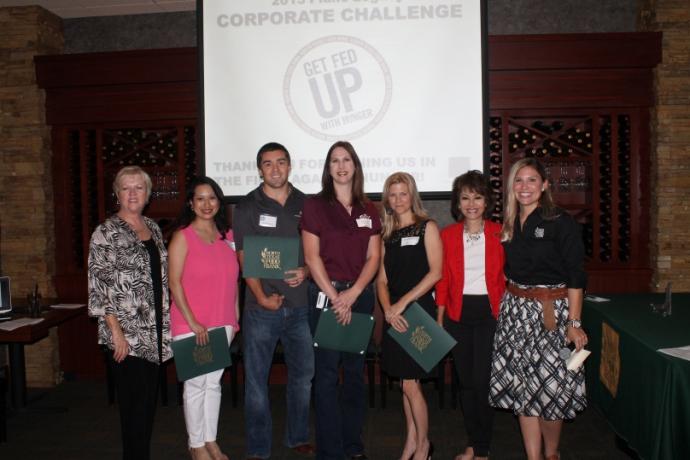 From left to right: Jan Pruitt (NTFB President & CEO), Monica Gonzales (jcpenney), Kyle Anderson (Hewlett Packard), Victoria Dunn (Ally Financial), Dana Beckman (Alliance Data), Mayor Pro Tem Lissa Smith (City of Plano), Laura Hoagland (NTFB).
Alliance Data partnered with the North Texas Food Bank (NTFB) recently, along with three Plano Legacy businesses, for the organization's first "Legacy Corporate Challenge" campaign. This campaign brought the Legacy business community together for a friendly competition to raise 150,000 meals through funds, food and awareness in support of hungry North Texans. The four participating businesses exceeded the campaign goal, raising 176,419 meals in just two weeks. Alliance Data donated more than $30,000 and collected more than 6,774 pounds of food, which provided nearly 96,000 meals to North Texas families. Participating companies also included Ally Financial, Hewlett Packard and jcpenney.
Each company had an employee representative or "Hunger Hero" who led the campaign at their company's campus. The Food Bank provided each Hunger Hero with the tools and resources to launch a successful campaign. To support the North Texas Food Bank's "Corporate Challenge," Alliance Data challenged its employees to tackle hunger in their communities through a canned food sculpture contest. Six superhero-themed teams of Alliance Data employees collected shelf stable food, and then created works of art from the items. The teams' "canstructures" were then judged by a representative from North Texas Food Bank, after which all food items were donated to the North Texas Food Bank for distribution to families in need.
"We are grateful to all of the participating companies for partnering with us to spread awareness of the critical issue of hunger and help us provide food to those in need," said Jan Pruitt, president and CEO of the North Texas Food Bank. "This campaign came during a critical time for the Food Bank, as summer is the hungriest season of the year for many North Texas families and children."
During the recent Food Bank awards ceremony, the campaign results and winners were announced:
Triple Threat (awarded to the company who most effectively incorporated food, funds and awareness into their campaign)
Award recipient: Alliance Data
Most Creative Campaign (awarded to the company who was the most innovative in raising food, funds and awareness)
Award recipient: Hewlett Packard
Most Meals per Capita (awarded to the company who raised the most meals in relation to the size of their staff)
Award recipient: Ally Financial
Super Hunger Hero (awarded to the Hunger Hero who went above and beyond the call of duty to ensure a successful campaign)
Award recipient: Kyle Anderson, Hewlett Packard
Plano, Texas, Mayor Pro Tem Lissa Smith was in attendance at the awards ceremony to help recognize participating companies.
"The City of Plano is grateful to the Plano corporate community that participated in the first North Texas Food Bank Legacy Corporate Challenge; including Alliance Data, Hewlett Packard, Ally Financial and jcpenney," said City of Plano Mayor Pro Tem Lissa Smith. "Together, these corporate employees were able to raise awareness about those at risk of hunger every day in Plano and North Texas. In just two weeks, they surpassed the goal by raising a total of 176,419 meals. We look forward to growing this event in Plano every year."
After the success of its inaugural year, the North Texas Food Bank plans to make the Corporate Challenge an annual campaign and invites all companies within the Plano Legacy area to get involved.
"North Texas Food Bank has taught us that summer is the hungriest time of year, which is why we've partnered with them for the past several years to collect and donate food during these crucial months," said Dana Beckman, Alliance Data senior manager of External Communications. "This year's campaign not only provided an engaging opportunity for our employees to give back , but it also allowed them to take ownership of the cause and flex their creative muscle. We are so humbled by our employees' response, and we're eager to step up to the challenge again next year."
Additional multimedia:

One team of Alliance Data employees "can-structed" a minion replica inspired by the movie Despicable Me.

Winners of the "most creative" design, this team of Alliance Data employees "crushed out hunger" with their Incredible Hulk design, complete with robotic arms and flashing lights.

This team of employees stacked cans to create a miniature Dallas skyline.
About North Texas Food Bank
The North Texas Food Bank (NTFB) is a top-ranked nonprofit relief organization which leads the fight against hunger with knowledge-based strategies to distribute donated, purchased, and prepared foods through a network of feeding programs in 13 North Texas counties. NTFB supports the nutritional needs of children, families and seniors through research, education, advocacy and strategic partnerships. In FY 2013, NTFB provided access to more than 64 million nutritious meals. Founded in 1982, the year 2012 marked NTFB's 30th anniversary. NTFB is a member of Feeding America (feedingamerica.org).
About Alliance Data
Alliance Data® (NYSE: ADS) and its combined businesses is North America's largest and most comprehensive provider of transaction-based, data-driven marketing and loyalty solutions serving large, consumer-based industries. The Company creates and deploys customized solutions, enhancing the critical customer marketing experience; the result is measurably changing consumer behavior while driving business growth and profitability for some of today's most recognizable brands. Alliance Data helps its clients create and increase customer loyalty through solutions that engage millions of customers each day across multiple touch points using traditional, digital, mobile and other emerging technologies. Headquartered in Dallas,Alliance Data and its three businesses employ approximately 11,000 associates at more than 70 locations worldwide.
Alliance Data consists of three businesses: Alliance Data Retail Services, a leading provider of marketing-driven credit solutions; Epsilon®, a leading provider of multichannel, data-driven technologies and marketing services; and LoyaltyOne®, which owns and operates the AIR MILES® Reward Program, Canada's premier coalition loyalty program. For more information about the company, visit our website, www.alliancedata.com, or follow us on Twitter via @AllianceData.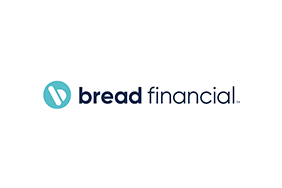 Bread Financial
Bread Financial
Bread FinancialTM(NYSE: ADS) is a tech-forward financial services company providing simple, personalized payment, lending and saving solutions. The company creates opportunities for its customers and partners through digitally enabled choices that offer ease, empowerment, financial flexibility and exceptional customer experiences. Driven by a digital-first approach, data insights and white-label technology, Bread Financial delivers growth for its partners through a comprehensive product suite, including private label and co-brand credit cards, installment lending and buy now, pay later (BNPL). Bread Financial also offers direct-to-consumer solutions that give customers more access, choice and freedom through its branded payment, lending and saving products.
Formerly Alliance Data, Bread Financial is an S&P MidCap 400 company headquartered in Columbus, Ohio, and committed to sustainable business practices powered by its 6,000+ global associates. To learn more about Bread Financial, visit BreadFinancial.com or follow us on Facebook, LinkedIn, Twitter and Instagram.
More from Bread Financial