Published 08-08-13
Submitted by AccountAbility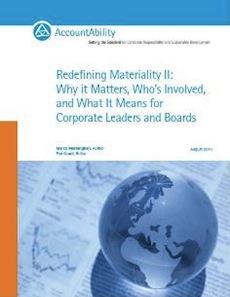 AccountAbility has released a comprehensive report examining the growing importance of non-financial factors on corporate performance, disclosure, and valuation. Redefining Materiality II was developed in response to accelerating acceptance that non-financial materiality is an influential factor in corporate valuation.
As part of a new series of publications on materiality, the report describes the landscape of various global materiality initiatives and provides a framework for corporate leaders and boards to enhance the definition and management of non-financial materiality.
"The boundaries between corporations, the environment and society continue to blur," said Ted Grant, Head of Global Research and Development at AccountAbility. "This blurring has made identifying and focusing on what is truly important to long-term company performance, impact and sustainability even more critical as a governance and management discipline."
To view the report, please visit: www.accountability.org/images/content/6/8/686/AA_Materiality_Report_Aug2013 FINAL.pdf.
On September 5, 2013, at 11:00am EDT, AccountAbility will host a webinar with report author Dr. Marcy Murninghan, editor Ted Grant, and private sector representatives. The discussion will focus on current developments in sustainability and materiality and their implications for private sector institutions.
To register for the webinar, please visit: attendee.gotowebinar.com/register/8254713640085721344.
To help us focus our discussion on the issues that are most pertinent to our webinar registrants, please take time to complete this short survey in addition to registering: www.surveymonkey.com/s/TFQRXZK.
To find out more about this research initiative and to receive your copy of the research report, please visit www.accountability.org or contact research@accountability.org.
About AccountAbility
AccountAbility is a leading international organization focused on mainstreaming sustainability into business thinking and practice. Since 1995 we have been helping corporations, non-profits and governments embed ethical, environmental, social and governance accountability into their organisational DNA. Our unique value proposition brings together leading-edge research, widely-recognized standards and strategic advisory services to deliver practical solutions for our clients.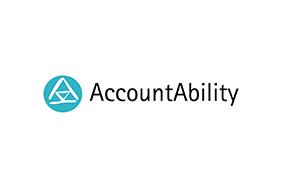 AccountAbility
AccountAbility
AccountAbility is a global consulting and standards firm that works with businesses, investors, governments, and multi-lateral organizations to achieve opportunities, advance responsible business practices, and transform their long-term performance. We focus on delivering practical, effective, and enduring results that enable our clients to succeed.
More from AccountAbility