Published 08-05-13
Submitted by Green America
Three leading green economy organizations have joined forces to grow and expand Green Festivals, the nation's largest and most successful series of consumer shows focusing on sustainability education and green products and services. Joining resources are: Green America, the nation's largest green business and consumer organization; Global Exchange, a human rights organization; and Messe Stuttgart/Germany, a leading international trade show organizer producing Europe's largest consumer shows on sustainability, green products and Fair Trade.
On July 31, 2013 the parties signed an agreement to cooperate in the production of Green Festivals across the United States, including New York City, Chicago, Washington, Los Angeles and San Francisco. This partnership will allow Green Festivals to reach more Americans with green living education and green consumer products.
For the last 13 years, Green Festival has pioneered consumer events showcasing exhibitors representing the green, sustainable economy in diverse sectors including food, fashion, lifestyle, mobility, finance, energy, body care, health, travel and more. The events also feature sustainability authors, leaders and educators, hands-on DIY workshops, green films, kids' activities, live music and local, organic vegetarian food courts. Green Festivals provide a unique shopping experience with cutting-edge green products and services from the nation's leading environmentally and socially responsible companies. Green Festivals are the only events in North America that screen exhibitors for their commitments to sustainability, ecological balance and social justice. Green Festival also walks its talk by recycling, reusing or composting 98 percent of all waste generated on-site, and continues to raise the bar for green event production with carbon offsets, on-site water refill stations, public transportation, bike valets and green hotel promotions.
With Messe Stuttgart joining this alliance, Green Festival gains an international perspective and benefits from the extensive experience in consumer and trade show production of its new German partner. "Green Festival is a natural ally and partner for our international sustainable event production. We produce a nearly identical event in Stuttgart that has had a powerful impact on changing consumer behavior in our community. From renewable power to natural foods to Fair Trade and civil society engagement – all these issues have helped Germany compete in international markets on the basis of very high standards," explains Roland Bleinroth, Managing Director of Messe Stuttgart.
Messe Stuttgart features a 1.1 million square-foot exposition center conforming to the highest standards of energy efficiency and sustainable buildings. "The series of consumer shows produced in Stuttgart, Germany is fully aligned with the philosophy and practice of sustainability of the Green Festivals," said Bleinroth. "This creates an exciting partnership full of great opportunities to learn from the best practices of the partners." Messe Stuttgart is owned in equal parts by the city of Stuttgart and the federal state of Baden-Wuerttemberg.
Alisa Gravitz, President and CEO of Green America said, "This new alliance is a dream team for the green economy. We'll be able to bring together even more green leaders – from local sustainability experts to green business entrepreneurs to major companies making deep commitments to social and environmental innovation – to help people find green products, services and solutions for their homes and communities."
Green Festival maintains high standards for its local green exhibitors, through Green America's Green Business Certification. In addition, companies like Ford Motor Company, showcasing their all-electric and hybrid vehicles, Honest Tea, Eileen Fisher, Clif Bar and Dr. Bronners, along with hundreds of local green businesses, come together to shine a light on the nation's best socially and environmentally responsible business practices.
A recent KPMG report entitled Measuring Up: Improving Sustainability in Consumer Markets reveals that consumers indicated they are more likely to choose a product that supports a certain cause, and seventy percent say they are willing to pay a premium for that product. Bleinroth concluded, "The global trend of responsible consumerism is something that Messe Stuttgart has helped advance in our production of B2B and B2C events on five different continents. We believe that the inherent value of products which are created locally, sustainably and with Fair Trade practices is the wave of the future. Green Festival is advancing this global market philosophy."
Background
About Messe Stuttgart
Messe Stuttgart is the organizer of a series of concurrent consumer shows in the Sustainable Economy, including shows like "The Market for good taste – the Slow Food Trade Fair," "FAIR HANDELN – international exhibition focusing on Fair Trade and globally responsible trade and activities," "Garden outdoor environment – exhibition for garden and lifestyle," "i-Mobility – exhibition for intelligent mobility, environment and technology," "YogaExpo – the trade fair for yoga, Ayurveda," "Haus Holz Energie – the large sustainable building and energy trade fair," and more. The concurrent events featuring over 1,150 exhibitors attract more than 80,000 visitors annually.
Messe Stuttgart assumes a pioneering role in Germany when it comes to the conservative use of resources and environment-friendly behavior in connection with events. The dedication and commitment of Messe Stuttgart is forward-looking: Its beautiful, state-of-the art exposition center in Stuttgart includes 34,000 square meters of solar panels, which produce 4.32 million kWh of electricity per year; precipitation is fed back to the natural water cycle via a retention basin, and an advanced energy efficiency system uses night-time electricity at a cheaper rate to make ice, which is then used to cool the rooms during the day. The company has created and implemented a "Green Statement" governing its business operations.
Sixty-seven trade fairs and exhibitions were held in Stuttgart in 2012 including 45 of its own events and 22 guest events—of which 43 were trade fairs and 24 consumer shows. Messe Stuttgart manages two subsidiaries in the growth markets China and Turkey. It also maintains a network of foreign representatives in 54 countries. www.messe-stuttgart.de/en
In 2012, Messe Stuttgart attained a total income of around 129 million Euros. Europe's most modern trade fair and congress center also attracted a total of 1.27 million visitors and 20,601 exhibitors in 2012.
About Green Festival
Green Festival®, a project of Green America and Global Exchange, celebrates what's working in our communities and around the world – for people, business and the environment. Green Festival® is the largest sustainability event in the country and continues to grow year after year featuring more than 125 renowned authors, leaders and educators; great how-to workshops; cutting-edge films; fun activities for kids; organic beer and wine; delicious vegetarian cuisine and diverse live music; and a unique marketplace of more than 350 eco-friendly businesses – everything from all-natural body care products and organic cotton clothing to Fair Trade gifts and beautiful kitchen tiles made from renewable resources. Green Festival is the only green event that screens exhibitors for their commitment to sustainability, ecological balance and social justice using Green America's green business standards. Green Festival® walks its talk: each year it gets closer to being a zero-waste event. www.greenfestivals.org
About Green America
Green America® is a not-for-profit membership organization, founded in 1982, working to harness economic power—the strength of consumers, investors, businesses and the marketplace—to create a socially just and environmentally sustainable society. Green America works for a world where all people have enough, where all communities are healthy and safe, and where the bounty of the Earth is preserved for all the generations to come. It runs the largest green business and green consumer networks. Its green economy programs tackle climate change, building fair trading systems, foster sustainable local communities and help families and businesses go green. www.greenamerica.org
About Global Exchange
Global Exchange is a 25-year-old international human rights organization dedicated to promoting social, economic and environmental justice around the world. We envision a people-centered globalization that values the rights of workers and the health of the planet; that prioritizes international collaboration as central to ensuring peace; and that aims to create a local, green economy designed to embrace the diversity of our communities. Global Exchange's influential Reality Tours program builds international understanding by people-to-people exchanges in countries such as Iran and Cuba. globalexchange.org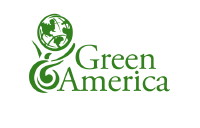 Green America
Green America
Green America is United States' leading green economy organization. Founded in 1982, Green America provides the economic strategies, organizing power and practical tools for businesses and individuals to solve today's social and environmental problems. Green America's green economy programs encourage corporate responsibility, tackle climate change, build fair trading systems, advance healthy, local communities, and provide green purchasing and investing information for families and businesses. To receive Green America's popular publications, including the Green American and the National Green Pages™, participate in Green Festivals, or to get its free e-newsletter, providing the latest green news, green discounts, and opportunities to take action for a green economy, visit http://www.GreenAmerica.org, email info@GreenAmericaToday.org, or call at 800-58-GREEN.
More from Green America