Published 08-01-13
Submitted by B Lab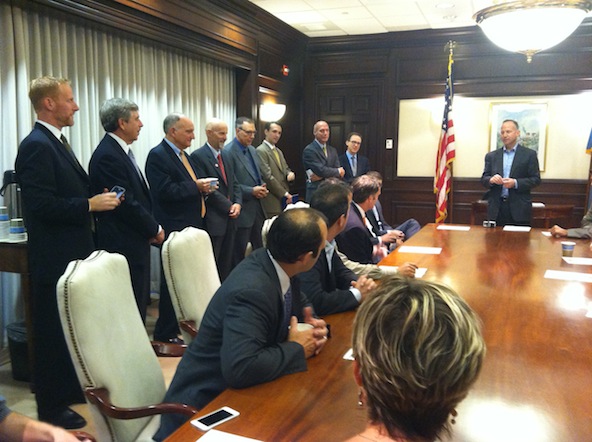 Governor Markell, Entrepreneurs and DE State Legislators celebrate the first DE benefit corporations
Today, Delaware Governor Jack Markell and Secretary of State Jeffrey Bullock welcomed a record 17 companies to register as Delaware benefit corporations on the statute's first effective date.
Registering companies include popular home goods brand Method Products, fastest-growing organic baby food brand Plum Organics, innovative paper company New Leaf Paper, leading fair trade food business Alter Eco and Farmigo, the world's first online personal delivery farmer's market. Venture capital investors, corporate investors and parent companies of these businesses include San Francisco Equity Partners and European eco-leader Ecover (Method), American icon Campbell Soup Company (Plum), Benchmark Capital and RSF Social Finance (Farmigo), Pacific Community Investors (New Leaf Paper) and Good Capital (Alter Eco).
"Benefit corporations meet a market need and a societal need," said Governor Jack Markell. "They have the potential to create high quality jobs and improve the quality of life in our communities."
"B Corp re-imagines corporate governance in a way that drives value creation for all and creates lasting companies," said Michael Eisenberg of Benchmark Capital.
Delaware is the 19th state (plus the District of Columbia) to enact benefit corporation legislation, but as legal home of most venture-backed businesses, the majority of publicly-traded companies, and nearly two-thirds of the Fortune 500, it is the most important state for businesses that seek access to venture capital, private equity and public capital markets. Current Delaware law requires corporations to prioritize the financial interests of shareholders over the interests of workers, communities and the environment. Benefit corporations enjoy legal protection to create value for society, not just for shareholders, while meeting higher standards of accountability and transparency.
"Part of Method's mission is to show that business can be a force for social and environmental good. Delaware benefit corporation law enables responsible businesses like Method to practice a more enlightened form of corporate governance that includes not only financial objectives, but social and environmental objectives," said Adam Lowry, Co-Founder and Chief Greenskeeper of Method Products.
"Adopting this legislation is a natural extension of how we do business at Plum," said Neil Grimmer Co-founder & President of Plum Organics. "We are committed to providing little ones with the very best food from the very first bite, and a publicly stated benefit recommits us to that core value. We are honored to be among the first to reincorporate as a
benefit corporation, and hope today will set the stage for many like-minded companies to join us."
In recognition of what members of the Delaware Bar have called a "seismic shift in corporate law," more than 600 business leaders from the community of B Corps have signed an Open Letter inviting their colleagues to join them in redefining success in business. Signatories include well-known businesses like Patagonia and Ben & Jerry's and high growth businesses like online marketplace Etsy and eyewear company Warby Parker; the Open Letter to Business Leaders can be read at www.bcorporation.net/open-letter-to-business-leaders.
Benefit corporations are a new kind of corporation legally required to: 1) have a corporate purpose to create a material positive impact on society and the environment; 2) expand fiduciary duty to require consideration of the interests of workers, community and the environment; and 3) publicly report annually on its overall social and environmental performance using a comprehensive, credible, independent and transparent third party standard. Delaware's statute does not require use of a third party standard and only requires reporting to shareholders, not to the general public.
Four other companies, SustainAbility, Honest Company, GOOD Inc. and Performance Management Institute, have also committed to registering as benefit corporations in the coming year.
"With the passage of Delaware Benefit Corporation legislation, the path is now clear to scale business as a force for good," said Andrew Kassoy, B Lab Co Founder. "It's great to see venture capital and corporate investors taking advantage of this new tool to scale mission driven businesses on the very first day."
______________
Companies Registering as Delaware Benefit Corporations: Alter Eco; American Prison Data Systems; Better Than We Found It; Exemplar Companies; Farmigo; Fair Parenting Project; Grassroots Capital Management; Ian Martin Group; Method; New Leaf Paper; Performance Measurement Institute; Plum Organics; Profile Health Systems; Plexx; RSF Capital Management; Socratic Labs; VenturePilot.
B Lab is a 501c3 nonprofit organization that serves a global movement to redefine success in business so that all companies compete not only to be the best in the world, but the best for the world.
B Lab drives this systemic change by: 1) building a community of Certified B Corporations to make it easier for all of us to tell the difference between "good companies" and good marketing; 2) passing benefit corporation legislation to give business leaders the freedom to create value for society as well as shareholders; 3) helping businesses and investors measure, compare and improve their social and environmental impact through use of its free B Impact Assessment, and its B Analytics and GIIRS Ratings platform. For more information, see www.bcorporation.net, www.benefitcorp.net, www.bimpactassessment.net and www.giirs.org.
Registering Company Information
Company: Method
Description:
Founded in 2000, Method is the pioneer of premium planet-friendly and design-driven home, fabric and personal care products. Formulated with naturally derived, biodegradable ingredients, Method cleaners put the hurt on dirt without doing harm to people, creatures or the planet. Today, Method can be found in more than 40,000 retail locations throughout North America, Europe, Australia and Asia. Major national retailers include Target, Lowe's Home Improvement Centers and Kroger. Method is a privately held company headquartered in San Francisco, Calif. For more information, visit methodhome.com.
Quote:
"Delaware benefit corporation law allows Method to build into its corporate governance the highest standard of social and environmental ethic. By committing ourselves to a higher standard of public benefit, Method is proving that business can be a powerful force for social and environmental good."
Press Contact:
Rachel Rosenblum
E-mail: rachel@methodhome.com
Website:
Company: Plum Organics
Description:
Plum Organics® is a pioneer and a leading provider of premium, nutritious organic baby food, toddler and kid snack food products. Recognized for their unique, culinary-inspired recipes and a modern approach to family nutrition, Plum offers a complete line of organic products that ensure healthy eating from the highchair to the lunchbox™. Plum has dedicated its social mission to delivering nutrient rich, organic food into the hands of little ones in need across America. Forbes magazine named Plum #19 on its 2013 list of "America's Most Promising Companies." For more information about Plum please visit: www.plumorganics.com.
Quote:
"Adopting this legislation is just a natural extension of how we do business at Plum," said Neil Grimmer Co-founder & President of Plum Organics. "We are committed to providing little ones with the very best food from the very first bite, and a publicly stated benefit recommits us to that core value. We are honored to be among the first to reincorporate as a PBC, and hope today will set the stage for many like-minded companies to join us. Together, we are redefining what it means to be a good company in this new economy."
Press Contact:
Allyson Noonan
Phone: 646.688.3530
E-mail: Anoonan@plumorganics.com
Website:
Company: Alter Eco
Description:
Co-founded by Mathieu Senard and Edouard Rollet, Alter Eco is a values-based brand of specialty food products that brings delicious, exotic, high-quality and healthy foods from around the world to consumers in the United States, while directly benefitting small producers in the global South. Alter Eco's product portfolio includes Bolivian Royal quinoa, Swiss-made chocolate bars and truffles (launching Fall 2013), Thai Colored rice and Mascobado sugar from the Philippines. All Alter Eco products are 100% Fair Trade, organic, carbon neutral and non-GMO verified. To learn more visit alterecofoods.com.
Quote:
At Alter Eco, one of our core motivations in becoming a Benefit Corporation is to prove that it is possible to build a successful and profitable business while respecting high economic, social and environmental standards from a company's beginnings. Thus proving that a company can benefit all stakeholders – suppliers, employees, the communities in which they do business and shareholders, restore the environment, and at the same time provide a healthy return for investors.

Sustainability throughout the supply chain is embedded within the DNA of our company: all of our products are fairly traded and organic, we offset 100% of our carbon emissions by replanting trees within our supply chains and we package our products in compostable/recyclable material. Becoming a Benefit Corporation helps us put these long-term commitments on equal footing with the need to provide investors with a healthy return on their investment.
Press Contact:
Nicole Shore
Phone: 347.627.0134
E-mail: Nicole.Shore@zerotosixtycommunications
Website:
Company: New Leaf Paper
Description:
It is our mission to inspire a fundamental shift towards sustainability in the paper industry. Use of New Leaf papers extends the highest sustainable environmental values into the world of fine commercial and publication print as well as in office, business and copier paper product paper consumption. We will continue to set the bar of sustainable papers and are passionately committed to making it easy to do the right thing. We believe that legislation alone cannot change behavior; rather they can support and thus make it easier for a new community of private enterprise companies to step up and change the culture by creating a responsible new economy based on doing what is right for both the local community and society at large without harm to the earth. It is our hope as a contributing member of this community the next ten years will see the private sector make a fundamental shift in our overall cultural values through a growing and successful B Corp movement.
Quote:
New Leaf Paper is becoming a benefit corporation to extend the reach of our core values by helping to create an environmentally and socially responsible economic community through adherence to legislation that enforces responsible actions governing their behavior.
Press Contact:
Joe Fanelli, CEO
Phone: 415.830.4546
E-mail: joe@newleafpaper.com
Website:
Company: Farmigo
Description:
The Farmigo team is dedicated to accelerating the adoption of a better food system by enabling families to eat healthier and delivering locally grown food to households across the country.
Quote:
"Our decisions and success is driven by what is best for our consumers, farmers on our network and our employees. B Corp provides the legal legitimacy to make decisions based on our values as well as sends a clear signal to our community that our perspective is their long term benefit and not short-term financial gain."
Press Contact:
Benzi Ronen CEO/Founder
Phone: 415 717 4227
E-mail: benzi@farmigo.com
Website:
Company: Ian Martin Group
Description:
Founded in 1957, the Ian Martin Group is North America's most progressive recruitment and project-staffing firm. As a Certified B Corporation, the company meets comprehensive standards that measure its impact on employees, clients, community and the environment. Its guiding statement is: "building authentic connections around meaningful work."
Quote:
We are registering as a Benefit Corp in Delaware to support this important milestone for the community of B Corps. Although it will take many years, we believe that the community of B Corps will ultimately lead the transition to a more just and prosperous economy for all.
Press Contact:
Melissa Alvares, Marketing Manager
33 Yonge St. Suite 902, Toronto, ON M5E 1G4
Phone: 416-439-6400 x4265
Toll: 1-866-373-6059
Website:
Company: RSF Capital Management, Inc.
Description:
RSF Capital Management, Inc. is a wholly owned subsidiary of RSF Social Finance (RSF), a financial services organization dedicated to transforming the way the world works with money. RSF offers investing, lending, and giving services that generate positive social and environmental impact while fostering community and collaboration among participants. Since 1984, RSF has made over $275 million in loans and over $100 million in grants to non-profit and for-profit social enterprises. RSF Capital Management was formed in 2008 to manage all of RSF's lending activity to for-profit social enterprises. RSF Capital Management provides senior working capital and subordinated term debt to businesses meeting a rigorous social enterprise profile.
Quote:
"This is a big moment and a clear indication that people's consciousness and awareness is shifting very rapidly right now. At RSF, we have always believed that economic success should be defined by social and environmental impact, not financial results alone. This legislation allows entrepreneurs to bake that philosophy into the DNA of a corporation and it's an incredibly important step to see this happening in Delaware. We are proud to be a part of this moment and excited to see where this is heading. At a national level, as more companies get on board, the economic output and social and environmental impact generated will be catalytic." - Don Shaffer, President & CEO
Press Contact:
Sarah Grolnic-McClurg - Thinkshift Communications/Pounce PR
Office: 510.898.1837
Cell: 415.828.3143
E-mail: sarah@pounce-pr.com
Website:
Company: Grassroots Capital Management
Description:
Grassroots Capital Management, PBC (Grassroots) is an impact investment manager based in the US making investments globally that have both a financial and social return. The firm plays a pioneering role in attracting private capital into the industry, creating investment vehicles to address market gaps and providing the necessary funding to support new and innovative as well as established and mature initiatives. Grassroots and its partners have been actively managing and investing in the impact investment sector since the late 1990s, beginning with some of the first microfinance equity investments in Asia. Currently, Grassroots and its partners manage/advise five international impact investment funds targeting microfinance as well as small and medium enterprise, affordable housing and sustainable agriculture sectors, and is exploring food system investment opportunities in the Northeast US. Grassroots' activities are motivated by a belief that those blessed with abundant human and financial resources have an obligation to pursue economic justice and community empowerment both at home and globally. Becoming a Benefit Corp helps Grassroots preserve its mission and ensure that the interests and rights of all stakeholders are protected, contributing to a better, more just world. Our company has been a certified B Corporation since 2008 and our funds are GIIRS Pioneer Fund Managers.
Quote:
"Private corporations drive many of the critical developments facing the world, for better or worse: income distribution and poverty; the environment and climate; community resilience and cohesion; gender and ethnic opportunity. The Benefit Corp structure can help reestablish a balance between creation of shareholder value and value to other stakeholders – employees, community, clients, environment – as these critical issues are engaged and can help drive human and financial capital to companies committed to building a more just and sustainable world."
Press Contact:
Anna Kanze
Phone: 718-488-8210
E-mail: info@grassrootscap.com
Website:
Company: Exemplar Companies, Inc.
Description:
Exemplar is a primary-care professional services firm providing emerging enterprise through mid-market companies holistic growth expertise across disciplines of Law, Business Advisory and Investment Banking. Exemplar leads with its values as having the first law firm in the nation to abandon hourly billing in favor of exclusively fixed pricing, the first registered Investment Bank to combine with Law and Consulting under an integrated brand, and Exemplar's Quad Bottom Line values system – Social, Environmental, Financial and Spiritual.
Quote:
It is an honor to lead the pack of new Delaware Benefit Corporations and support a legislative effort that gives "constitutional rights" to business values, allowing them to live a meaningful existence in enterprise for the betterment of people, society and our environment. – Christopher Marston, Esq, CEO Exemplar Companies
Press Contact:
Lara Pearson - Sustainability Steward
Office: 617-542-7400
Cell: 775-833-1600
E-mail: lpearson@exemplarlaw.com
or
Christopher Marston - CEO
Office: 617-542-7400
Cell: 617-905-5560
E-mail: cmarston@exemplarlaw.com
Website:
Company: Fair Parenting Project
Description:
The Fair Parenting Project is a community-wide, best-practice approach to parenting plans. During the initial pilot project which started in 2011, all lawyers in the Municipality of Carleton Place, Ontario agreed to make their clients aware of the Fair Parenting Project's model parenting plan. As a result of parents signing up voluntarily, the community now has a critical mass of children of separated parents on the Fair Parenting schedule. Community services such as municipal daycare, school bus service and sports/activity schedules can efficiently and cost effectively cater to children with separated parents. In a Fair Parenting community, children with separated parents experience less conflict and are better integrated, while separated parents are more independent, have fewer disputes and the community is healthier.
Quote:
"Expanding as a Public Benefit Corporation is the natural next step for the Fair Parenting Project. The PBC format provides Fair Parenting with robust growth opportunities while focusing on our primary goal – improving the lives of children, parents and communities." states Eric Letts
Press Contact:
Eric Letts
E-mail: eric@fairparenting.com
Cell: 613 250 8356
or
Dr. Lauren Donen
E-mail: Lauren@FairParenting.com
Phone: 613-820-8230
Website:
Company: Profile Health Systems
Description:
Profile Health Systems (PHS) gives everyone in the world access to, and benefit from, the sum of all health knowledge. PHS creates products that personalize healthcare, remove complex medical terminology and help people make the best decisions about their health. Profile Health Systems has developed the first AI health management system that uses a touchscreen 3D anatomical interface. Designed to be engaging and intuitive for users, it also facilitates communication between patients and their healthcare providers. Profile Health Systems is a globally distributed company with offices in Jackson Hole, Wyoming.
Quote:
"The most important thing as a founder is to fulfill our mission: to give people control of their health. This company is for posterity, for your grandchildren. The Delaware corporate structure lends investor confidence and gives our mission longevity – founder confidence. As a benefit corporation we can do more for our clients and give more to our employees. Over time that means we end up with superior people building a superior service. No company that is strictly beholden to maximizing shareholder profit can ever compete with that. As a socially minded startup, we have another edge that conventional corporations will have a very hard time matching." -Landon Wiedenman, Founder of Profile Health Systems, PBC
Press Contact:
Landon Wiedenman - Founder and Mule
Phone: (307) 413-7535
Fax: (307) 459-4982
Email: landon@wiedenman.com
Website:
www.bodymapplus.com/about-profile-health-systems
Company: Plexx
Description:
Plexx (New York): A mobile employment solution for people looking for job training and placement and for employers looking for qualified employees.
Through its mobile application and web interface, Plexx can train and place a global workforce to meet the demands of employers around the world. We train and connect people to employment and help employers hired better prepared employees.
Quote:
Plexx is committed to the social good of creating pathways out of poverty through mobile technology. By bringing people employment resources to their mobile devices, Plexx is opening access to opportunity to groups of people that are traditionally under-served in the employment market. Connecting people to jobs via a mobile platform helps people get meaningfully employed and break the cycle of poverty is both our social and business goal. Becoming a Benefit Corporation reflects our commitment to creating a scalable and global enterprise that will help us help people with low access to employment resources out of unemployment or underemployment. A Benefits Corporation will allow us to serve both a social and business purpose.
Press Contact:
Yscaira Jimenez, CEO
Phone: 347.242.6289
E-mail: yscaira@plexx.co
Website:
Company: American Prison Data Systems
Description:
American Prison Data Systems (APDS) is leading the digital revolution in the US corrections industry by providing secure Android tablets to inmates in order to make prisons, safer, cheaper and more effective. APDS's proprietary hardware, software and data management solutions:
- IMPROVE SAFETY: APDS supplants physical goods (books, mail) with digital analogs reducing opportunities to infiltrate and distribute contraband (e.g., weapons, drugs).
- DELIVER SIGNIFICANT COST SAVINGS: APDS solutions replace physical mail with email and eliminate cost centers such as libraries through the use of eBooks, lowering costs for prisons and prison families.
- CREATE BETTER INMATE OUTCOMES THROUGH EDUCATION: APDS employs proven eLearning solutions to deliver a full range of education, rehabilitation and job training programs to inmates in order to drive better inmate behavior behind bars and lower rates of recidivism.
Quote:
APDS Founder & CEO, Christopher Grewe on why we are pursuing B-Corp status: "APDS's mission is provide US States with technology-based solutions that make prisons safer for inmates and staff, less-expensive for state governments and taxpayers and more effective at rehabilitating inmates. Our intent is to bring the dynamism and resources of our 'private-sector' business to bear on some of America's most consequential and intractable public sector challenges. The newly enacted PBC legislation provides us with a perfect vehicle for doing just that and allows us to effectively pursue our ultimate goal: doing well by doing good."
Press Contact:
Christopher Grewe
Phone: 917-912-9890
E-mail: cgrewe@apdscorporate.com
Website:
Company: Socratic Labs
Description:
Socratic Labs (New York): An edtech accelerator, community, and campus that makes seed stage investments in startups working on problems in the pre-kindergarten through graduate school marketplaces.
Through its Edtech Passport program (a consortium of similar education-focused ecosystems across the country and around the world), Socratic Labs shares its programming, hosts visiting companies from other programs in the network, and syndicates discretionary follow-on investments.
Quote:
"Socratic Labs is committed to the social good of improving access to, affordability of, and outcomes in education. Registering as a Benefit Corporation genuinely reflects our dual purpose: We believe that there's a healthy career to be had by emerging education entrepreneurs who aim to solve big problems for teachers and learners. We want to incentivize the best and brightest to start businesses that leverage technology to address these big problems in education. As we sit at the intersection of commerce and social entrepreneurship, the b-corp structure allows us to reach sustainability more quickly without compromising our deep commitment to innovating in education."
Press Contact:
Heather Gilchrist, Managing Director
Phone: 415.609.1757
E-mail: heather@socraticlabs.com
Website:
Company: Better Than We Found It, PBC
Description:
THE PROBLEM AND THE SOLUTION
There is a knowledge gap between consumers, the products they buy, and the companies they buy them from. The free PowerfulME iPhone app is striving to close that gap and inform consumers, empowering them to make their own decisions with their dollars.
THE STORY
The idea for PowerfulME was born through personal frustration. Darrell Park, Founder and CEO, kept finding that he and his family were buying products made by companies that he did not respect or did not want to support. With the smart phone age upon us, he saw a natural solution to empower consumers. Take a device individuals always carry with them, combine a bar-code scanner with lots of data, and deliver an instant buy or not-buy graphic with supporting information, including alternatives, to every user, and ultimately empower everyone to make and share their own lists.
Quote:
"August 1st should be forever known as independence day for entrepreneurs. PBCs change everything for the better. It is a far better structure than a traditional corporation for everyone involved including entrepreneurs, employees, investors and society as a whole. Once the word gets out, I fully expect tens of thousands of corporations of every size and shape to convert themselves to PBCs this year, and for institutional investors to invest heavily in PBCs as a way to substantially lower their risk without lowering their returns. The traditional corporate structure is fatally flawed because it rewards short-termism and can severely limit companies ability to make the best decisions for everyone involved, especially shareholders."
Press Contact:
Darrel Park - Founder/CEO
Phone: 626-340-9708
E-mail: dp@betterthanwefoundit.com
Website:
Company: VenturePilot, PBC
Description:
The VenturePilot platform is designed to provide non-technical business owners with tools and information to ensure they achieve the most out of their business's on-line presence. Each of our products addresses specific needs depending on site traffic or feature requirements.
Website Analytics - Every hosting account is provisioned with site analytics pre-configured. This allows the site owner to understand exactly what is happening on their site via push notification and our easy to understand analytics dashboard.
Instant App Provisioning - During the signup process, or from their account dashboard clients can instantly provision and manage the most popular web applications such as WordPress, Magento, Drupal, LimeSurvery and many more.
Cloud Performance - For high-traffic sites it is crucial for content to be delivered from servers local to where the site visitor is located. Our content delivery network (CDN) makes sure our client's sites perform under the most demanding conditions.
Quote:
"I started what is now VenturePilot as a non-profit organization to help small business owners grow and prosper. From that early beginning it was a constant struggle to balance the need for revenue sources, against the business activity restrictions required to meet IRS non-profit status. After a short time it was clear a new approach was needed. It seems to me a social venture without a clear and sustainable means to support itself cannot achieve much at all. Nor can an organization that spends the majority of its efforts pleading for funds and support. Being a public benefit corporation allows VenturePilot to balance our need for income with our need to give, while holding ourselves accountable to the greater good and our primary mission." - Jaden Black, Founder VenturePilot PBC
Press Contact:
Jaden Black - Founder
Phone: 512-905-0082
E-mail: jblack@venturepilot.org
Website:
Company: CanSurround
Description:
Cancer happens, what it means is up to you. The mission of CanSurround, a healthcare IT company, is to reduce or eliminate psychosocial distress related to the cancer experience. CanSurround is about guiding people toward healing choices and supporting them on their journey. CanSurround will be a radically engaging, highly interactive, extremely personalized, web and mobile experience that will provide information, guidance and inspiration in a format and manner that does not exist today.
Quote:
"CanSurround chose to be one of Delaware's first B-Corps because it simply codifies 'just doing the right thing' – that is, balancing the best interests of employees, shareholders, community and society." - Meg Maley, a Co-Founder
Press Contact:
Meg Maley, a Co-Founder
Phone: 302.753.4334
E-mail:mmaley@oncologycarehh.com
Website:
Committed to Registering Company Information
Company: GOOD, Inc.
Description:
GOOD is a global community of pragmatic idealists working towards individual and collective progress; the community gathers at GOOD.is, GOOD also runs GOOD Local, where members meet in person as well as a quarterly magazine. GOOD Corps is GOOD's team of social entrepreneurs who work with NGOs, corporations and foundations to drive progress.
Quote:
"GOOD began in 2006 to lead a budding cultural movement – a growing dedication to positively and proactively engaging with the world. We saw it everywhere: entrepreneurs striving to build socially-impactful business models; nonprofits evolving to be more engaging and innovative; and an entire generation instilling meaning in what they do and how they do it. Becoming a benefits corporation is consistent with our guiding principals and another important step in our pursuit to convene, connect and empower all of us who give a damn."
Press Contact:
Laura Goldberg, COO
Phone: (917) 488-0142
Website:
Company: The Honest Company
Description:
The Honest Company (www.honest.com), founded by Jessica Alba, Christopher Gavigan, Brian Lee and Sean Kane, was created to ensure that parents have access to non-toxic, eco-friendly, high-performing, beautifully-designed and affordable family products. HONEST.COM offers a full suite of family essentials, including diapers & wipes, bath & skin care, home cleaning and a health & wellness line. Honest products are delightfully delivered to your doorstep through Honest's monthly subscription service of customized product bundles or through your single item purchase in their online shop.
Quote:
"The Honest Company is committed to being as responsible as possible – to setting a new standard for the family brand. We work to benefit people and planet throughout our business operations, customer relationships, product craftsmanship and social goodness initiatives. We truly believe that it is our mission to do 'better' in everything we do. By becoming a Public Benefit Corporation of Delaware and embedding social good into our legal and core business framework, we are committed to practicing responsible capitalism, to keeping people and planet on par with profit and to satisfying today's parent's expectations of high integrity and transparency in the brands that they support. We are excited to be a part of this historical moment as Delaware, the home to the American corporation, moves to recognize this cultural shift towards responsible business and a better tomorrow." - Christopher Gavigan, co-founder and Chief Products Officer for The Honest Company
Press Contact:
Ashley King, Social Goodness Manager
E-mail: ashley@honest.com
Website:
Company: SustainAbility
Description:
SustainAbility is a think tank and strategic advisory firm working to catalyze business leadership on sustainability with offices in London, New York, San Francisco and Washington D.C.
Quote:
"SustainAbility's vision is a just and sustainable world for present and future generations, and our shareholders are as concerned about social and environmental impact as they are about financial returns. Our B Corp certification is a great way to demonstrate our ambition for the world through our own status."
Press Contact:
Mark Lee Executive Director, SustainAbility
Direct: +1 415 944 0140
Office: +1 202 315 4150
E-mail: lee@sustainability.com
Website:
Company: Performance Measurement Institute
Description:
Performance Management Institute (PMI) enables companies to implement metrics-driven culture change with comprehensive internal controls, through installing our Management Operating System® habituating their leadership and key employees in its use. We call our Management Operating System® reveal, understand and apply the mathematical relationship of organizational property, contracts and cash in the bank – to each other – and to all value-creating decisions and actions by employees, creating mature measurement, reporting and accountability systems to thrive in today's market.
Quote:
"PMI is committed to becoming a Public Benefit Corporation (PBC) because we believe that private sector contribution to society has long been the backbone of America's greatness.Our Business Process Management products and services – which contribute substantially to greater business agility, flexibility and performance measurement – are designed to transform the culture, operations and financial performance of organizations, creating greater prosperity and fulfillment for leaders, employees, vendors, partners, customers, and the communities in which they live. When a business implements our methods internally, it is also training more engaged, effective and productive citizens."
Press Contact:
Rob Lederer, Founding Team Member & Press Contact
Phone: (917) 763-3718
E-mail: rob@managementresources.biz
Website:
www.performancemanagementinstitute.com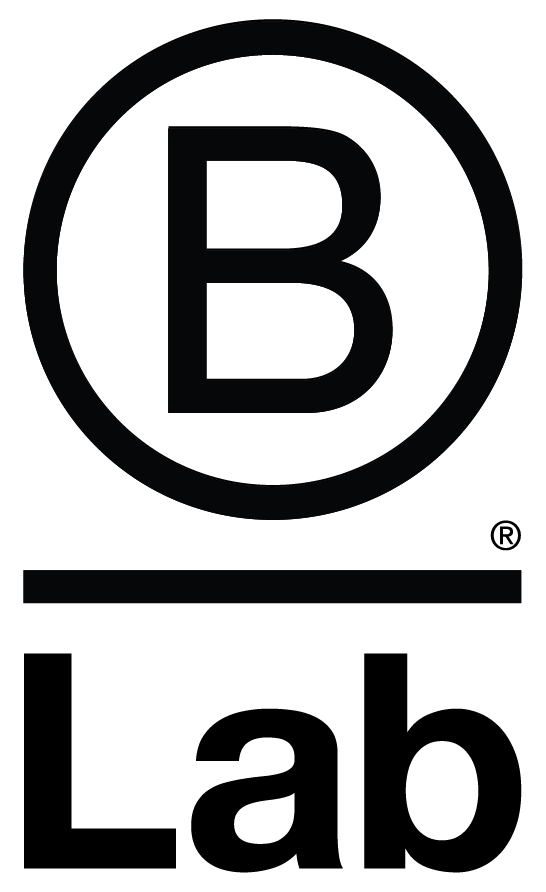 B Lab
B Lab
B Lab is a nonprofit organization that serves a global movement to redefine success in business. It's vision is that one day all companies will compete not only to be the best in the world, but best for the world.
B Lab drives this systemic change through a number of interrelated initiatives: 1) building a community of Certified B Corporations who lead this movement and make it easier to tell the difference between "good companies" and good marketing; 2) passing benefit corporation legislation to create a new kind of corporation legally required to create value for society, not just shareholders; 3) helping investors invest for impact through use of the B Analytics data platform; and 4) helping businesses measure, compare and improve their social and environmental performance through use of the B Impact Assessment as a free powerful educational tool.
More from B Lab