Published 07-22-13
Submitted by Life Technologies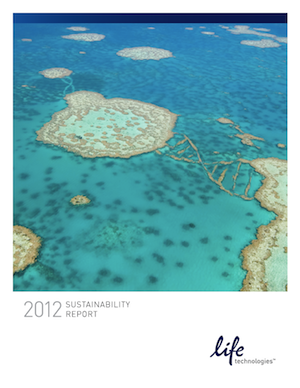 Global biotechnology company Life Technologies (NASDAQ: LIFE) has released its 2012 sustainability achievements via the company's second Web-based report, its fifth sustainability report overall. Full reporting is available at lifetechnologies.com/sustainability.
Complementing the online content and report highlights companion piece is a new iBook (coming soon to the iTunes iBook store) that lets stakeholders browse Life Technologies' sustainability work in a mobile device-friendly format. Delivering content across these formats provides stakeholders improved access to dynamic, data-rich reporting.
This year's report follows the Global Reporting Initiative (GRI) Generation 3.1 guidelines and includes communication on the company's progress toward the principles outlined by the United Nations Global Compact.
"Sustainability has become a powerful productivity tool—it's evolved beyond Life Technologies' operations to impact the way we drive continuous improvement company-wide."

- Mark O'Donnell, Senior Vice President, Global Operations
Highlights include:
Transforming Science
Launched the Ion Proton™ Sequencer, a revolutionary benchtop instrument that is making high-powered whole-genome sequencing accessible to any lab by dramatically reducing the cost—named one of The Scientist's top 10 innovations of 2012
Expanded molecular diagnostics business, acquiring full spectrum capability to develop and commercialize cancer diagnostics where there is currently great unmet need
Revolutionizing our Value Chain
Installed the life science industry's first fuel cell, supplying 75% of the energy needs of the company's Carlsbad, California, headquarters and boosting energy reliability while cutting CO2 emissions
Eliminated 60,000 polystyrene coolers annually by converting three more product lines from cold to ambient shipping
Engaging Stakeholders
Launched InnovatioNation™ to strengthen science education, reaching more than 1,000 students
Partnered with DNA Saves and the National Center for Victims of Crime to boost the impact of DNA evidence
Relevant Links
About Life Technologies
Life Technologies Corporation (NASDAQ: LIFE) is a global biotechnology company that is committed to providing the most innovative products and services to leading customers in the fields of scientific research, genetic analysis and applied sciences. With a presence in more than 180 countries, the company's portfolio of 50,000 end-to-end solutions is secured by more than 5,000 patents and licenses that span the entire biological spectrum – scientific exploration, molecular diagnostics, 21st century forensics, regenerative medicine and agricultural research. Life Technologies has approximately 10,000 employees and had sales of $3.8 billion in 2012.
Life Technologies' Safe Harbor Statement
This press release includes forward-looking statements about Life Technologies' anticipated results that involve risks and uncertainties. Some of the information contained in this press release, including, but not limited to, statements as to industry trends and Life Technologies' plans, objectives, expectations and strategy for its business, contains forward-looking statements that are subject to risks and uncertainties that could cause actual results or events to differ materially from those expressed or implied by such forward-looking statements. Any statements that are not statements of historical fact are forward-looking statements. When used, the words "believe," "plan," "intend," "anticipate," "target," "estimate," "expect" and the like, and/or future tense or conditional constructions ("will," "may," "could," "should," etc.), or similar expressions, identify certain of these forward-looking statements. Important factors which could cause actual results to differ materially from those in the forward-looking statements are detailed in filings made by Life Technologies with the Securities and Exchange Commission. Life Technologies undertakes no obligation to update or revise any such forward-looking statements to reflect subsequent events or circumstances.

Life Technologies
Life Technologies
Life Technologies Corporation (NASDAQ:LIFE) is a global biotechnology tools company dedicated to improving the human condition. Our systems, consumables and services enable researchers to accelerate scientific exploration, driving to discoveries and developments that make life even better. Life Technologies customers do their work across the biological spectrum, working to advance personalized medicine, regenerative science, molecular diagnostics, agricultural and environmental research, and 21st century forensics. Life Technologies had sales of $3.3 billion in 2009, employs approximately 9,000 people, has a presence in 160 countries, and possesses a rapidly growing intellectual property estate of approximately 3,900 patents and exclusive licenses. Life Technologies was created by the combination of Invitrogen Corporation and Applied Biosystems Inc., and manufactures both in-vitro diagnostic products and research use only-labeled products. For more information on how we are making a difference, please visit us online at http://www.lifetechnologies.com. Follow Life Technologies on Twitter @LIFECorporation and on Facebook.
More from Life Technologies