Published 07-08-13
Submitted by Mentor Capital Network
The William James Foundation is announcing the finalists for their 10th Annual Sustainable Business Plan Competition. This competition includes many categories, including Washington DC / Affinity Lab category, which is for company that will work in and support the communities in the greater Washington, DC area.
The three finalists, in alphabetical order, are:
BlocPower (blocpower.org) markets and finances a portfolio of renewable energy and energy efficiency technologies to non-profits, churches, small businesses and charter schools in American inner cities.
Clovest (clovest.com) is a funding platform for business projects. The platform helps businesses raise anywhere from $1,000 to $50,000 from their customers and community in the form of zero-interest loans.
Triea Systems (trieasystems.com) recovers waste and excess heat, recycles it and returns it to the customer 30-70% cheaper than the customer can produce the heat.
The Washington, DC Prize is sponsored by The Affinity Lab (www.affinitylab.com), the nation's oldest co-working space, currently operating at 920 U Street, NW in Washington, DC. The Affinity Lab has been the longtime home of the William James Foundation, and is offering membership packages to the top teams.
Their finalist presentations will be on Thursday, July 18th at Arent Fox. Tickets to the event are available at wjf2013gathering.eventbrite.com. Based on their presentations on Thursday (which will include audience input) they will receive awards from The Affinity Lab, as well as YES!Circle (yescircle.org), Shifting Patterns (shifting-patterns.com), SpeakeasyDC (speakeasydc.com), Gaia (gaiagroupdc.com) and Community IT Innovators (communityit.com).
Those presentations kick off the WJF's 10th annual gathering, which runs through July 20th, and also features:
A rooftop reception on the 18th featuring singer/songwriter Allison Shapira.
The 10th Annual Sustainable Business Plan Competition finalist presentations. Audience questions will help decide how more than $125,000 worth of prizes will be divided amongst Access Afya, Morale Fashion Group, Wecyclers, Colectivo 1050, First Access and MoWoza.
Our Green Grab events, featuring clean tech/clean energy and base of the pyramid companies presenting for on-the-spot investment in front of professional investors, allowing the audience to witness what is normally a private discussion with real world implications.
Conversations with Jigar Shah (Co-Founder of Sun Edison, former CEO of the Carbon War Room) and Seth Goldman (T-EO of Honest Tea).
Practitioner Groups, where impact entrepreneurs working on similar challenges in different markets learn the lessons of each other's challenges and successes.
This will be an amazing opportunity to meet and network with impact entrepreneurs working in more than a dozen countries, including Cambodia, Tanzania, Mexico, Kenya, Mozambique and Nigeria, in-person.
Friday the 19th will feature conversations with Mr. Shah and Mr. Goldman and the Green Grab presentations. Saturday the 20th will feature the competition finalist presentations and practitioner groups. Thursday and Friday's events will be at the offices of Arent Fox at 1717 K Street, NW in Washington, DC. Saturday's events will be at the World Resources Institute at 10 G Street NE also in Washington, DC.
The agenda can be seen here: williamjamesfoundation.org/2013agenda.
Tickets can be purchased at wjf2013gathering.eventbrite.com.
The William James Foundation congratulates all of our entrants for their hard work throughout the competition process. Over the past decade, we have worked with more than 1,000 impact entrepreneurs, many of whom are listed at www.williamjamesfoundation.org/companies. The WJF engages a mentor network of more than 800 individuals who have built, managed or invested in impact entrepreneurs to discover, invest in, connect and educate impact entrepreneurs who are building companies that are making our world a better place.
The William James Foundation is a 501(c)3 non-profit dedicated to supporting for-profit entrepreneurs who are solving the world's social and environmental problems through their businesses. Our sponsors include The Stiefel Family Foundation, Halloran Philanthropies, Josh Mailman, The Affinity Lab, CSRwire, Thompson Knight Foundation and dozens of other like-minded organizations listed at www.williamjamesfoundation.org.
For more information on the event, or participating in our programs as an entrepreneur, mentor or sponsor, please contact our executive director Ian Fisk via ian.fisk@williamjamesfoundation.org.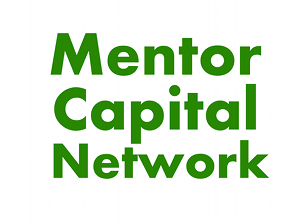 Mentor Capital Network
Mentor Capital Network
Mentor Capital Network, a Washington-DC based 501(c)3, strives to advance the evolution towards a more socially responsible economy. We support new entrepreneurs who are committed to establishing socially responsible businesses and policies that will more equitably benefit all stakeholders -- consumers, employees and their families, and the public-at-large, in addition to investors.
Our main program is the Sustainable Business Plan Collaboration. Over the years, we've supported over 930 ventures with almost $6M worth of mentor capital, giving entrepreneurial teams customized feedback on their business plans and access to a network of over 1,000 of the world's best industry and regional experts who have graciously given their time to support these startup teams. We seek to create and accelerate opportunities for these teams to make a serious, innovative, and scalable difference in the world.
Mentor Capital Network is the trade name of the William James Foundation.
More from Mentor Capital Network