Published 06-27-13
Submitted by Ceres
Two days after President Obama unveiled a sweeping plan to address the threat of climate change, more than 50 companies have offered their support for the President's national climate change strategy, including statements from several CEOs.
The President's plan answers the call of the nearly 500 businesses that have signed the Climate Declaration who see tackling climate change as an American economic opportunity. The Declaration, which has been endorsed by major companies such as General Motors, Nike, IKEA and Unilever, was launched this spring by the business network BICEP (Business for Innovative Climate & Energy Policy), which is coordinated by Ceres.
"As a recent signatory to the Climate Declaration, Symantec recognizes the great economic opportunity inherent in addressing climate change. We support the President's efforts to reduce greenhouse gas emissions, expand renewable energy sources, and engage in meaningful dialogue on an international level," said Steve Bennett, president and CEO of Symantec Corporation. "While difficult, leadership in this space is necessary, and by taking a stand at this critical moment, the U.S. is poised to drive these discussions to a favorable global outcome."
"Nike applauds President Obama's leadership to mitigate climate change," said Hannah Jones, VP Sustainable Business & Innovation at Nike Inc. "We look forward to reviewing the details of the President's plans and working with the Administration, Congress and other businesses to move forward on strategies to address climate change. Now is the time to work together on an innovative, bold framework."
"We can no longer keep our fingers crossed and hope we can withstand the increasingly severe weather we have been experiencing. The time to act is now as the longer we wait, the more expensive the price tag will be," said Anthony J. Kuczinski, President and CEO, Munich Reinsurance America Inc. "We applaud President Obama's comments on preparing for the effects of climate change, which includes certain types of severe weather. Updating our infrastructure is a big task that will require cooperation at all levels of government. As insurers, we can provide our technical and risk-solutions knowledge to help move these efforts forward."
Unilever applauds President Obama leadership to address climate change. Climate change is accelerating and the effects are being felt across the world. As a major manufacturer of fast moving consumer goods, we feel a significant impact of climate change on our business," said Jonathan Atwood, VP Sustainable Living and Corporate Communications at Unilever North America, citing the firm's Sustainable Living Plan. "We commend the President and his Administration for raising the issue of climate change on the U.S. agenda."
"The President's call to action rings true and reminds us that the obligation of tackling climate change rests not on the White House alone, but on all sectors, communities and countries," said Anna Walker, Senior Director, Government Affairs and Public Policy, Levi Strauss & Co. "Levi Strauss & Co. will remain vigilant in our commitment to reduce greenhouse gases and advocate for the legislative and policy measures to make the President's vision a reality."
The plan also received enthusiastic support from Silicon Valley leaders like eBay and Intel.
"The President's call to action rings true and reminds us that the burden of tackling climate change rests on all sectors, communities and countries," said Lori Duvall, Global Director of Green, eBay Inc.
"Intel believes climate change is one of the greatest threats and opportunities facing our country and the world. We support efforts by the U.S. government to address climate change in a serious way and commend the Administration for helping to reset the climate change policy debate by announcing an integrated set of policy proposals," said Stephen Harper, Global Director, Environment and Energy Policy, Intel Corporation.
In addition, Starbucks, Ben & Jerry's and New Belgium Brewing took to social media to express their support.
Anne Kelly, director of BICEP, a project at Ceres added, "American business leaders have been clamoring for action on climate change through initiatives like the Climate Declaration, and we are pleased to see President Obama heed their call. The President's climate change plan provides much-needed policies and guidelines that will strengthen our economy for the long term. Less pollution from power plants, stronger more-resilient towns and cities – these are standards that any business will welcome, and they set the nation on the right course for economic growth."
A full list of quotes from businesses is available here.
Over the course of an ongoing campaign organized by Ceres and BICEP, other businesses, as well as individuals, are encouraged to sign the Declaration and join the call to action. For more information about the Climate Declaration, please visit www.climatedeclaration.us.
About Ceres
Ceres is an advocate for sustainability leadership. Ceres mobilizes a powerful coalition of investors, companies and public interest groups to accelerate and expand the adoption of sustainable business practices and solutions to build a healthy global economy. Ceres also directs the Investor Network on Climate Risk (INCR), a network of 100 institutional investors with collective assets totaling more than $11 trillion. For more information, visit www.ceres.org.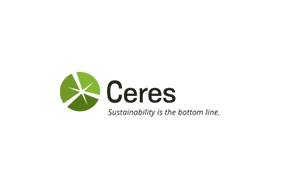 Ceres
Ceres
Our Mission: Ceres is transforming the economy to build a just and sustainable future for people and the planet. 
Ceres is a nonprofit organization working with the most influential capital market leaders to solve the world's greatest sustainability challenges. Through our powerful networks and global collaborations of investors, companies, and nonprofits, we drive action and inspire equitable market-based and policy solutions throughout the economy to build a just and sustainable future. For more information, visit ceres.org and follow @CeresNews. 
More from Ceres