Published 06-24-13
Submitted by CEF
The Corporate Eco Forum (CEF) this evening presented the 2013 C.K. Prahalad Awards to three individuals: Vidal Garza Cantú of FEMSA Foundation, Hannah Jones of Nike, and Kurt Kuehn of UPS. Renowned sustainability expert Andrew Winston interviewed the three winners at the awards ceremony, which was attended by Prahalad family members and over 200 senior executives representing CEF member companies with combined revenues of over $3 trillion.
Vidal Garza Cantú, Director of FEMSA Foundation, was recognized for being a major force in helping companies understand that well-functioning natural ecosystems are a business and economic imperative, not a matter of philanthropy. "I am deeply honored to receive an award in the name of C.K. Prahalad, who so passionately advocated for the values that FEMSA shares and upon which the company has built its success. Preserving watersheds and natural resources for future generations is a business priority for FEMSA that is deeply rooted in our 120-year history," explained Garza. Under his leadership, FEMSA Foundation helped launch the Latin American Water Funds Partnership, to conserve and restore forests and grasslands around watersheds, safeguarding their ability to offer services such as water retention and filtration. Along with the Nature Conservancy, the Inter-American Development Bank, the Global Environment Facility, and others, this initiative is working to protect 7 million acres of watersheds, supporting the next generation of clean and healthy drinking water for nearly 40 million people who benefit from these basins. "Garza's charismatic and passionate leadership–coupled with his hardheaded business experience–is influencing companies worldwide to think about the true business value of nature," said P.J. Simmons, CEF Chair and co-author of The Green to Gold Business Playbook.
Hannah Jones, Vice President for Sustainable Business & Innovation at Nike, was honored for her leadership as head of the global team responsible for enabling Nike's sustainable growth. "Hannah Jones is a visionary leader who has raised the bar for what defines business sustainability, innovation and collaboration," said MR Rangaswami, CEF's Founder. With Jones' at the helm, Nike implemented the Considered Design ethos, marrying performance and innovation with sustainability to create products with lower environmental footprint. A pioneering champion of transparency and open innovation, Jones helped Nike launch the online GreenXchange to provide a safe space for sharing intellectual property, and supported the creation of the LAUNCH 2020 partnership with NASA, USAID and the US State Department to foster and scale sustainable innovation. A founding member of the Sustainable Apparel Coalition, Nike has spent significant resources developing the Nike Materials Sustainability Index (MSI) for use openly and credibly as an industry-wide tool, and last year rolled out its Sustainable Manufacturing & Sourcing Index (SMSI), which puts environmental and labor metrics on equal footing with traditional supply chain performance measures. "As a design-led company we see growing resource constraints as an opportunity to imagine an entirely new palette of sustainable materials that deliver products that are better for the athlete, better for business and better for the world," said Jones. "At Nike, innovation is in our DNA and we view sustainability as the world's greatest innovation opportunity; a vision that C.K, Prahalad shared."
Kurt Kuehn, the Chief Financial Officer of UPS, was honored for being one of the first prominent CFOs in the world to articulate why sustainability is fundamentally linked to a company's financial success. "C.K. Prahalad was keenly aware that sustainability needs to be embedded throughout an organization," said Kuehn. "When sustainability efforts are fully aligned with key components of corporate strategy, there's a definite ROI to sustainability. At UPS, it has helped us reduce costs, mitigate risks, generate new revenue opportunities, fuel innovation, and also attract and retain top talent." For over a decade, Kuehn has shaped UPS's sustainability strategy, including their very first sustainability report in 2002. UPS has achieved an A+ status by the Global Reporting Initiative (GRI) that validates UPS as one of the most transparent companies in the world for sustainability goals and measures. "Seeing vocal, visible sustainability leadership from a CFO is one of the surest signs that a company is truly building sustainability into its DNA and setting itself up for long-term business success in a changing world," said MR Rangaswami. "Kurt Kuehn will go down in history as one of the first forward-thinking CFOs helping to redefine the job description of the modern-day CFO."
The C.K. Prahalad Award was created to honor the vision and life's work of the late Dr. C.K. Prahalad, one of the world's most influential business strategists. Towards the end of his illustrious career, Prahalad focused his enormous talent on the link between sustainability and long-term business success. In a 2009 Harvard Business Review cover story he co-authored with CEF founder MR Rangaswami, Prahalad argued that over the next decade "traditional approaches to business will collapse, and companies will have to develop innovative solutions. That will only happen when executives recognize a simple truth: Sustainability equals Innovation." Dr. Prahalad was a senior adviser to the Corporate Eco Forum before his untimely death in 2010.
The Prahalad Awards were presented at The Ritz-Carlton in Chicago during the Gala Dinner of the 6th Anniversary Annual Meeting of the Corporate Eco Forum. The CEF Annual Meeting is bringing together more than 200 senior executives from companies that represent 18 different industries and combined revenues of over $3 trillion to focus on "Expanding the Dialogue – Across Business Functions Value Chains, and Borders" in corporate sustainability during two days of discussions and working sessions.
VIDEO PROFILING THE WINNERS (Link will be made public on June 24, 2012 at 7:00 PM CDT) http://youtu.be/mVkd_UYdEBg
About The Corporate Eco Forum (CEF)
About The C.K. Prahalad Global Sustainability Leadership Award
The C.K. Prahalad Global Sustainability Leadership Award was created by the Corporate Eco Forum (CEF) in 2010 to recognize exceptional individuals and companies—within or outside the CEF membership— whose work exemplifies the fundamental connection between sustainability, innovation and long-term business success in a globalizing world. Prahalad Awards winners are determined through secret ballot votes cast by CEF's 19-member advisory board, which includes representatives from government, academia, non-governmental organizations and the private sector. The voters chose from a roster of finalists, selected following an open nominations process on the CEF website. The inaugural 2010 Award went to Walmart Brazil and CEO Hector Nuñez for brokering historic sustainability supply chain commitments to help protect Amazon ecosystems. In 2011, the Award went to Coca-Cola and CEO Muhtar Kent for galvanizing international environmental leadership – including helping catalyze 450 members of the Consumer Goods Forum to pledge net zero deforestation by 2020 in procurement – as well as the company's comprehensive efforts to embed sustainability into core business strategy. In 2012, awards were given in three categories for the first time, with honors for sustainability leadership by an individual (Neil Hawkins of Dow Chemical), a collaboration (The Sustainable Apparel Coalition), and a company (Unilever and its CEO Paul Polman). Nominees for the 2013 Prahalad Award will be accepted beginning November 1, 2013 at www.corporateecoforum.com. A full list of eligible voters can be found at www.corporateecoforum.com/conference/advisory_board.php.
CEF Members
3M, Air Products, Alcoa, ArcelorMittal, Balfour Beatty, Boeing, BP, CA Technologies, Cargill, CH2MHill, Chevron, Cisco, The Clorox Company, Coca-Cola, Darden Restaurants, Dell, Deloitte, Dow Chemical, Duke Energy, Ecolab, Enterprise Holdings, Ernst & Young, Exelon, FedEx, FEMSA, Fidelity Investments, Ford Motor, General Electric, General Motors, Google, HanesBrands, Hewlett-Packard, IBM, Ingersoll Rand, International Paper, Johnson & Johnson, The Jones Group, Kaiser Permanente, Kimberly-Clark, Kohl's, KPMG, LANXESS, Lockheed Martin, Marriott, McKinsey & Co, Microsoft, Motorola, News Corporation, Nike, Northrop Grumman, Oracle, Patagonia, Procter & Gamble, Sabre, Siemens, Tata Consultancy Services, TD Bank, Tiffany & Co., Timberland, TPG Capital, Transocean, Unilever, UPS, Walt Disney, Wells Fargo, Weyerhaeuser, Xerox and Yahoo!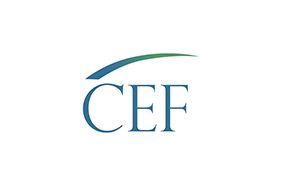 CEF
CEF
CEF is an invitation-only network of leading executives from Fortune and Global 500 companies driving sustainability strategy and innovation worldwide. Members include Fortune and Global 500 companies from diverse industries with combined revenues of $4 trillion. CEF provides a year-round safe, neutral space for influential executives to exchange best practice, collaborate, and innovate. The diversity of executives, coupled with the cross-industry nature of CEF, creates a world-class platform to accelerate sustainable business problem solving and innovation.
More from CEF