Published 06-11-13
Submitted by EcoMedia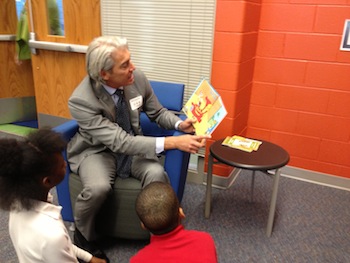 Paul Polizzotto, President and Founder of CBS EcoMedia, reads to Gompers Elementary school students at
this morning's First Book reading party funded
by Bob Evans Restaurants.
69 second graders at Gompers Elementary School gathered in the school's all purpose room this morning to accept the unexpected generosity of their new friends from Bob Evans Restaurant. First Bob Evans volunteers began the unusual day by serving the students a complimentary healthy breakfast. Following their multigrain pancakes and fruit, the second graders were told they would each be the recipients of free books from First Book also courtesy of Bob Evans' and their EducationAd advertising through CBS EcoMedia.
Thus kicked off the reading party held with the Gompers students as special guests representing students across the Detroit public school system who will be receiving the free 2,500 books being distributed thanks to Bob Evans financial support. The reading party was hosted by Aaron Heddy, General Manager, Bob Evans Restaurant #87, and Principal Bobbie Posey Milner, Gompers Elementary School who were joined by Teresa Pipia of First Book and Paul Polizzotto, President and Founder, CBS EcoMedia Inc. Special guests also attending included Gompers' Assistant principal, Robert Walker, Gompers Elementary School administration officials, community members and local elected/school board officials.
Following brief remarks a reading of "The Stories Julian Tells," "Frog and Toad All Year," "Days With Frog and Toad," "Arthur's Camp Out," "Oh, the Things you can Do that are Good for You?," "The Berestain Bears Go To Camp" and "The Berenstain Bears and the Bully," by volunteer readers from Bob Evans Restaurants, WWJ CBS Detroit and CBS EcoMedia were performed for the second grade audience.
"Being able to put new books into kid's hands in time for summer break is critical, and we're grateful to Bob Evans for making it possible," said Teresa Pipia, Vice-President of Strategic Alliances for First Book. "The loss of reading skill over the summer hits kids from low-income families especially hard; these books will make a real difference."
In addition to the books distributed at the reading party $1,000 in additional Bob Evans EducationAd funding is also going to Gompers for the school's purchase of more books from First Book in support of its summer reading programs.
Bob Evans Restaurants contributed more than $500,000 in local donations last year and is planning on doing even more in the next 12 months. Brian Carney, Regional Coach for Bob Evans, explains that "Bob Evans has a long history of being involved in our local communities and the Detroit area is no exception. Through the First Book partnership, we plan on feeding the minds of hungry children. This goes hand in hand with what we do every day which is feeding their bodies and keeping kids strong and happy. We're excited to work alongside our heroes, who are the teachers at Gompers Elementary School. And we can't wait to read to the kids and give them their First Books!"
"Gompers Elementary Middle School is delighted to welcome Bob Evans to our school to kick off our summer reading incentive. We know that reading well is essential to everything we do in life," said Gompers' Assistant principal, Robert Walker. "Bob Evans volunteers are here to inspire our students to become better readers, to spark their imaginations through the adventure of reading, and to motivate them to become life-long learners. We thank Bob Evans, along with First Book and CBS EcoMedia, for giving our students new books to encourage them to continue reading during these summer months."
"We've had a fantastic time here at the First Book reading party for the second graders at Gompers Elementary School," said Paul Polizzotto, President and Founder of CBS EcoMedia Inc. "When you have the privilege as we did today to read to the kids of Detroit and see their faces light up with interest and enthusiasm then you witness the power of books on young impressionable minds. Bob Evans Restaurants made that possible for 69 second graders here at this school and all across Detroit with their EducationAd advertising and the funding it generated. I'm so grateful that they got the chance to be here today to meet the kids and read to them and see for themselves the great difference they'll be making. And we couldn't have started the day any better than eating breakfast with the kids courtesy of Bob Evans extra generosity."
About Bob Evans Farms, Inc.
Bob Evans Farms, Inc. owns and operates full-service restaurants under the Bob Evans Restaurants brand name. At the end of the third fiscal quarter (January 25, 2013), Bob Evans Restaurants owned and operated 565 family restaurants in 19 states, primarily in the Midwest, mid-Atlantic and Southeast regions of the United States. Bob Evans Farms, Inc., through its BEF Foods segment, is also a leading producer and distributor of refrigerated side dishes, pork sausage and a variety of complementary convenience food items under the Bob Evans and Owens brand names. Note that effective on February 16, 2013, Mimi's Café is no longer owned by Bob Evans Farms, Inc. For more information about Bob Evans Farms, Inc., visit www.bobevans.com.
About First Book
First Book is a nonprofit social enterprise that distributed more than 100 million books and educational resources to programs and schools serving children from low-income families throughout the United States and Canada. By making new, high-quality books available on an ongoing basis, First Book is transforming the lives of children in need and elevating the quality of education. For more information, please visit them online or follow their latest news on Facebook and Twitter.
About CBS EcoMedia, Inc.
At EcoMedia, we're propelled by the desire to create positive social change; that's been our mission since we founded the company in 2002. In 2008, after successfully partnering with CBS on a wide range of environmental projects, EcoMedia became the newest addition to the CBS Corporation portfolio, exponentially scaling our reach across television, radio, interactive, publishing and outdoor media.
Through our patent-pending EcoAd, WellnessAd and EducationAd programs, an innovative twist on traditional advertising, advertisers are able to support much-needed local projects which in turn creates jobs, saves taxpayer money and improves the quality of life in communities nationwide. In the process, we're fundamentally altering the advertising landscape, elevating the ordinary, traditional commercial – and media, in general – into a catalyst for tangible, quantifiable social change. Please visit ecomediacbs.com to learn more.
By participating in EcoMedia's EcoAd, WellnessAd and EducationAd advertising programs, EcoMedia's advertisers agree to provide funding for projects we believe will have a beneficial effect upon the environment, health and/or education within local communities. EcoMedia's advertising programs are not certification programs nor are the EcoAd, WellnessAd or EducationAd logos seals of approval. EcoMedia does not in any way certify, endorse or make any representations about EcoMedia program advertisers, their products or services.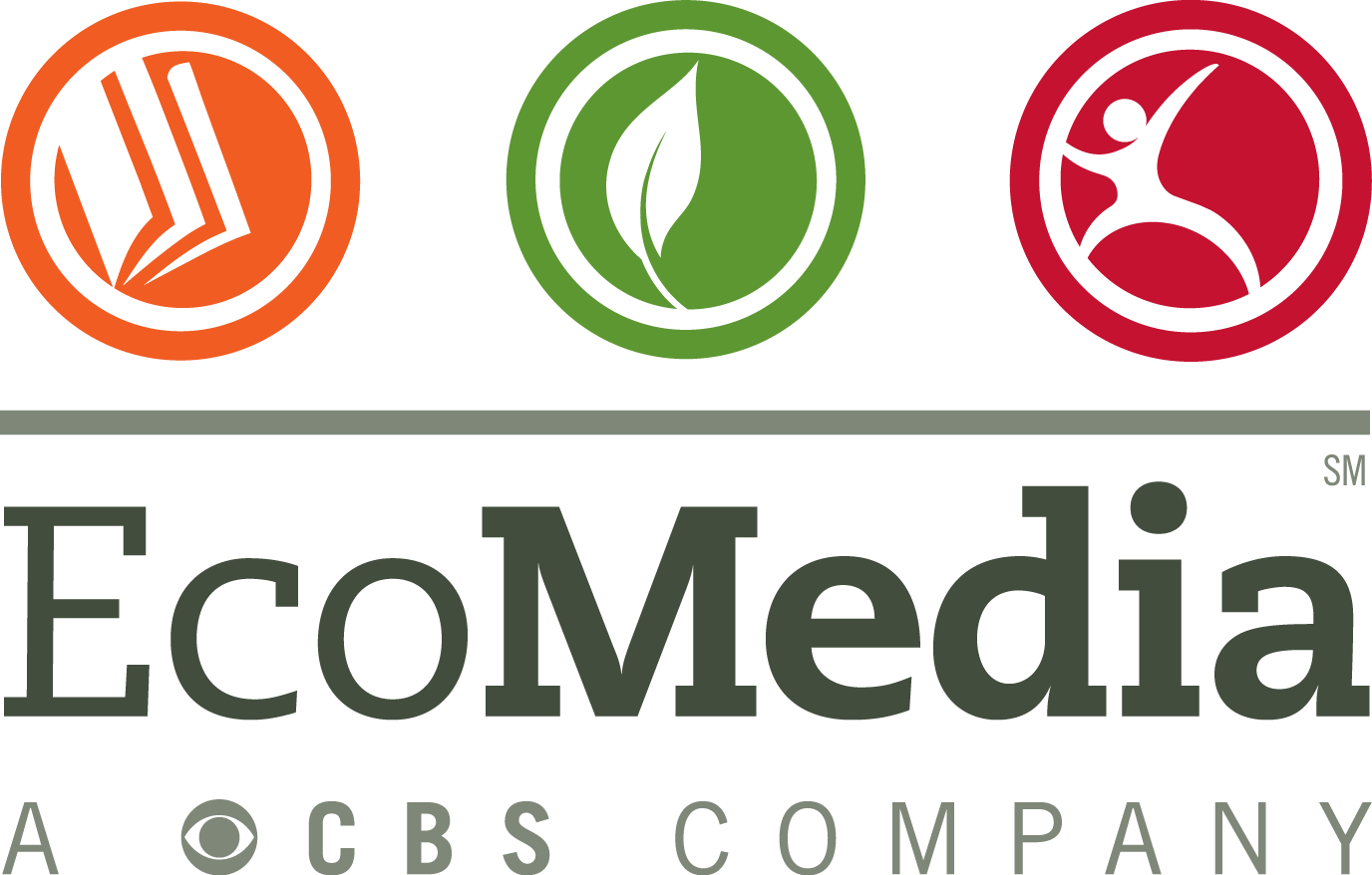 EcoMedia
EcoMedia
At CBS EcoMedia Inc., we have a vision: To harness the power of advertising and channel it into tangible social change.
Since the founding of the company in 2001, our team has worked tirelessly to develop and hone an advertising model that would transform this ideal into reality.
It was with great pride that in 2011 and 2012, we launched our EcoAd, WellnessAd, and EducationAd programs. These unique product offerings are based on our patent-pending ad model through which our clients, in collaboration with our wide network of non-profit partners, provide financial support for critical, yet underfunded, environmental, health, and education projects in communities nationwide.
More from EcoMedia