Published 06-06-13
Submitted by Taproot Foundation
Taproot Foundation today announced a collaborative effort with Hewlett-Packard and LinkedIn to advance the development of the online pro bono marketplace (taprootfoundation.org). With the support of a $100k grant from long-time partner Hewlett-Packard and integration with LinkedIn's APIs, Taproot will create an easily accessible, one-stop-shop to help nonprofits discover mission critical pro bono resources and simultaneously help business professionals bring their expertise to nonprofits. Bringing together these elements will be a standardized Common Application for Pro Bono Service, built around core standards to support the engagements.
According to Joel Bashevkin, Taproot Bay Area Executive Director, "Taproot has been continually working on creating a robust, accessible and transparent pro bono marketplace with tremendous momentum and success. Nonprofit leaders and business professionals identify their top challenges as preparation and access. With this investment we will be able to create a digital meeting ground where nonprofits can make a clear pro bono ask and professionals can move from interested in pro bono to motivated and ready to deliver their talents and together create powerful solutions".
In 2013, Taproot Foundation published the comprehensive guide, Powered by Pro Bono, and simultaneously introduced several new online features that help build universal access to the pro bono marketplace. Using the Pro Bono Project Finder, nonprofits can browse a database of over 120 pre-scoped templates for common pro bono projects and review details such as the skills consultants should have, sample deliverables, and project risks and rewards.
Once nonprofit users successfully scope projects, they can browse the Pro Bono Provider Finder, a database of over 600 pro bono service providers from which a nonprofit can identify potential sources of pro bono talent. Through leveraging LinkedIn's APIs, Taproot is able to provide a seamless experience for nonprofit users to identify and connect with professionals from their networks to staff their critical projects. This new online marketplace enables nonprofits to harness business talent to expand organizational capacity effectively and organically.
Expanding upon the nonprofit tools, Taproot will use the new funding to develop a skills assessment for professionals who want to know how their professional skills could benefit a nonprofit. With the interactive tools on taprootfoundation.org, business professionals and other potential pro bono providers can assess their own skills in the context of the most essential nonprofit needs, thereby identifying the most transformative engagements they can offer. By connecting resources to need, Taproot's new digital marketplace tools can greatly increase nonprofit effectiveness, but they are also a vehicle for professionals who want to use their skills for social impact.
"The mission of LinkedIn for Good is to connect talent with opportunity to make a positive impact on the world," said Meg Garlinghouse, Head of LinkedIn for Good. "As we developed our social impact strategy, the obvious solution was to work with Taproot, the thought leader in this space to dramatically scale the pro bono marketplace. "
Finally, to further drive access to the pro bono marketplace, Taproot has partnered with True Impact to introduce a Common Application for pro bono service. Similar to the common application for college admissions, the Common Application for pro bono is a universal, reusable application for pro bono services. By creating core standards, the common application makes it easier for both nonprofits and potential providers to ask and answer the right questions about potential engagements. Says Caroline Barlerin, Director of Global Community Engagement at HP, of the new functionality:
"Taproot has honed in on the critical impediments to a healthy pro bono marketplace by removing barriers to entry. Thanks to this tool, nonprofits can now access best-in-class pro bono resources and companies can easily provide their employees with an high-impact experience".
About Taproot Foundation
Since 2001, Taproot Foundation has proven that pro bono service is a viable and reliable tool for strengthening nonprofit organizations. Today, Taproot continues to lead nationally by acting locally, and seeks to build a pro bono marketplace that, like philanthropy, is large, accessible, professional and transparent. By taking lessons learned from our award-winning Service Grant Program and applying them to our innovative new program areas, we work to stimulate the supply of pro bono resources through our corporate Advisory Services practice, as well as demand for these services by giving nonprofits the tools and training that sets them up for successful pro bono engagements. Our work has evolved to include thought leadership and international field-building, convening global leaders in the social sector to guide the design and direction of the pro bono movement while focusing on infusing a pro bono ethic into business professions, professional schools, companies and nonprofits in communities across the country and around the world. www.taprootfoundation.org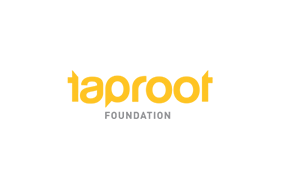 Taproot Foundation
Taproot Foundation
The Taproot Foundation is the provider of pro bono services to the nonprofit sector. It works to engage the country's millions of business professionals in pro bono service, building the infrastructure of organizations we rely on to strengthen and support our communities. Their pro bono model leverages the best practices of leading professional services companies to deliver reliable and quality marketing, human resources and technology services using corporate employees. Since 2002, the Taproot Foundation has recruited over 3,500 business professionals to awarded over $12 million in pro bono services to nonprofits in New York, Chicago and the San Francisco Bay Area.
More from Taproot Foundation