Published 06-06-13
Submitted by Points of Light
The National Conference on Citizenship (NCoC) and Points of Light, the nation's definitive experts on civic engagement, today opened The Civic 50 for 2013, an initiative to identify the 50 most community-minded companies in the nation. Through August 16, S&P 500 companies can complete a comprehensive survey at www.Civic50.org. Responses will be used to generate an overall composite score around civic engagement, resulting in a rank ordered 1-to-50 list. Bloomberg, The Civic 50's media partner, will publish the results in late fall 2013. 
At a time when corporate social responsibility is increasingly important to both employees and consumers, The Civic 50 ranking measures corporate civic engagement nationwide and showcases companies with best practices. It creates a roadmap for companies seeking to best use their time, talent and resources to improve the quality of life in the communities where they do business. Top-ranked companies for 2012 included IBM, Citigroup and AT&T.
"The National Conference on Citizenship is proud to continue The Civic 50 program," said Michael Weiser, NCoC Board Chair.  "By highlighting the 50 most community-minded companies, the National Conference on Citizenship is encouraging other companies to count community engagement as one of the essential elements to being a world-class organization." 
"Points of Light believes in the power of volunteerism to transform communities and change lives. Companies are an influential force in finding new ways to build and strengthen their communities," said Neil Bush, Board Chairman, Points of Light.
"The Civic 50 shows that good corporate citizenship is good for business. The challenge is in how you do it. This ranking highlights the practices of top performers by recognizing how they tap their strengths and their employees to make a difference in local communities," says Norman Pearlstine, chief content officer of Bloomberg and chairman of Bloomberg Businessweek. "As companies increasingly look for ways to strengthen ties with all stakeholders, we hope this can become a valuable guide."
The survey instrument consists of quantitative questions and qualitative responses for richer analysis. A cross-sector team of independent qualitative evaluators will review qualitative responses and help identify case studies and best practices that should be highlighted further. To calculate a corporation's score, points are accrued in the following dimensions: Civic Commitment, Strategic Resource Allocation, Business Integration, Company Policies, Social Value Measurement and Business Value Measurement.
To learn more about The Civic 50, as well as the importance of civic engagement in corporate America, please visit www.Civic50.org.
About NCoC

At the National Conference on Citizenship (NCoC), we believe everyone has the power to make a difference in how their community and country thrive. We are a dynamic, non-partisan nonprofit working at the forefront of our nation's civic life. Through our events, research, and reports, NCoC expands our nation's contemporary understanding of what it means to be a citizen. We seek new ideas and approaches for creating greater civic health and vitality throughout the United States. 
NCoC was chartered by Congress in 1953 to harness the patriotic energy and national civic involvement surrounding World War II, and we've been invigorated by this charge ever since. In 2009, Congress recognized the importance of our role once again and expanded our Civic Health Assessment to become the nation's largest and most definitive measure of civic engagement. Today, we continue to discover and share best practices in civic engagement.  For more information, visit www.NCoC.net
About Points of Light

Points of Light is the leading volunteer organization with more than 20 years of history and a bipartisan presidential legacy. Our mission is to inspire, equip and mobilize people to take action that changes the world. We connect people to their power to make a meaningful difference by providing access to tools, resources and opportunities to help volunteers use their time, talent, voice and money to meet the critical needs of our communities. We are organized into three divisions: Programs, Civic Incubator and Action Networks, which include HandsOn Network, the largest network of 250 local volunteer centers across the country and around the world; generationOn, the youth service movement that ignites the power of kids to make their mark on the world; AmeriCorps Alums, the national service alumni network that activates the next generation of service leaders; and Points of Light Corporate Institute, our enterprise that enables companies to engage their employees and customers in service. For more information, visit www.pointsoflight.org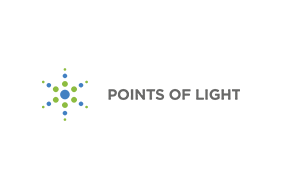 Points of Light
Points of Light
Points of Light is a nonpartisan, global nonprofit organization that inspires, equips and mobilizes millions of people to take action that changes the world. We envision a world in which every individual discovers the power to make a difference, creating healthy communities in vibrant, participatory societies. Through 177 affiliates across 38 countries, and in partnership with thousands of nonprofits and corporations, Points of Light engages 5 million volunteers in 16 million hours of service each year. We bring the power of people to bear where it's needed most.
More from Points of Light