Published 05-30-13
Submitted by Points of Light
Points of Light's Corporate Institute today announced the launch of a comprehensive set of consulting services designed to help companies enhance their global employee volunteer strategies, which bolster recruitment and retention, drive leadership development and brand loyalty, and make a difference in our communities.
To best serve companies at any stage of CSR development, the Corporate Institute has developed an integrated portfolio of services that include program assessment and issue area alignment, volunteer leadership strategies, incentives and recognition programs, and measurement approaches. Also included in the suite of services is the development of policies, procedures and toolkits as well as delivering customized trainings.
"After 20 years of developing and enhancing employee volunteer programs, we understand what makes them successful," said Jackie Norris, executive director of the Corporate Institute. "I am excited to formally announce the launch of our consulting services, which will help support the meaningful impact companies are making throughout our communities. And companies know that effective volunteer programs impact the bottom line – improving recruitment, retention, talent development and brand loyalty of valued employees."
Emphasizing a flexible approach, the Corporate Institute's consulting services help CSR professionals examine their goals, strategies, processes and partners to highlight areas of improvement and alignment, and then lays the foundation for change. The Corporate Institute also works with businesses that aren't sure where or how to start when developing a meaningful employee volunteer program.
"The Corporate Institute helped us develop a smart framework for our crewmember volunteer program – Community Connection," said Icema Gibbs, director of corporate social responsibility for JetBlue Airways. "Since launching this platform, we've seen increased crewmember engagement and volunteerism across our network. Our program includes measureable results that allow us to gain a deeper understanding of what 's important to crewmembers throughout our organization, ultimately proving the benefits of service."
At the core of the consulting and advisory services are the seven characteristics of effective employee volunteer programs. These characteristics have been identified, defined and tested through the years and were recently published at the Business 4 Better Conference. The Corporate Institute has seen the traditional employee volunteer program transform into a solid business model that, in addition to impacting the community, has also proven to be a source of opportunity, innovation and competitive advantage for companies. These characteristics, including the program's plan, design, leadership involvement, partnerships, employee engagement, measurement, as well as success and growth, represent the framework for an effective volunteer program, which can transform the way customers, partners, investors and employees think about your company.
In today's competitive landscape, where employees now have a greater choice of employers and are looking for careers with socially responsible companies, the Corporate Institute is ready to help strengthen companies' greatest philanthropic asset.
For more information on our services, contact Katy Elder at KElder@PointsofLight.org or visit us at www.pointsoflight.org/corporate-institute/corporate-offerings/consulting-services.
About Points of Light
Points of Light – the world's largest organization dedicated to volunteer service – mobilizes millions of people to take action that is changing the world. The Points of Light Corporate Institute is the go-to resource for community-minded companies looking to build and expand effective employee volunteer programs. With our global network of 250 affiliates and a team of experts, the Corporate Institute can engage your employees and customers in hands-on, skills-based or micro volunteering, ranging from single days of service to creative, long-term commitments to a cause. The Corporate Institute also offers the chance to learn cutting-edge best practices, to network with other leading companies, and gain visibility for leadership and excellence. Past clients include IBM, Southwest Gas, Morgan Stanley, JCPenney, GE and HP. For more information, go to www.pointsoflight.org/corporate-institute.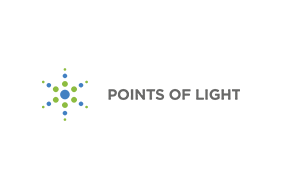 Points of Light
Points of Light
Points of Light is a nonpartisan, global nonprofit organization that inspires, equips and mobilizes millions of people to take action that changes the world. We envision a world in which every individual discovers the power to make a difference, creating healthy communities in vibrant, participatory societies. Through 177 affiliates across 38 countries, and in partnership with thousands of nonprofits and corporations, Points of Light engages 5 million volunteers in 16 million hours of service each year. We bring the power of people to bear where it's needed most.
More from Points of Light