Published 05-23-13
Submitted by Boston College Center for Corporate Citizenship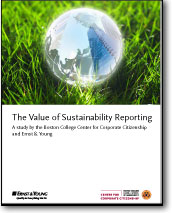 There is strong evidence that transparency offers a number of financial and social advantages that make sustainability reporting more than worth its costs. The Boston College Center for Corporate Citizenship and Ernst & Young LLP have released a report – Value of Sustainability Reporting – that offers insights on the benefits of sustainability reporting, assuring sustainability reports, and the risks of not reporting.
"Most large global corporations see sustainability reporting as a routine business discipline," said Katherine Smith, Executive Director, Boston College Center for Corporate Citizenship. "We see increasing interest among corporations and investors in sustainability reporting both as a way to ensure that environmental and social impacts are managed and as a way to assess the quality and commitment of management. Assured reports earn even more credibility."
In today's business environment, sustainability reporting is evolving into a core business practice for companies around the world because they say it provides a competitive advantage. Companies have reported a variety of motivations for that change based on company size, industry, and ultimate goals of the sustainability report. The top four motivations respondents cited for reporting by their companies are:
Transparency
Competitive advantage
Risk management
Stakeholder pressure
"We were excited to see the high number of survey participants – 50 percent – that indicated sustainability reporting gave them a competitive advantage," said Brendan LeBlanc, Executive Director, Climate Change and Sustainability Services, for the global Ernst & Young organization. "This statistic is evidence that sustainability practices ought to, at a minimum, inform corporate strategy – there's too much at stake."
A majority of the respondents' companies (68 percent) issue a sustainability report. Sustainability reporting has emerged as a common practice of 21st-century business with ESG company data scrolling down thousands of trading terminals. A full 95 percent of the Global 250 issue sustainability reports. A focus on sustainability helps organizations manage their social and environmental impacts and improve operating efficiency and natural resource stewardship, and it remains a vital component of shareholder, employee, and stakeholder relations.
With analysts, investors, and other stakeholders paying attention to sustainability reporting, many companies are increasingly assuring their reports. Among respondents whose companies issue reports, 35 percent of those companies have some level of assurance conducted on their sustainability reports.
Other key findings from the survey include:
More than two-thirds of respondents indicate that their organizations employ the Global Reporting Initiative (GRI) framework in the preparation of their reports, which is also the most widely used framework globally.
Respondents from organizations that issue a sustainability report most often identified data-related issues among their challenges in the reporting process.
The Value of Sustainability Reporting is based on the findings of a comprehensive survey of 579 corporate professionals familiar with their companies' sustainability disclosures. Questions covered various aspects of an organization's environmental, social, and governance (ESG) reporting. The survey was conducted in late February and early March of 2013, and examined the cost and benefits of reporting, as well as its connections to financial performance.
To download the Executive Summary of the report visit: www.bcccc.net/pdf/valueofsustainabilitysummary.
About the Center for Corporate Citizenship
The Carroll School of Management Center for Corporate Citizenship at Boston College is a membership-based knowledge center. Founded in 1985, the Center has a history of leadership in corporate citizenship research and education. The Center engages more than 400 member companies and more than 10,000 individuals annually to share knowledge and expertise about the practice of corporate citizenship through the Center's professional development programs, online community, regional programs, and annual conference. The Center is a GRI-Certified Training Partner. For more information, visit the Center's website at www.BCCorporateCitizenship.org.

Boston College Center for Corporate Citizenship
Boston College Center for Corporate Citizenship
The Boston College Center for Corporate Citizenship connects professionals with research, insights on corporate social responsibility and management education opportunities. Founded by the Carroll School of Management, we help our member companies know more, do more and achieve more with their corporate citizenship programs. We engage over 400 member companies and more than 10,000 individuals annually to share knowledge and expertise about the practice of corporate citizenship through our executive education program, research, courses, and our annual conference. For more information on our courses, research and membership, visit ccc.bc.edu. Connect with Boston College Center for Corporate Citizenship: Linkedin, Twitter, Facebook & Google+.