Published 05-20-13
Submitted by BBB Foundation of Metropolitan New York
On June 4, 2013, the Metro New York BBB's Education and Research Foundation will present its sixth annual BBB Forum on Corporate Responsibility at Time Inc., 1271 Avenue of the Americas, in New York City, from 8:00 AM to 12:30 PM. BBB Forum attendees will gain insights from corporate leaders about business responsibility trends and megatrends, changing consumer and investor expectations and trends, new ideas about goal-setting and social impact assessment, and more. The 2013 BBB Forum is generously sponsored by Ernst & Young LLP, Popular Community Bank, NYSE Euronext, and Goodwill Industries of Greater New York and Northern New Jersey and is hosted by Time Inc.
"Corporate responsibility professionals and business owners are often confronted with major challenges, including shifting public expectations, misunderstandings about the bottom-line value of corporate responsibility efforts, and the complex business of establishing meaningful metrics," said Claire Rosenzweig, President and CEO of the Metro New York BBB's Foundation. "The BBB Corporate Responsibility Forum gives us an opportunity to hear from leaders in the field about how they meet and master these challenges."
BBB Forum Keynote speaker Kim Jeffery, Chairman, Nestlé Waters North America, will share insights about how his company has responded to changing consumer expectations, and how that process has benefited the business.
Following the keynote, a senior executive from Cone Communications will provide an overview of the evolving corporate responsibility scene. Prominent Corporate Responsibility leaders from Verizon Communications, McGraw-Hill Financial, TD Bank US and The Conference Board Initiative on Sustainability will then conduct a panel discussion about the latest global and domestic challenges, solutions and trends in business responsibility.
Two thought-provoking special reports will also be presented by leaders from Ernst & Young LLP and BSR. These reports will highlight key features of shareholder-sponsored proposals on environmental and social issues, and provide an overview of trends in ESG investing.
The 2013 Forum will conclude with remarks about challenges and benefits of "greening" professional sports, by a senior scientist from the Natural Resources Defense Council who has led these efforts.
Click here to view the complete 2013 BBB Forum agenda.
Many distinguished business associations and organizations are Supporters for the Forum. Corporate Responsibility Magazine is the event's Media Supporter. The following groups are Event Supporters: Advertising Self-Regulatory Council, American Sustainable Business Council, BSR, Council of Better Business Bureaus, CSRHub, CSRwire, Ethics and Compliance Officer Association, Forum for the Future, Governance & Accountability Institute, Inc., Manhattan Chamber of Commerce, Net Impact NYC, New York Society of Association Executives, NYCharities.org, Sustainability Practice Network, The Robert Zicklin Center for Corporate Integrity. (List in formation)
COST TO ATTEND:
BBB Accredited, Event Supporter Guests, Nonprofits: $95 per person
Non-BBB Accredited: $165 per person
DETAILS & ONLINE REGISTRATION:
www.newyork.bbb.org/bbbforum2013
OTHER CONTACT INFORMATION:
Call: 212-358-2829
Email: hlayland@newyork.bbb.org
General BBB Information: www.newyork.bbb.org
Space is limited. Advance registration is required. Register now to assure seating.
About the Education and Research Foundation of the BBB of Metropolitan New York, Inc.
Metro New York's BBB Foundation is a 501(c)(3) nonprofit organization established in 1967. It provides educational programs and services for charities, consumers, and businesses; encourages informed consumer support of charities; promotes charity transparency and accountability; conducts research; and provides educational intern opportunities to students who are potential charity and business leaders. It operates the BBB Charity Review Program which publishes BBB reports on 800 Metro New York area charities. This charity review program does not rank charities, but rather seeks to assist donors in making informed judgments by providing objective reports based on charity performance against the BBB's 20 Standards of Charity Accountability. Charities that meet all of the BBB's 20 Standards are eligible to participate in its BBB Accredited Charity Seal program. The list of Metro NY BBB Accredited Charity Seal Holders is available at www.newyork.bbb.org/charityguide. The BBB Wise Giving Alliance produces reports on over 1,300 nationally soliciting charitable organizations. Thousands of additional charity reports are available through other local BBBs; there are about 11,000 national and local BBB charity reports in all. The outcomes of local and national BBB charity reviews are available online at www.ny.give.org and www.give.org.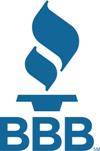 BBB Foundation of Metropolitan New York
BBB Foundation of Metropolitan New York
BBB Serving Metropolitan New York, Long Island and the Mid-Hudson Region is an unbiased non-profit organization that works to foster a transparent marketplace where buyers and sellers can trust each other. Businesses that earn BBB accreditation formally agree to uphold the BBB's high standards of ethical business practices. BBB provides objective advice, free business BBB Business and Charity Reports, and educational information on topics affecting marketplace trust.
To further promote trust, BBB also offers complaint and dispute resolution support for consumers and businesses when there is a difference in viewpoints. The first BBB was founded in 1912 by advertising executives. The BBB of Metropolitan New York was founded in 1922 by the NY Stock Exchange. Today, 112 BBBs serve communities across the U.S. and Canada, evaluating and monitoring more than 4.5 million local and national businesses and charities. Please visit
www.bbb.org
for more information about BBB.
More from BBB Foundation of Metropolitan New York