Published 05-17-13
Submitted by Points of Light
Points of Light's Civic Accelerator – the first national startup accelerator dedicated solely to investing in civic ventures – announced today the 10 nonprofit and for-profit start-ups selected to participate in its summer program. The ventures participating in the Civic Accelerator all mobilize people to create positive change.
While Points of Light has a 20-year history of engaging people in volunteer service, the launch of the Civic Accelerator marks the first time the organization is investing venture capital funds in social enterprises.
Ten teams, selected from 150 applicants, will gather on May 20 in Atlanta for the start of an intensive, 12-week boot camp which will include mentoring, entrepreneur education, peer support and networking.
Points of Light has offered each startup a $10,000 investment. Additionally, Points of Light will offer two of the most promising ventures – as determined by the entrepreneurs themselves –an additional $50,000 investment at the end of the summer.
The Civic Accelerator is run in partnership with Village Capital, which has launched 22 accelerator programs in the U.S. and emerging markets, serving over 300 enterprises directly addressing poverty alleviation, environmental sustainability and economic development. Founding support for the unique accelerator comes from PwC Charitable Foundation, Inc. and Starbucks Foundation.
The 10 startups participating in the second cohort of the Civic Accelerator are:
EPIC empowers creative professionals to make social change happen.

GenX & Associates helps communities dashboard their social, economic, and environmental data online for local decision-making.
GraphAlchemist offers Graph as a Service (GaaS) to provide data driven solutions to complex problems.
Neighbor.ly is the funding platform for civic projects.
Open Curriculum is an online platform to create, access and share K-12 learning material.

Practice Makes Perfect works to narrow the achievement gap in low income U.S. neighborhoods through summer enrichment programs.
Public Lab is a community that develops and applies affordable, open-source environmental monitoring tools to empower citizen scientists.
The GREEN Program transforms experiential education around the world, and empowers leaders to break into and disrupt the hottest industries of our time.

Jubilee Project makes videos for a good cause that empower, enable, and inspire the next generation of change-makers.
Village Defense provides neighborhoods with a real-time communications system to keep neighbors safe and connected.
"Supporting innovation in the design of sustainable, scalable programs that drive social good is an important part of our giving philosophy," said Chris Simmons, president, PwC Charitable Foundation, Inc. "We are pleased to congratulate the second class of 10 startups selected for the accelerator and look forward to seeing their impact in the areas of education and humanitarianism."
"Innovation is core to what we do at Starbucks, and we are inspired by the work of these entrepreneurs and innovators," said Adam Brotman, chief digital officer at Starbucks. "We are honored to support this valuable program and are looking forward to witnessing the continued success of the teams as they make a positive impact on their communities."
"We are excited about the new thinking and innovative models we are seeing – and investing in – across the country. The for-profit and nonprofit ventures, with their shared focus on customers and need for sustainable business models, have a great deal in common," said Ayesha Khanna, president of the Civic Incubator at Points of Light. "We believe their success will engage people in solving critical social problems and strengthening communities."
"Over the next three months, these enterprises will get the best support and the toughest criticism they've ever received from their peers," said Ross Baird, executive director of Village Capital. "The program will focus on everything from customer validation to financials, and we expect that the collaboration of these amazingly talented people will be a force multiplier for their success."
About Points of Light
Points of Light – the world's largest organization dedicated to volunteer service – mobilizes millions of people to take action that is changing the world. Through affiliates in 250 cities and partnerships with thousands of nonprofits and corporations, Points of Light engages more than 4 million volunteers in 30 million hours of service each year. We bring the power of people to bear where it's needed most. For more information, go to www.pointsoflight.org.
About Village Capital
Village Capital uses the power of peer review and support to shape enterprises making an impact, and to change the way investment in them is made.  Through tested educational programs worldwide, and through a unique peer-selected model, Village Capital provides innovative risk capital to the world's highest-potential ventures while expanding the scope and infrastructure of the impact investing industry. For more information, go to www.vilcap.com.
About PwC Charitable Foundation, Inc.
The PwC Charitable Foundation, Inc., a section 501(c)(3) organization, makes charitable contributions to the people of PwC in times of financial hardship, and to nonprofit organizations that support and promote education and humanitarianism.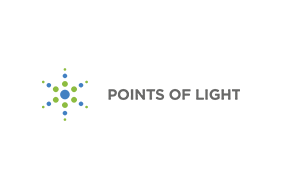 Points of Light
Points of Light
Points of Light is a nonpartisan, global nonprofit organization that inspires, equips and mobilizes millions of people to take action that changes the world. We envision a world in which every individual discovers the power to make a difference, creating healthy communities in vibrant, participatory societies. Through 177 affiliates across 38 countries, and in partnership with thousands of nonprofits and corporations, Points of Light engages 5 million volunteers in 16 million hours of service each year. We bring the power of people to bear where it's needed most.
More from Points of Light