Published 05-14-13
Submitted by Points of Light
In recognition of extraordinary achievements in community service, Hasbro, Inc. (NASDAQ: HAS) in partnership with generationOn, is honoring six inspiring kids and teens who have created unique ways to address challenging issues in their local and global communities. The six young service leaders will be named Hasbro Community Action Heroes during the fourth Annual generationOn Benefit in New York City on May 15, 2013, at 583 Park. The event will also honor Bank of America, Chelsea Clinton, and Julie Fisher Cummings. These steadfast supporters are recognized for embodying generationOn's mission: to inspire, equip, and mobilize youth to take action that changes the world and themselves through service.
"We are thrilled to recognize these six young people who have demonstrated an outstanding dedication to creating change in their communities," said Karen Davis, vice president of Community Relations for Hasbro, Inc. "The power of youth service to transform our world is at the core of Hasbro's commitment to youth leadership and we are proud to honor these impressive young people as heroes for the tremendous mark they have made on the world."
GenerationOn, the youth enterprise of Points of Light, partnered with Hasbro to select the six new Hasbro Community Action Heroes and nine semi-finalists, ages 6 to 18, among hundreds of nominations submitted on behalf of young people across the nation. Each of the six awardees will travel to New York to accept their award and receive a $1,000 educational scholarship.
"GenerationOn believes that young people have a gift to give and a contribution to make. And, we know that with the right support and tools that contribution can transform young people into community leaders, dedicated activists and ultimately, engaged citizens of our increasingly global community," said Concetta Bencivenga, executive director of generationOn. "The Hasbro Community Action Hero Awards recognizes young people who are making their mark through service, and in doing so, inspire others to realize that they too can make a difference."
The 2013 Hasbro Community Action Heroes are:
Yash Gupta (Irvine, CA, age 17) founded Sight Learning, a non-profit organization with a single goal: to provide eyeglasses to students in need of them. In just two years, Yash has collected $350,000 worth of eye glasses and impacted 15,000 lives through eye exams primarily in Mexico, Honduras, and Haiti. He has also helped young people in nine states become leaders in their own communities by implementing their own Sight Learning collections and programs.
Carter Jenkins (San Juan Capistrano, CA, age 15) founded Students for Safe Water, a non-profit with the goal of impacting the world water crisis by bringing latrines to families in Nicaragua. Through his dedication and passion, Carter raised $54,000 which allowed him to install 22 latrines in a village of over 400 people. He also helped bring clean water to over 300 people in Saba, Honduras through the installation of new wells.
Stephanie Jennis (Montville, NJ, age 17) is the founder of Pathways for Exceptional Children, a non-profit launched in 2002 that has trained 15,000 youth mentors in New Jersey to work with children with disabilities. In 2008, Stephanie also created Project Win-Win, an initiative designed to help reduce unemployment among disabled adults by providing employment training programs in food service, entertainment, videography, photography, graphic arts, and more. To date, Pathways has raised over $550,000 and is in 54 different New Jersey communities.
Zachary Morgan (Watson, LA, age 8) wanted to do something to help kids so he decided to give hats to children in hospitals. With the help of his mother, he created Zach's Lidz for Kidz which aims to "put a hat on your head, a smile on your face and hope in your heart." To date, Zachary has collected over 1,000 new, kid-sized baseball caps, which he donates to children receiving chemotherapy treatments through a partnership with his local hospital.
Grace Anne Remey (Tucson, AZ, age 9) has always been a "military kid." Her family has moved across the country while her father was deployed seven times. Well aware of the stress and anxiety caused by deployment, Grace Anne decided to share some of her ideas to help other young people cope by writing and illustrating Lion's Pride: A Tail of Deployment, a book about a young lion cub whose father deploys far away. Her second book, Lion's Pride On the Move, published in March, explores what happens when the lion family has to move to a new country.
Katie Stagliano (Summerville, SC, age 14) founded Katie's Krops in 2008 to bring kids together to produce locally grown, healthy food for area soup kitchens. The organization has since donated over 7,500 pounds of food and served over 3,000 meals to families in need. To date, Katie has empowered more than 1,000 youth to give back through sustainable agriculture and there are now more than 60 Katie's Krops gardens across the United States.
The Hasbro Community Action Hero Awards are an integral part of Hasbro's ongoing partnership with generationOn. As the founding partner, Hasbro supports generationOn by lending its expertise through a multi-year $5 million investment by the Hasbro Children's Fund. This critical support helps generationOn provide kids of all ages with the tools and hands-on opportunities to understand the issues in their communities – and to become part of the solution. The generationOn Benefit serves as an opportunity to honor members of the community who are committed to youth service and to celebrate all of generationOn's volunteers – from young people to civic and corporate leaders – for their exceptional dedication to the transformative power of service to bring positive change to their communities.
About generationOn
GenerationOn is the global youth service movement igniting the power of all kids to make their mark on the world. As the youth service enterprise of Points of Light, generationOn inspires, equips and mobilizes youth to take action through generationOn service clubs, schools, youth organizations, campaigns and youth leadership initiatives. It also provides tools and resources to youth, families and educators to help kids change the world and themselves through service. To learn more about how to get involved, visit www.generationon.org.
About Hasbro, Inc.
Hasbro, Inc. (NASDAQ: HAS) is a branded play company providing children and families around the world with a wide-range of immersive entertainment offerings based on the Company's world class brand portfolio. From toys and games, to television programming, motion pictures, digital gaming and a comprehensive licensing program, Hasbro strives to delight its global customers with well-known and beloved brands such as TRANSFORMERS, LITTLEST PET SHOP, NERF, PLAYSKOOL, MY LITTLE PONY, G.I. JOE, MAGIC: THE GATHERING and MONOPOLY. The Company's Hasbro Studios develops and produces television programming for markets around the world. Programming in the U.S. is distributed on The Hub TV Network, a multi-platform joint venture between Hasbro and Discovery Communications (NASDAQ: DISCA, DISCB, DISCK). Through the Company's deep commitment to corporate social responsibility, including philanthropy, Hasbro is helping to build a safe and sustainable world for future generations and to positively impact the lives of millions of children and families every year. It has been recognized for its efforts by being named one of the "World's Most Ethical Companies" and is ranked as one of Corporate Responsibility Magazine's "100 Best Corporate Citizens." Learn more at www.hasbro.com. © 2013 Hasbro, Inc. All Rights Reserved.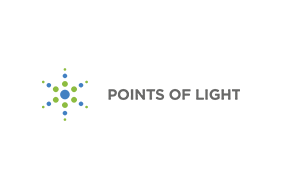 Points of Light
Points of Light
Points of Light is a nonpartisan, global nonprofit organization that inspires, equips and mobilizes millions of people to take action that changes the world. We envision a world in which every individual discovers the power to make a difference, creating healthy communities in vibrant, participatory societies. Through 177 affiliates across 38 countries, and in partnership with thousands of nonprofits and corporations, Points of Light engages 5 million volunteers in 16 million hours of service each year. We bring the power of people to bear where it's needed most.
More from Points of Light