Published 04-26-13
Submitted by 3BL CSRwire
Ethics in business, activists' responses to corporate strategies and food sustainability practices dominated our readers' attention in March.
First up: The Ethisphere Institute,
a leading international think-tank dedicated to the sharing of best practices in business ethics and corporate social responsibility, announced its World's Most Ethical Companies Ranking, naming long-time CSRwire member, Symantec Corporation, as one of the World's Most Ethical Companies for 2013.
Symantec's corporate framework reflects its programmatic approach to doing business ethically every day. The company's ethics and compliance program benchmarks the highest corporate governance criteria, integrating internal controls, policies and processes that enable its employees to exceed standard compliance requirements.
Next to make the cut: Chevron Using 60 Law Firms and 2,000 Legal Personnel To Evade Ecuador Environmental Liability, Company Reports.
This latest information was revealed in a U.S. court filing in New York,
where Chevron has launched a "fraud" case against the indigenous and farmer villagers who brought suit against the company and two of their lawyers. In response, Chevron faces counterclaims accusing the company of using the fraud case as a smokescreen to distract attention from judicial findings in Ecuador that it committed environmental crimes, conducted a fraudulent remediation, and launched an intimidation campaign against judges in Ecuador.
Since an Ecuador court in 2011 found Chevron liable for $19.04 billion for the deliberate dumping of toxic waste when it operated in the country in the 1970s and 1980s, the affected indigenous and farmer communities have filed seizure lawsuits targeting roughly $15 billion in company assets in Canada, Argentina and Brazil (see here) – something Chevron describes as causing "irreparable harm" to its global operations.
Lastly, McDonald's makes the headlines with its investment in sustainable coffee.
McDonald's is on a roll with its sustainability efforts. Like Nike was the poster child for human rights abuses and changed tactics to become a leader in sustainable apparel, McDonald's has been widely criticized for its poor record on supply chain management. But not today.
Just three months ago, McDonald's caused
a flurry of attention by announcing a commitment to source 100 percent of its fish sustainably. Now, once again the fast food company dominated the news cycle, this time for its efforts on increasing the sustainability of its coffee supply chain.
To promote the environmental, ethical and economic long-term sustainability of coffee supplies, McDonald's (NYSE: MCD) announced McDonald's USA, McDonald's Canada and their franchisees are investing over $6.5 million over four-and-a-half years in a technical assistance program to help approximately 13,000 coffee farmers in Central America produce and process more sustainably. The investment in farmer technical assistance complements the recent certification requirement McDonald's USA has made of its suppliers to source only 100% Rainforest Alliance certified espresso.
March's Webinars & Twitter Chats:
SAP's First Integrated Report: A Live Webinar
Last month, we organized a webinar with SAP to launch its first Integrated Report. Joining CSRwire's Aman Singh were SAP's Chief Sustainability Officer Peter Graf, Chief Accounting Officer Dr. Christoph Huetten and Paul Druckman, CEO of the International Integrated Reporting Council (IIRC). Along with a very engaged audience, the panel went through a robust overview of the Report, the challenges and successes of shifting from "sustainability metrics" to "integrated performance," and answered live questions from the audience on a variety of topics. A report.
Fair Trade & Supply Chain Transparency: A Twitter Chat with Indigenous
Using the #WorthWearing hashtag, we conducted a Twitter chat with apparel producer Indigenous to extend the dialogue on fair trade and organic fashion to the general public. With several brands, designers, nonprofits, consumers and thought leaders participating, the chat took us through a maze of questions and controversial issues including consumption, ethical sourcing, choice and more. Check out the Storify!
Shared Success at Verizon: A Live Webinar
What does "Shared Value" truly mean when put into practice? Along with CSR Chief Kathryn Brown, Sustainability Chief Jim Gowen and a lively audience on Twitter and online, CSRwire's Aman Singh led a discussion on how technology giant Verizon is contextualizing Shared Value to inform and influence the way it operates: from sustainability goals and carbon intensity to its "magic bus" program and supplier responsibility. Grab the summary + webinar recording.
CSR Views & Trends: What got people talking on Talkback?
When HR meets CSR, the Business Benefits...But Do HR Managers Believe That?
Connecting CSR with HR has been a vocal point of view for many of us in the sector for as many years. We've argued that good corporate citizenship attracts, retains and develops talent – and
must be leveraged as a powerful tool in building a talented and sustainable workforce. Elaine Cohen has been leading this charge and continues to attract well-deserved attention. Her blog came in at a resounding number one position for the month.
Measuring the Impact of Employee Volunteering: What Metrics are Most Important and Why
To further support the attention for employee engagement as a competitive advantage and societal benefit, Farron Levy's blog on measuring and metrics associated with employee volunteering came in at number two for the month. He presents a great argument – useful for corporations, for small and medium-sized enterprises as well as supporting nonprofits.
Peak Everything: Industry At a Crossroads, Says Nestlé Waters North America
Did you know Americans throw away 25 million plastic bottles every hour? And that's only one of the interesting facts in Francesca's blog on Extended Producer Responsibility. Where is 'away' anyway? Through a compelling conversation with Nestlé Waters North America, which is actively engaged on promoting a system-wide regulation on recycling, Francesca draws out an industry-wide hesitance on taking responsibility for waste and highlights a complex dynamic at work. The story came in number three for the month.
What's next? Webinar Alert!
A Conversation on Employee Engagement, Volunteerism & Shareholder Value: What's The Link?
Can employee volunteerism directly affect shareholder value? What does leading research tell us? And what role does storytelling – and the ability to use data to tell the story
– have in motivating employees, enhancing organizational brand and shifting public mindsets? How can companies collect, manage, measure and report on their employee engagement data from one platform?
Join CSRwire's Editorial Director Aman Singh in conversation with Melanie Michaud, Philips' Senior Manager for Internal Communications – Corporate Responsibility, Daniel Korschun, Drexel University's Assistant Professor of Marketing and Fellow at the Center for Corporate Reputation Management at the LeBow College of Business, and Profits for Purpose's Jason Burns on the increasing – and important – role of connecting engagement data with business performance and brand value. Learn more and register NOW!
For more CSR and sustainability news, views & reports, stay connected with CSRwire on Twitter, Facebook and LinkedIn.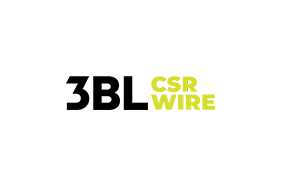 3BL CSRwire
3BL CSRwire
Respected and relied on by journalists, bloggers, business leaders and academics around the world, 3BL CSRwire is a dedicated, real-time source for major news and updates from within the worlds of ESG, corporate social responsibility and sustainability.
3BL CSRwire offers a-la-carte press release distribution to a global network of influential stakeholders and mainstream audiences—perfect for organizations just getting started in CSR or for those looking to get the most out of their corporate communications.
More from 3BL CSRwire