Published 04-24-13
Submitted by 3BL CSRwire
Chances are, if you have more than 100 employees, you either have a volunteerism program or have one in the works. Chances also are – especially if you already have a program in place – that you want to report on all the incredible work being done by your employees for recognition, competitive value and transparency.
But how do you do that in a way that isn't interpreted as self-promotional or submerged into a sea of metrics without context? And how do you keep everything from social media and engagement to tracking and reporting requirements straight?
For Jason Burns, CEO of Profits for Purpose, for example, the impact of employee engagement goes beyond data collection and measurement.
"Online tools [like Profits for Purpose] are empowering companies to make a lasting impact, while strengthening their brand as a purpose driven company. Engagement is no longer exclusively an HR issue. It is a business issue because it directly affects the bottom line. Employees who are engaged are more productive, more loyal, and make better representatives for their companies. Unfortunately, many inspiring stories of engagement get lost in the shuffle of excel spreadsheets."
Oh, those excel sheets, right?
But can employee volunteerism directly affect shareholder value? And what role does storytelling – and the ability to use data to tell the story – have in motivating employees, enhancing organizational brand and shift public mindsets? Moreover, what role can your Human Resource department play in directly contributing to the bottom line?
Join CSRwire's Editorial Director Aman Singh in conversation with Melanie Michaud, Philips' Senior Manager for Internal Communications – Corporate Responsibility, Daniel Korschun, Drexel University's Assistant Professor of Marketing and Fellow at the Center for Corporate Reputation Management at the LeBow College of Business, and Profits for Purpose's Jason Burns on the increasing – and important – role of measuring, tracking and connecting engagement data with business performance, bottom line results and brand value.
Among the topics we will discuss:
What does leading research say about the connection between employee engagement and shareholder value?
How does a CSR strategy led strategically across functions affect business performance?
How are companies like Phillips connecting the dots between volunteerism, engagement, retention and business growth?
How can companies collect, manage, measure and report on their employee engagement data from one platform to ensure they're communicating effectively and being transparent with their metrics?
What is the role of leadership buy in and engagement beyond pursuing their favorites causes?
Date: May 9, 2013
Time: 2:00pm EST
Venue: GoToWebinar
Twitter: #engageROI
Register here and send out the following tweet:
I'll join @CSRwire & @Profits4Purpose 2discuss the link b/n #EmployeeEngagement & shareholder value 05/09 http://bit.ly/engageROI #engageROI
And remember to come armed with questions, perspective and insights!
About CSRwire
CSRwire is the largest repository of voluntary disclosure in the world and the leading digital media platform for corporate social responsibility and sustainability news. Founded in 1999 to advance the movement toward a more economically-just and environmentally-sustainable society and away from single bottom line capitalism, CSRwire has paved the way for new standards of corporate citizenship, earning the international respect of thought leaders, business leaders, academics, philanthropists, activists and the media community.
About Profits4Purpose
Profits4Purpose exists to empower companies with the tools to effectively engage their company and employees in achieving a positive impact in the city where they live, work and play. By making it as easy and advantageous as possible for companies to get involved in community outreach, we desire to increase corporate support and create a movement of companies increasing their partnership to strengthen their local community.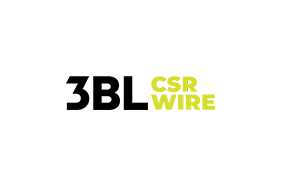 3BL CSRwire
3BL CSRwire
Respected and relied on by journalists, bloggers, business leaders and academics around the world, 3BL CSRwire is a dedicated, real-time source for major news and updates from within the worlds of ESG, corporate social responsibility and sustainability.
3BL CSRwire offers a-la-carte press release distribution to a global network of influential stakeholders and mainstream audiences—perfect for organizations just getting started in CSR or for those looking to get the most out of their corporate communications.
More from 3BL CSRwire