Published 03-22-13
Submitted by CSRwire
Verizon recently released its 2012 annual report showcasing solid progress in delivering powerful answers in the areas of healthcare, education and energy management. This is the second year Verizon produced an Integrated Report, which combined its corporate responsibility performance with their traditional annual report on financial performance to offer a comprehensive vision for growth.
Verizon's corporate responsibility is directly tied to its business strategy, so the company cannot talk about one without the other. This was the real motivator behind creating an Integrated Report.
As Verizon Chairman and CEO Lowell McAdam said in the report, "At the core of our growth strategy is our commitment to using our technology to address the world's biggest challenges. We call this growth strategy "Shared Success," an integrated approach to growth that drives both our business development and corporate responsibility efforts." Verizon's "Shared Success" opens new business markets, creates long-term value for shareowners, and helps solve community problems.
To discuss Verizon's "Shared Success" approach and the latest Integrated Report, Verizon's senior leadership, including Senior Vice President Kathryn C. Brown and Chief Sustainability Officer Jim Gowen, will participate in a webinar organized by CSRwire – and moderated by Editorial Director Aman Singh – on April 3, 2013. Among the questions we will explore:
Verizon's "Shared Success" Model: How is Verizon using its advanced technology to create shared value in the areas of healthcare, education, and sustainability? How is Verizon measuring its success?
Verizon's Sustainability Efforts and Carbon Intensity Metric: In 2011, Verizon set a long-term goal to reduce their carbon intensity – the amount of CO2 produced to move data running over their networks. How did the company do in 2012? How is being 'green' impacting the bottom-line? What new goals is Verizon setting to further its sustainability program?
The Verizon Foundation as an Incubator for Innovation: Last year was one of transition for the Verizon Foundation as it revised its strategy by combining Verizon's advanced technology with its philanthropic resources to address challenges in education, healthcare and energy management, in underserved communities. How does the new approach work? And why the need for change?
The journey of Integrated Reporting: How is the company addressing the obvious and not-so-obvious challenges of integrated reporting and finding the connections between environmental, social and governance performance, shareholder value and customer service?
Details:
Date: April 3, 2013
Time: 12:00pm EST
Register: Register here and send out the following tweet:
I will join @CSRwire and @Verizon on 04/03 to discuss its 2nd #integratedReport and #SharedSuccess model http://bit.ly/ver_csr #verizonCSR
Twitter Hashtag: #VerizonCSR
About Verizon:
Verizon Communications Inc. (NYSE, Nasdaq: VZ), headquartered in New York, is a global leader in delivering broadband and other wireless and wireline communications services to consumer, business, government and wholesale customers. Verizon Wireless operates America's most reliable wireless network, with more than 98 million retail connections nationwide. Verizon also provides converged communications, information and entertainment services over America's most advanced fiber-optic network, and delivers integrated business solutions to customers in more than 150 countries, including all of the Fortune 500. A Dow 30 company with nearly $116 billion in 2012 revenues, Verizon employs a diverse workforce of 183,400. For more information, visit www.verizon.com.
About CSRwire:
CSRwire is a digital media platform and the leading global source of corporate social responsibility (CSR) and sustainability news. Founded in 1999 to advance the movement towards a more economically just and environmentally sustainable society and away from single bottom line capitalism, CSRwire has paved the way for new standards of corporate citizenship, earning the international respect of thought leaders, business leaders, academics, philanthropists, activists and the media community. Through innovative techniques and strategic partnerships, CSRwire continues to expand its content, communication technology and distribution channels exponentially.
CSRwire is a Certified B Corp, United Nations Global Compact Signatory, member of Social Venture Network, and supporter of the Gasoline Alley Foundation. In 2012, CSRwire supported over 250 non-profit organizations worldwide.
Find CSRwire on LinkedIn, Facebook and Twitter, and get up-to-date news, views and trends in CSR and sustainability with the CSRwire Talkback blog.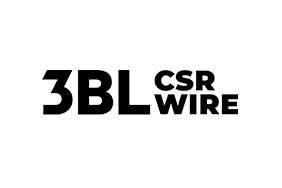 CSRwire
CSRwire
Trusted since 1999, 3BL CSRwire is a dedicated, real-time source for major news and updates pertaining to corporate social responsibility and sustainability. CSRwire is part of the 3BL network.

Explore the latest news below.
More from CSRwire