Published 03-25-13
Submitted by 3BL CSRwire
Today, sustainability reporting lacks comparability, rigor, and implications for financial valuation. As such, sustainability reporting can't be tied to performance in a way that is actionable by management or investors. There is a need for standards that help companies address, and investors analyze, the most material environmental, social and governance (ESG) issues in their industry.
Join CSRwire and the Sustainability Accounting Standards Board (SASB) for a webinar and Tweetchat to discuss what materiality means for sustainability. Learn about SASB's work to develop industry-specific sustainability accounting standards and how these standards will affect your industry and organization. This will also be a great opportunity to have your questions answered about the future of ESG disclosure and learn how to become involved in the standards-setting process.
Date: April 18, 2013
Time: 2:00 pm EST
Registration: Register here and send out the following tweet:
I will join @sasb_org + @CSRwire on 04/18 to discuss #ESG #disclosure, #materiality & #sustainability standards! http://bit.ly/sasbcsrwire
Hashtag: #SASBCSRwire
About SASB
Sustainability Accounting Standards Board™ (SASB)™ is an independent 501(c)3 organization that establishes and maintains industry-tailored key performance indicators for use in disclosing material sustainability issues for the benefit of investors, corporations and the public. For more information about SASB, visit www.sasb.org, or follow us on YouTube, Twitter or LinkedIn.
About CSRwire
CSRwire is a digital media platform and the leading global source of corporate social responsibility (CSR) and sustainability news. Founded in 1999 to advance the movement towards a more economically just and environmentally sustainable society and away from single bottom line capitalism, CSRwire has paved the way for new standards of corporate citizenship, earning the international respect of thought leaders, business leaders, academics, philanthropists, activists and the media community. Follow us on LinkedIn, Facebook and Twitter.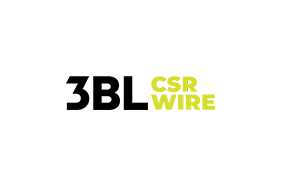 3BL CSRwire
3BL CSRwire
Respected and relied on by journalists, bloggers, business leaders and academics around the world, 3BL CSRwire is a dedicated, real-time source for major news and updates from within the worlds of ESG, corporate social responsibility and sustainability.
3BL CSRwire offers a-la-carte press release distribution to a global network of influential stakeholders and mainstream audiences—perfect for organizations just getting started in CSR or for those looking to get the most out of their corporate communications.
More from 3BL CSRwire