Published 03-20-13
Submitted by GSK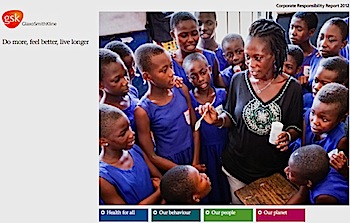 GSK has today published its Corporate Responsibility Report, in which it reiterates its commitment to operate responsibly, openly and transparently and outlines advances made on this agenda during 2012. In the report, the company also sets out 23 forward-looking commitments aligned with its core areas of strategic focus including access to medicines, transparency and environmental sustainability. Corporate responsibility is central to GSK's strategy to deliver sustainable financial performance whilst providing shared value to patients, consumers and governments.
GSK CEO Sir Andrew Witty said: "Operating in a trustworthy and responsible way underpins our business success. Our record in 2012 shows we are making good progress – taking significant steps to increase clinical data transparency, leading the Access to Medicines Index and doubling funding for our independent research into diseases of the developing world at our Open Lab at Tres Cantos, Spain. We recognise there is more we can do and we will continue to challenge ourselves to find new approaches to create value for both society and shareholders and to improve lives around the world. That is why we are setting out new long-term commitments which will allow those outside the company to track our progress and hold us to account more effectively."
2012 highlights:
Innovation: The biggest contribution GSK makes to improving health is through scientific innovation – researching and developing new medicines and vaccines. During the year, the company invested £3.5bn in core research and development, with the potential to bring around 15 new medicines and vaccines to patients in the next 3 years. It also committed a further £5 million to the Tres Cantos Open Lab Foundation, supporting independent research into diseases of the developing world.
Access to medicines: GSK is actively working to make its medicines and vaccines as accessible and affordable for the people who need them. In 2012, the company delivered pneumococcal vaccines to the GAVI-led vaccination programme in Pakistan expected to reach 4.8 million children a year. Since 2010, the volume of GSK medicines supplied to the world's poorest countries has increased by nearly a half from 55 million units to 82.5 million in 2012.
Clinical data transparency: In 2012 the company furthered its commitment to transparency by taking steps to provide access to anonymised detailed data from clinical trials of its authorised or terminated medicines to help advance scientific understanding and inform medical judgment. It also became the first pharmaceutical company to sign up to the AllTrials campaign for clinical trial transparency.
Forward-looking commitments
Setting these new commitments will enable the company to more effectively measure and communicate the progress it makes on this agenda. The report includes commitments to:
Continue to work with partners to support the strengthening of healthcare infrastructure which could improve access to healthcare for 20 million under-served people by 2020.
Invest in the development of vaccines that do not require continuous refrigeration, making distribution easier and less expensive.
Continue to drive a values-based approach to sales and marketing practices across the world, with the interests of consumers & patients at its core.
Extend volunteering opportunities for GSK employees to bring about positive change to communities and global health whilst providing individual development.
Reduce our overall carbon footprint by 25% by 2020 (vs. 2010) and have a carbon neutral value chain by 2050.
Click here for the full list of commitments in the 2012 Corporate Responsibility report. GSK will begin reporting progress against these new commitments in its next report.
GlaxoSmithKline (NYSE: GSK) – one of the world's leading research-based pharmaceutical and healthcare companies – is committed to improving the quality of human life by enabling people to do more, feel better and live longer. For further information please visit www.gsk.com.
Cautionary statement regarding forward-looking statements
GSK cautions investors that any forward-looking statements or projections made by GSK, including those made in this announcement, are subject to risks and uncertainties that may cause actual results to differ materially from those projected. Factors that may affect GSK's operations are described under Item 3.D 'Risk factors' in the company's Annual Report on Form 20-F for 2012.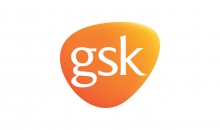 GSK
GSK
GlaxoSmithKline (GSK) is one of the world's leading pharmaceutical and healthcare companies and is committed to improving the quality of human life by enabling people to do more, feel better and live longer. GSK has a comprehensive global programme of community partnerships focused on improving health and education. In the UK, GSK supports over 70 charitable organizations in health, science education, the arts and the environment.
More from GSK