Published 03-25-13
Submitted by W. W. Norton & Company, Inc.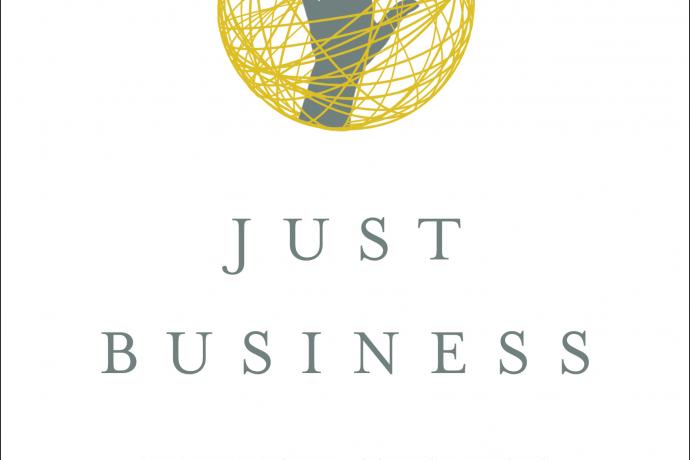 JUST BUSINESS

"It is all too easy when looking at seemingly intractable problems to believe that nothing can be done or that only governments or political leaders can act. Just Business shows us the opposite and underlines how all segments of society must play their part to achieve results that benefit all."
 —Kofi Annan
"By developing the 'UN Guiding Principles,' John Ruggie brought thoughtful and principled pragmatism to a topic of decades-long controversy. Just Business is a great guide for anyone taking on the task of reconciling interested and apparently irreconcilable parties and, indeed, for further progress in this field of business and human rights."
 —Sir Mark Moody-Stuart,
former chairman of Royal Dutch/Shell 
"A must-read for anyone wishing to understand how to navigate the choppy and turbulent waters of the UN system and succeed. Just Business is the embodiment of the man who wrote it—sharp, intuitive, honest, pragmatic, witty, and humble—passionate in his resolve and commitment to human rights."
—Paul Polman, CEO of Unilever
In 2005, John Ruggie received an almost impossible mission. Kofi Annan, Secretary General of the United Nations, asked Ruggie to research corporate human rights abuses committed around the world—from the effect of environmental degradation on local populations to forced labor—and, if he could, to find solutions. He tells his story—and his struggle to fill this particular pair of shoes—in his new, eagerly anticipated book, JUST BUSINESS: Multinational Corporations and Human Rights [W. W. Norton & Company; March 25, 2013; $24.95 hardcover].
From Indonesian sweatshops to Nigerian oilfields, Ruggie and his small team of committed researchers documented abusive corporate practices in almost every corner of the globe—and companies as well as governments that failed to take responsibility. "Companies initially took a strictly legalistic approach," Ruggie says. " 'We don't own this problem,' they said. 'These are independent suppliers, or this is a legally separate subsidiary.' "
Even where national laws exist to stop abusive conduct, many countries fail to enforce them because they lack the capacity, fear the competitive consequences for doing so, or because their leaders subordinate public good for private gain. Governance gaps provide permissive environments for wrongful acts by companies.
Others had tried and failed to solve the problem. The efforts of the UN to create a binding set of standards backed by international law failed. Corporate initiatives to create "social responsibility" standards also failed to go far enough. "The two sides, corporations and activists, were locked in a stalemate," writes Ruggie.
Ruggie began with no staff and no budget. His research was originally meant to be a part-time job that he fulfilled when he wasn't working as a professor at Harvard Kennedy School of Government. But his mandate grew over time until, six years later, he had developed what UN Secretary General Ban Ki-moon calls "the authoritative global standard for preventing and addressing adverse impacts on human rights arising from business-related activity."
Ruggie and his team created a set of United Nations human rights standards for business that can be deployed in myriad ways by governments, corporations, and human rights activists for people adversely affected by companies. His heterodox approach "recognizes, better interconnects and leverages the multiple spheres of governance that shape the conduct of multinational businesses," he says.
With the help of his "Protect, Respect and Remedy" Framework and "Guiding Principles" to implement that framework, two bodies of thought once locked in opposition—the pursuit of corporate value and advocates of human rights values—are now beginning to converge. When Ruggie presented these Guiding Principles before the UN Human Rights Council, he said, "Here you have an instrument, the Guiding Principles, that you could have never negotiated yourselves. . . . Seize the opportunity. Endorse it." They did. Unanimously.
Companies have begun to align their practices with the Guiding Principles, widely known as "the Ruggie Rules." Advocacy groups and workers' organizations use them in their campaigning governments around the world and are drawing on them to inform their own policies and laws. They have even featured in a crucial case before the Supreme Court.
Ruggie recognizes that this is only the beginning. JUST BUSINESS tells the story of one man's challenging task to create a feasible yet ethical approach to the future of global business and human rights.
ABOUT THE AUTHOR:
John Gerard Ruggie is the Berthold Beitz Professor in Human Rights and International Affairs at the Harvard Kennedy School of Government. He lives in West Newton, Massachusetts. 
TITLE: JUST BUSINESS: Multinational Corporations and Human Rights
AUTHOR: John Ruggie
PUBLICATION DATE: March 25, 2013
PRICE: $24.95 hardcover
ISBN: 978-0-393-06288-5 
TO PURCHASE: http://books.wwnorton.com/books/Just-Business/

W. W. Norton & Company, Inc.
W. W. Norton & Company, Inc.
W. W. Norton & Company, the oldest and largest publishing house owned wholly by its employees, strives to carry out the imperative of its founder to "publish books not for a single season, but for the years" in fiction, nonfiction, poetry, college textbooks, cookbooks, art books and professional books.
More from W. W. Norton & Company, Inc.