Published 03-12-13
Submitted by Cradle to Cradle Products Innovation Institute
The Cradle to Cradle Products Innovation Institute today announced the certification of its first global apparel brand collection. Products in the PUMA InCycle collection have been awarded BASIC level certification under version 2.1 of the Cradle to Cradle CertifiedCM Product Standard, the first step on a continuous improvement and innovation path.
PUMA's introduction of its InCycle collection of biodegradable and recyclable products gives the
Sportlifestyle and fashion industries clear insight as to how the Cradle to Cradle Certified Products Program helps realize a company's sustainability goals.
Innovation design experts at PUMA used the product certification process to realize very ambitious goals. "We asked ourselves, 'Can we create the industry's first biodegradable and recyclable collection?'" said Justin DeKoszmovszky, PumaVision Global Strategy and Program Manager. "The certification process encouraged us to push the envelope."
Specifically, the Certified Products Program pushed re-evaluation of product ingredients, including pigments, dye stocks, and materials. For example, the resulting lifestyle sneaker "Basket" combines cotton, linen, and bioplastics from Apinat® Bio. Together with the collection's tee shirts, the sneakers are biodegradable when processed by modern composting facilities. The textiles used in the InCycle backpack and legendary PUMA track jacket are designed to be returned to industry for perpetual recyclability through PUMA's Bring Me Back program, another innovation that incorporates the Certified Products Program's criteria for "material reutilization."
Announcing the certified collection, Institute president Bridgett Luther said, "PUMA is sending a wake-up call to the textile and apparel industries that important changes are coming and Cradle to Cradle Certified is a significant part of the way forward."
"The InCycle is not a one-season wonder," says DeKoszmovszky. "It is part of the Clever Products strategy PUMA is driving to fulfill our mission to be the most desirable and sustainable Sportlifestyle company in the world. The Cradle to Cradle Certified InCycle collection is an important step in PUMA's sustainability journey."
Adoption of Cradle to Cradle Certified dovetails with PUMA's pioneering Environmental Profit and Loss accounting. According to analysis by Trucost, the environmental impacts of the InCycle sneaker and shirt are each 31 percent lower than conventional PUMA suede sneakers and tees.
PUMA's InCycle collection is available in stores starting this month and online at puma.com, where there is further information about the InCycle Collection.
For more information about the Cradle to Cradle Products Innovation Institute, please visit www.c2ccertfied.org. For details about the requirements for BASIC certification, please visit http://c2ccertified.org/product_certification/standards/basic/v2_11. For information on the PUMA InCycle collection, please visit http://puma.com/cleverworld.
Notes to editors: Cradle to Cradle CertifiedCM is a certification mark licensed by the Cradle to Cradle Products Innovation Institute.
About Cradle to Cradle Products Innovation Institute
The Institute is a nonprofit organization created to administer the Cradle to Cradle Certified Products Program, a continuous quality improvement system for transforming the making of things into a positive force for people and planet.
About PUMA
PUMA is one of the world's leading Sportlifestyle companies that designs and develops footwear, apparel, and accessories. It is committed to working in ways that contribute to the world by supporting Creativity, SAFE Sustainability, and Peace, and by staying true to the principles of being Fair, Honest, Positive, and Creative in decisions made and actions taken. PUMA starts in Sport and ends in Fashion. Its Sport Performance and Lifestyle labels include categories such as Football, Running, Motorsports, Golf, and Sailing. Sport Fashion features collaborations with renowned designer labels such as Alexander McQueen, Mihara Yasuhiro, and Sergio Rossi. The PUMA Group owns the brands PUMA, Cobra Golf, and Tretorn. The company, which was founded in 1948, distributes its products in more than 120 countries, employs more than 9,000 people worldwide and has headquarters in Herzogenaurach/Germany, Boston, London, and Hong Kong. For more information, please visit www.puma.com.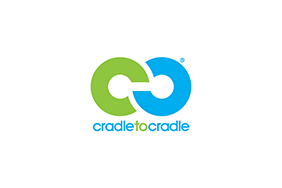 Cradle to Cradle Products Innovation Institute
Cradle to Cradle Products Innovation Institute
The Cradle to Cradle Products Innovation Institute is a non-profit organization, co-founded by William McDonough and Michael Braungart, to bring about a large-scale transformation in the way we make things. The Institute's mission is to provide a continuous improvement quality standard to guide product manufacturers and designers in making safe and healthy things for our world. The Institute, using the Cradle to Cradle® framework, works with leaders from academia, the NGO environmental community, government, and industry to implement a standard for assessing and constantly improving products based on five criteria: 1. Safe and appropriately sourced materials 2. Material reutilization 3. Renewable energy 4. Release of clean water 5. Social fairness Products that meet the transparent criteria of this rating system will receive the Cradle to CradleCM certification mark.