Published 03-11-13
Submitted by Points of Light
Belk is celebrating its 125th anniversary with 125 days of service dedicated to improving conditions at 250 Title I schools in low-income communities in 16 states.  The first event took place in Charlotte on March 11, as more than 200 employees gathered to makeover two area schools.
Belk, well known for its commitment to service and community, will kick it up a notch this year by investing $2 million in its first companywide service program, engaging all 23,000 of its employees.  Points of Light, the largest organization in the world dedicated to volunteer service, will help lead the effort.
Over the next 125 days, Belk employees in more than 250 communities across the South will paint classrooms, build bookcases, beautify school grounds, plant school gardens, update playgrounds, create picnic benches, install educational murals and more.
Employees will also help run in-store book drives, create "magic reading carpets" for kids to sit on during story hour, and offer school principals personal makeovers with up to $300 in donated merchandise, clothing and makeup.
"Being involved in our local communities has been one of this company's core values since the beginning and an important part of our success throughout our 125 years," John R. Belk, the company's president and CEO, told 700 store managers, district managers and corporation staff at a kickoff event last month. "We are excited to step up that commitment this year and invest our time, talent and resources in local schools."
Points of Light's leaders were on hand for the announcement. "It says a lot about Belk that of the many ways that you could mark your 125th anniversary, you have chosen to do it by helping the communities and schools that you serve," said Michelle Nunn, the organization's CEO. "By nurturing our nation's most precious resource, you will define your company and proclaim your values for the future."
Neil Bush, chair of Points of Light's board of directors, invoked his father's famous "thousand points of light" speech and spoke of the importance of service to his family and to the Belk family. "You are going to have the chance to ignite the joy of life-long learning," Bush told employees. "That's a real gift."
For history buffs, William Henry Belk founded the first Belk store in Monroe, N.C., on May 29, 1888.
ABOUT BELK
Belk, Inc. is the nation's largest privately owned and operated department store company with more than 300 fashion department stores in 16 contiguous Southern states and sales totaling $3.5 billion in its past fiscal year. The company seeks to be the department store of choice in each community it serves by providing superior service and merchandise that meets customers' needs for fashion, value and quality. For more information, go to www.belk.com.
ABOUT POINTS OF LIGHT
Points of Light – the world's largest organization dedicated to volunteer service – mobilizes millions of people to take action that is changing the world. Through affiliates in 250 cities and partnerships with thousands of nonprofits and corporations, Points of Light engages 4 million volunteers in 30 million hours of service each year. We put people at the center of change. For more information, go to www.pointsoflight.org.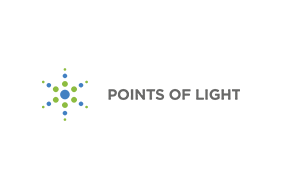 Points of Light
Points of Light
Points of Light is a nonpartisan, global nonprofit organization that inspires, equips and mobilizes millions of people to take action that changes the world. We envision a world in which every individual discovers the power to make a difference, creating healthy communities in vibrant, participatory societies. Through 177 affiliates across 38 countries, and in partnership with thousands of nonprofits and corporations, Points of Light engages 5 million volunteers in 16 million hours of service each year. We bring the power of people to bear where it's needed most.
More from Points of Light