Published 03-01-13
Submitted by 3BL CSRwire
INDIGENOUS, a California-based organic and fair trade fashion company, is kicking off the 2013 segment of its "Our World. Our Worth" campaign.
This latest segment of the campaign aims to address the entire industry by inviting brands and fashionistas to join in an online ethical discussion.
"This is the age of fair trade and organic and this is the decade when the supply chain will be transformed. Major brands like Eileen Fisher are collaborating with us at INDIGENOUS to do what is right for artisans and workers in the fashion supply chain. However, a lot of brands are still on the sidelines. Now is the time to join the conversation, to stand out and be counted as those who seek fair and just industry practices," says Matt Reynolds, co-founder and President of INDIGENOUS.
On Tuesday, March 5, 2013, it's your turn to join the discussion! In a Tweetchat hosted by CSRwire, INDIGENOUS and other socially conscious brands, we will discuss the critical aspect of fair trade and organic fashion.
Up for discussion: #WorthWearing
What should fashion consumers look for to become more socially conscious?
Can consumers save money and look good in ethically made apparel and accessories?
How do organic materials protect your health and the Earth?
How much do fashion brands care about overconsumption and the environment? How can they generate long-term sustainable change in the fashion industry?
Should fashion brands be more transparent in their supply chain and where does a company draw the line with transparency?
What will encourage more brands and manufacturers to protect human rights? How far should a fashion brand go to expose slave labor and/or elevate poverty?
Should brands take a deeper look into their policies and procedures and even jeopardize profitability to uphold human rights? What is at stake?
Moderated by CSRwire's Editorial Director Aman Singh, the chat will feature brands, retailers, bloggers and fashionistas.
Details
Date: Tuesday, March 5, 2013
Time: 1:00pm EST
Hashtag: #Worthwearing
Register now by emailing aman@CSRwire.com your Twitter handle and sending out the following tweet:
I will join @CSRwire @amansinghcsr & @indigenous on 03/05, 1pm ET to discuss #fairtrade in the #fashion industry #WorthWearing
About INDIGENOUS
INDIGENOUS is considered a true pioneer in premium eco-sensitive and socially-conscious apparel. INDIGENOUS has provided organic and fair-trade quality clothing since 1994, and has established itself as the first name premium eco fashion, employing over 1,500 highly skilled artisans in knitting groups and cooperatives. The INDIGENOUS collection is available through 700 premium specialty boutiques nationwide. Learn more at www.indigenousdesigns.com or www.facebook.com/indigenousdesigns.
About CSRwire
CSRwire is a digital media platform and the leading global source of corporate social responsibility (CSR) and sustainability news. Founded in 1999 to advance the movement towards a more economically just and environmentally sustainable society and away from single bottom line capitalism, CSRwire has paved the way for new standards of corporate citizenship, earning the international respect of thought leaders, business leaders, academics, philanthropists, activists and the media community. Through innovative techniques and strategic partnerships, CSRwire continues to expand its content, communication technology and distribution channels exponentially.
CSRwire is a Certified B Corp, United Nations Global Compact Signatory, member of Social Venture Network, and supporter of the Gasoline Alley Foundation. In 2012, CSRwire supported over 250 non-profit organizations worldwide.
Find CSRwire on LinkedIn, Facebook and Twitter, and get up-to-date news, views and trends in CSR and sustainability with the CSRwire Talkback blog.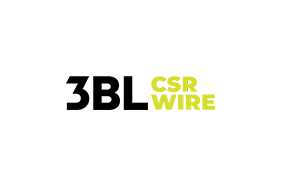 3BL CSRwire
3BL CSRwire
Respected and relied on by journalists, bloggers, business leaders and academics around the world, 3BL CSRwire is a dedicated, real-time source for major news and updates from within the worlds of ESG, corporate social responsibility and sustainability.
3BL CSRwire offers a-la-carte press release distribution to a global network of influential stakeholders and mainstream audiences—perfect for organizations just getting started in CSR or for those looking to get the most out of their corporate communications.
More from 3BL CSRwire