Published 02-21-13
Submitted by Points of Light
Points of Light and Village Capital today announced they will offer $50,000 investments to UBELONG and Generation Citizen, two of 10 start-ups participating in the nation's first accelerator dedicated solely to helping new organizations with social missions that engage people as part of the solution.
After completing an intensive 12-week boot camp focused on mentoring, peer support, networking and funding, UBELONG and Generation Citizen were selected by their peers (the entrepreneurs from the other start-ups at the boot camp) as the two most promising and investment-ready ventures.
PwC Charitable Foundation, Inc. and Starbucks Foundation are supporting this innovative accelerator, which will begin a second boot camp with 10 new start-ups this spring. Interested entrepreneurs running for-profit and nonprofit civic ventures with social missions are encouraged to apply at www.pointsoflight.org/civic-accelerator. The application cycle will close on March 18.
Generation Citizen, a New York-based nonprofit, aims to revolutionize civics education and build a new generation of youth activists and leaders equipped to create change. (Watch a brief video on Generation Citizen at http://www.youtube.com/watch?v=CzvLUbKv7bc&feature=youtu.be.)
"We're honored and thrilled to be chosen," said Generation Citizen founder Scott Warren. "We're excited to be in the midst of an ambitious growth strategy, which calls for us to be working with 20,000 students per year by 2015-16. This investment will allow us to amplify both our reach and our impact."
UBELONG, a Washington, D.C.-based for-profit founded by Cedric Hodgeman and Raul Roman, provides high-impact, affordable international volunteering opportunities. (Watch a brief video on UBELONG at http://www.youtube.com/watch?v=S1eW3jtRQ44&feature=youtu.be.)
"The Civic Accelerator is just a great community of social innovators," said Roman. "Cedric and I learned so much, particularly from our peers in the cohort, a group of incredible social entrepreneurs. We are excited for the investment, which will allow UBELONG to grow faster, expand its reach and continue inspiring international volunteers and corporations to engage and serve across the world."
The other eight start-ups participating in the accelerator were each offered $10,000 investments. They are:
AltruHelp (Boston) is building a software solution and online community to increase volunteerism and millennial civic engagement.
Bould (Denver) connects students with the real-world experience necessary for green careers.
CareerVillage (Boston) helps working professionals provide career information and advice directly to students.
GivKwik (San Francisco) is a social, mobile and web platform that inspires impulse philanthropy.
HopeMob (New York) unites strangers to rally behind people with pressing needs.
Moneythink (Chicago) makes financial literacy relevant and fun for urban 11th and 12th graders.
MyMaryland (Silver Spring, Md.) is democracy's first 24/7 online town hall.
Smallknot (New York) is a community crowd-funding platform for small business.
For short videos, made possible by PGi, on each of these start-ups, go to http://www.pointsoflight.org/civic-incubator/civic-accelerator-ventures.
About Points of Light
Points of Light – the world's largest organization dedicated to volunteer service – mobilizes millions of people to take action that is changing the world. Through affiliates in 250 cities and partnerships with thousands of nonprofits and corporations, Points of Light engages more than 4 million volunteers in 30 million hours of service each year. We put people at the center of change. For more information, go to www.pointsoflight.org.
About Village Capital
Village Capital uses the power of peer review and support to shape enterprises making an impact, and to change the way investment in them is made. Village Capital has operated 15 business acceleration programs with partners worldwide to over 250 entrepreneurs in six countries (US, UK, Kenya, India, Brazil, and China). Village Capital has also provided over $2 million in risk capital to participating enterprises through a peer-selected model. For more information, go to www.vilcap.com.
About PwC Charitable Foundation, Inc.
The PwC Charitable Foundation, Inc., a section 501(c)(3) organization, makes charitable contributions to the people of PwC in times of financial hardship, and to nonprofit organizations that support and promote education and humanitarianism.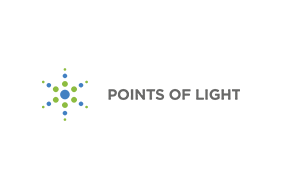 Points of Light
Points of Light
Points of Light is a nonpartisan, global nonprofit organization that inspires, equips and mobilizes millions of people to take action that changes the world. We envision a world in which every individual discovers the power to make a difference, creating healthy communities in vibrant, participatory societies. Through 177 affiliates across 38 countries, and in partnership with thousands of nonprofits and corporations, Points of Light engages 5 million volunteers in 16 million hours of service each year. We bring the power of people to bear where it's needed most.
More from Points of Light