Published 02-12-13
Submitted by 3BL CSRwire
Does volunteerism and workplace giving matter to senior level executives? What about middle managers? How do their perceptions influence workplace giving and pro bono activities across your organization? 
As a lead up to the Annual Best Practices Summit on Employee Engagement in Corporate Citizenship, join us for a thought-provoking discussion on how to make employee engagement work across corporate hierarchies with a panel of experts and practitioners, including:
@dudleypj: Peter Dudley, SVP, Community Support Programs, Wells Fargo
@rrboggs: Robin Boggs, US Corporate Citizenship Lead, Accenture
@DianeSolinger: Diane Solinger, Employee Social Responsibility Manager, Google
@JacskonScott3: Scott Jackson, CEO, Global Impact
@MeganDeYoung1: Megan DeYoung, Director, US Operations, Corporate Citizenship
@Realizedworth: Chris Jarvis, Partner, Realizedworth
The discussion will be moderated by CSRwire's Editorial Director Aman Singh, [@AmanSinghCSR] and will attempt to answer one central question: How can we Make it Matter? 
Details below: 
Date: February 19, 2013
Time: 2:00pm ET
Hashtag: #CWSummit13 
Register now by emailing aman@CSRwire.com your Twitter handle and sending out the following tweet: 
I will join @CSRwire & @CharitiesAtWork on 02/19, 2pm ET to discuss volunteering & giving at work How do we make it matter? #CWSummit13
And if you haven't registered yet, join us for the 12th Annual Best Practices Summit on Employee Engagement in Corporate Citizenship on April 3-4, 2013 at the Grand Hyatt in New York City! JPMorgan Chase is proud to be the Title Sponsor of this year's conference!
You can connect with conference speakers and participants here:

Facebook: https://www.facebook.com/CharitiesAtWorkAnnualSummit
Google+: https://plus.google.com/communities/101490103637145585668
Pinterest: http://pinterest.com/charitiesatwork/
LinkedIn: http://www.linkedin.com/groups?home=&gid=1830441&trk=anet_ug_hm
Twitter: https://twitter.com/CharitiesAtWork
About Charities@Work
Charities@Work is an alliance of four nonprofit federations that serves as the cooperative voice for more than 2000 international, national, and local charities. Our purpose is to provide employers with an efficient way to enhance their employee engagement programs and initiatives and to respond to growing employee interest in a wider range of giving options. We can customize a employee engagement program to reflect the unique interests of your company and employees.
About CSRwire
CSRwire is a digital media platform and the leading global source of corporate social responsibility (CSR) and sustainability news. Founded in 1999 to advance the movement towards a more economically just and environmentally sustainable society and away from single bottom line capitalism, CSRwire has paved the way for new standards of corporate citizenship, earning the international respect of thought leaders, business leaders, academics, philanthropists, activists and the media community. Through innovative techniques and strategic partnerships, CSRwire continues to expand its content, communication technology and distribution channels exponentially.
CSRwire is a Certified B Corp, United Nations Global Compact Signatory, member of Social Venture Network, and supporter of the Gasoline Alley Foundation. In 2012, CSRwire supported over 250 non-profit organizations worldwide. 
Find CSRwire on LinkedIn, Facebook and Twitter, and get up-to-date news, views and trends in CSR and sustainability with the CSRwire Talkback blog.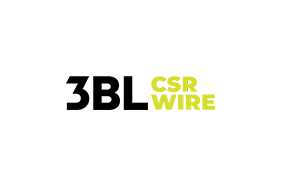 3BL CSRwire
3BL CSRwire
Respected and relied on by journalists, bloggers, business leaders and academics around the world, 3BL CSRwire is a dedicated, real-time source for major news and updates from within the worlds of ESG, corporate social responsibility and sustainability.
3BL CSRwire offers a-la-carte press release distribution to a global network of influential stakeholders and mainstream audiences—perfect for organizations just getting started in CSR or for those looking to get the most out of their corporate communications.
More from 3BL CSRwire