Published 02-12-13
Submitted by GreenBiz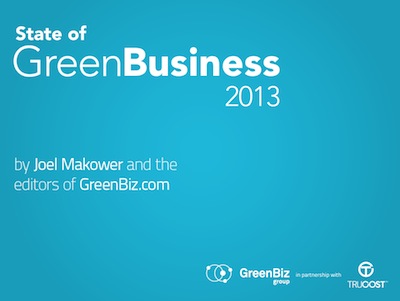 The most comprehensive assessment of corporate sustainability activity to date shows that while companies around the world engage in a wide range of sustainability initiatives, the costs to the environment continue to grow.
The sixth annual "State of Green Business" report (download free at greenbiz.com/stateofgreenbusiness), published by GreenBiz Group in association with Trucost, measures the environmental efforts and impacts of 500 U.S. companies and more than 1,600 of their global counterparts. It tracks more than 30 metrics – some never before reported on a global basis – from greenhouse gas emissions to environmental R&D, to assess whether businesses worldwide are making progress in addressing planetary concerns. The report also tracks 10 corporate megatrends related to environment and sustainability.
Trucost's Environmental Register, which tracks and values corporate resource use and pollution, shows that the financial costs to natural capital of more than 2,000 companies analyzed surpassed their pre-recession levels in 2011, exceeding $1 trillion globally for the first time. The amounts are tallied by compiling companies' individual and supply chain impacts, including carbon emissions, water consumption and waste, and assigning a cost to each impact.
"This is the first time that aggregated reporting data has been done for such a large collection of sustainability metrics," says Joel Makower, chairman and executive editor of GreenBiz Group, and the report's lead author. "It shows that despite the rapid rise of sustainability on companies' agendas, progress is lacking, particularly in light of the resource and weather risks many sectors are facing."
Risk is a key focus of the report. Among the megatrends and metrics are those focusing on how companies increasingly view climate change and access to water and natural resources as key risk factors, particularly in an age where floods and droughts in one part of the world can upend supply chains globally, and where water scarcity is becoming a constraint to operations on nearly every continent.
"The cost of protecting natural capital creates strategic opportunities for businesses that can optimize resource use through supply chains and deliver innovative products and services. Applying a financial value to natural capital impacts provides business context and will spur progress through increased engagement," says Richard Mattison, CEO of Trucost Plc. "The opportunity is ripe for forward-thinking leaders of multinational companies to take the lead in remaining competitive in a resource-constrained, volatile economy that has become the new normal."
Among the 10 megatrends described in the report is the growing interest in measuring natural capital in the form of "environmental profit-and-loss" statements; the rise of machine-to-machine communications, and the opportunities it brings to creating radical efficiency in buildings; the increased interest by investors in sustainability as a materiality issue; and the rise of sustainability-related apps for both consumer and business use.
The "State of Green Business" report will be the centerpiece for the upcoming GreenBiz Forums to be held in New York (February 20-21) and San Francisco (February 27-28). For more information, visit GreenBiz.com.
ABOUT GREENBIZ GROUP
GreenBiz Group's mission is to define and accelerate the business of sustainability. It does this through a wide range of products and services, including its acclaimed website GreenBiz.com and daily e-newsletter GreenBuzz; webcasts on topics of importance to sustainability and energy executives; research reports, such as the annual State of Green Business; the GreenBiz Executive Network, a membership-based, peer-to-peer learning forum for sustainability executives from Fortune 1000 companies; and conferences such as the GreenBiz Forum and VERGE.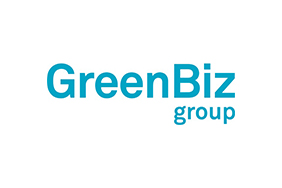 GreenBiz
GreenBiz
GreenBiz Group is a media and events company that advances the opportunities at the intersection of business, technology and sustainability. Through its website, three annual events (GreenBiz, VERGE, Circularity), peer-to-peer network and research, GreenBiz promotes the potential to drive transformation and accelerate progress — within companies, cites, industries and in the very nature of business.
More from GreenBiz