Published 01-31-13
Submitted by Good.Must.Grow.
Good.Must.Grow., a socially responsible marketing consultancy, is proud to announce its certification as a B Corporation, making it the second company in the greater Nashville, Tenn., area to achieve B Corp status.
Leading a global movement to redefine success in business, Certified B Corporations are a new kind of company with a positive vision of a better way to do business. As a Certified B Corporation, Good.Must.Grow. voluntarily meets a higher standard of transparency, accountability, and performance, harnessing the power of business to solve social and economical problems. View the company's complete B Corp profile here: http://www.bcorporation.net/community/directory/goodmustgrowllc.
"Our mission is to help prove that there's no business like good business, so we're extremely excited to be a part of this community of leading companies," said Heath Shackleford, Founder of Good.Must.Grow. "GmG was formed specifically to fuel benefit corporations and nonprofit causes by offering smart, affordable marketing support. We were born to be a B Corp."
Nearly 700 organizations have been certified as B Corps. That number is growing daily, and includes household brands such as Patagonia, Ben and Jerry's, Warby Parker and Seventh Generation as well as a host of up and coming social enterprises who are changing the world for good.
Since its founding in 2012, Good.Must.Grow. has quickly built a local and national roster of socially conscious clients. The company commits to re-investing after-tax profits back into worthy causes and has recently begun seeking donations and strategic partners for its GmG Fund, which will serve as a marketing scholarship/subsidy program for qualifying nonprofits across the country.
Good.Must.Grow. offers clients a full range of marketing support, starting with the development of sound marketing strategies. From there, GmG helps organizations effectively shape and tell their story, while creating engaged communities of support and building promotional platforms to reach new stakeholders.
About Good.Must.Grow.
Good.Must.Grow. provides strategic marketing support for socially responsible businesses, nonprofit causes and organizations that are focused on health + wellness. We want to be part of a revolution that drives societal change by sparking increased charitable giving and community involvement as well as unprecedented levels of corporate social responsibility. See how we're #GrowingGood at http://www.goodmustgrow.com. 
About B Corp
Certified B Corporations 1) meet rigorous standards of social and environmental performance; 2) legally expand their corporate responsibilities to include consideration of stakeholder interests; and 3) build collective voice through the power of the unifying B Corporation brand. As of January 2013, there are over 650 Certified B Corporations from over 60 industries, representing a diverse multi-billion marketplace.
About B Lab
B Lab is a nonprofit organization dedicated to using the power of business to solve social and environmental problems. B Lab drives systemic change through three interrelated initiatives: 1) building a community of Certified B Corporations to make it easier for all of us to tell the difference between "good companies" and just good marketing; 2) accelerating the growth of the impact investing asset class through use of B Lab's GIIRS impact rating system by institutional investors; and 3) promoting supportive public policies, including creation of a new corporate form and tax, procurement, and investment incentives for sustainable business.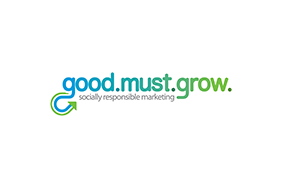 Good.Must.Grow.
Good.Must.Grow.
At Good.Must.Grow. we provide strategic marketing support for socially responsible businesses, nonprofit causes and organizations that are committed to making our world a healthier place. Learn how we are #GrowingGood at www.goodmustgrow.com.
More from Good.Must.Grow.