Published 02-04-13
Submitted by 3BL CSRwire
CSRwire, the largest and longest running global digital media platform for CSR and sustainability news, and Profits4Purpose, the industry leading online corporate giving and volunteering platform, have joined hands to revolutionize the tracking, reporting and story telling of community impact.
In a joint announcement the two organizations offered more details of their collaboration. Designed to
leverage online software as a tool, Profits4Purpose has created a platform, which coordinates and streamlines corporate volunteer and giving programs, while sharing the stories of their employees through dynamic and customized reporting.
P4P has been laying their groundwork since 2008.  Since inception, they have launched innovative programs with leading companies across industry sectors including Staples, Cox Communications, Taylor-Made/Adidas Golf, and UC San Diego. Now, CSRwire, P4P and their client and partner network are on a mission to empower one million people to give back $100 million in cash and in-kind services, in addition to 10 million hours of community service.
Tracking Social Impact: What Separates Profits4Purpose
What separates Profits4Purpose from other cause-based platforms is the ability for organizations to track and report the social impacts of their pro bono and donations in real time. "Inspiring stories will be told, brands will be enhanced, communities will benefit, reporting costs will be reduced, employee ambassadors will be born and stock values will increase," said Joe Sibilia, CEO of CSRwire.  "If employees are not engaged, corporate social responsibility becomes just an exercise in PR".
"In addition to maximizing community impact, Profits for Purpose allows a social landing space for employees creating camaraderie, competitiveness, and employee retention. Communication of these initiatives leads to credibility, brand enhancement and ultimately, increased shareholder value," he added.
For Jason Burns, CEO of Profits for Purpose, the impact of the platform goes beyond data collection and measurement.
"These online tools are empowering companies to make a lasting impact, while strengthening their brand as a purpose driven company. Engagement is no longer exclusively an HR issue. It is a business issue because it directly affects the bottom line. Employees who are engaged are more productive, more loyal, and make better representatives for their companies," he said, adding, "Unfortunately, many inspiring stories of engagement get lost in the shuffle of excel spreadsheets."
Now companies can tell these stories as well as measure results – in one place.
Profit4Purpose's software would also reduce reporting costs for banks satisfying mandatory Community Reinvestment Act disclosures, Global Reporting Initiative and United Nations Global Compact reporting requirements and the various requests by Socially Responsible Mutual Funds, Impact Investors and Non Profit benefactors.
Volunteerism & Shareholder Value: Is There a Link?
But can employee volunteerism directly affect shareholder value? What role does storytelling – and the ability to use data to tell the story – have in motivating employees, enhancing organizational brand and shift public mindsets? Moreover, what role can your Human Resource department play in directly contributing to the bottom line? 
Stay tuned for an upcoming webinar featuring CSRwire's Editorial Director Aman Singh in conversation with Joe, Jason and a roundtable of corporate CSR practitioners to examine employee engagement as a competitive advantage.
About CSRwire
CSRwire is the largest repository of voluntary disclosure in the world and the leading digital media platform for corporate social responsibility and sustainability news. Founded in 1999 to advance the movement toward a more economically-just and environmentally-sustainable society and away from single bottom line capitalism, CSRwire has paved the way for new standards of corporate citizenship, earning the international respect of thought leaders, business leaders, academics, philanthropists, activists and the media community.
About Profits4Purpose
Profits4Purpose exists to empower companies with the tools to effectively engage their company and employees in achieving a positive impact in the city where they live, work and play. By making it as easy and advantageous as possible for companies to get involved in community outreach, we desire to increase corporate support and create a movement of companies increasing their partnership to strengthen their local community.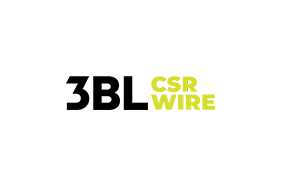 3BL CSRwire
3BL CSRwire
Respected and relied on by journalists, bloggers, business leaders and academics around the world, 3BL CSRwire is a dedicated, real-time source for major news and updates from within the worlds of ESG, corporate social responsibility and sustainability.
3BL CSRwire offers a-la-carte press release distribution to a global network of influential stakeholders and mainstream audiences—perfect for organizations just getting started in CSR or for those looking to get the most out of their corporate communications.
More from 3BL CSRwire