Published 01-29-13
Submitted by Points of Light
Points of Light announced today its 2013 Leadership Partners, companies whose social responsibility investments have and will continue to advance Points of Light's mission – to mobilize millions of people to take action that is changing the world.
In the past year, Points of Light, with critical help from its Leadership Partners, engaged 4 million volunteers in 30 million hours of service.
"In these tough economic times, volunteers are needed to tutor and mentor young people, help returning veterans and their families succeed, clean up after disasters and so much more," said Points of Light CEO Michelle Nunn. "Support from our Leadership Partners allows us to recruit, train and mobilize volunteers, bringing the power of people to bear where it is needed most." 
"Just as important," Nunn added, "our Leadership Partners drive innovation in the service arena and set the standard for corporate service to communities. 
The Leadership Partners program for 2013 includes the following companies at the $1 million-plus tier:
Belk - To celebrate its 125th anniversary, Belk is working with Points of Light to create "125 Days of Service." Beginning March 10, the program will engage Belk employees across its 16-state footprint in 125 days of volunteer projects centered on helping schools and supporting education. The program is designed to make a lasting and sustainable difference in the education sector, and to provide employees an opportunity for networking, bonding and a tangible reminder that Belk is a company rooted in service.


Hasbro -  As a founding partner and more than $5 million lead investor in Points of Light's youth enterprise, generationOn, Hasbro has engaged hundreds of thousands of young people in making their mark on the world through service, and has recognized hundreds of young service leaders and social entrepreneurs. Over the past three years, 17 inspiring young people have been celebrated as Hasbro Community Action Heroes, a generationOn program acknowledging youth worldwide. Hasbro's support has extended to programs such as generationOn Service Clubs in schools and community organizations nationwide; the creation and dissemination of curricula, tools and resources for teachers, families and nonprofits; and support for high-impact engagement campaigns and youth leadership initiatives. Hasbro's philanthropic work strives to bring "the sparkle of Hope, the joy of Play and the power of Service" into the lives of children worldwide. 


ITT Exelis - The Community Blueprint, a national initiative to support the reintegration of returning military service members, veterans and their families, has received a five-year, $5 million investment from ITT Exelis. The Community Blueprint is introducing new tools and resources and deploying AmeriCorps members across the country to provide job readiness support and to foster greater coordination and collaboration of veterans' services within local communities. ITT Exelis is also engaging its more than 20,000 employees through the Exelis Action Corps – a robust employee volunteer program designed to create large-scale, team and individual volunteer projects to support and engage returning military service members, veterans and their families across the U.S.
PwC Charitable Foundation Inc. - The Civic Accelerator, a joint venture between Points of Light and Village Capital, is the first national accelerator dedicated solely to investing in civic ventures that mobilize people to create positive change. The Civic Accelerator was launched thanks to the founding support of the PwC Charitable Foundation, Inc., a 501(c)(3) organization with a mission to support the people of PwC in times of financial hardship as well as organizations that promote education and humanitarianism in innovative ways. The Foundation is supporting three cohorts of innovative entrepreneurs and their early stage ventures to participate in an intensive 12-week boot camp with mentoring, entrepreneurial training, peer learning and networking. Each of the startups will receive a seed investment, and the two most promising ventures in each cohort of 10 teams – as determined by the entrepreneurs themselves – will each receive an additional $50,000 investment at the end of the program through the support of the PwC Charitable Foundation, Inc.
Target – Education is at the heart of Target's giving, and the company is on track to give $1 billion for education by the end of 2015. Target's partnership with Points of Light is one way the company helps to combine education with volunteering as part of a recipe for student success. At the 2012 Conference on Volunteering and Service, Target served as the Official Excellence in Education sponsor and brought together sector leaders including Secretary of Education Arne Duncan, CNN's Soledad O'Brien and Miami Dade Schools Superintendent Alberto Carvalho for an inspiring plenary with more than 4,000 attendees to discuss what is possible when we engage parents and community members in schools. Target also served as the Founding Sponsor of Points of Light's Good & Ready disaster preparedness campaign and was the National Sponsor of  2013 Martin Luther King, Jr. Day service activities.
The UPS Foundation - For more than a decade, The UPS Foundation has been a significant contributor to Points of Light, helping build capacity to mobilize volunteers and engage individuals, communities, businesses and nonprofits in volunteer leadership. UPS and Points of Light are also developing innovative new technologies and training to better mobilize volunteers in times of disaster. UPS serves as a leading sponsor of the Conference on Volunteering and Service and supports Points of Light's veterans programming. Last year, UPS and its employees, active and retired, invested nearly $100 million in charitable giving and provided over 1.8 million volunteer hours around the world. The company's investments in the global community have significantly shaped the service movement and continue to pave the way for innovation, action and impact.
Additional Leadership Partners committing more than $500,000 in funding include Bank of America, whose support focuses on creating economic opportunities through a Financial Opportunity Corps; Google, bringing the power of technology to nonprofits through HandsOn Tech Corps; Hilton Worldwide, engaging tens of thousands of employees in 50 countries in a global week of service addressing hundreds of societal needs and developing a skills-based platform for service and hospitality; and JPMorgan Chase as presenting sponsor of the National Conference on Volunteering & Service with a focus on economic opportunity and veterans. Our 2013 strategic in-kind partners include McKenna, Long & Aldridge and IBM.
About Points of Light
Points of Light – the world's largest organization dedicated to volunteer service – mobilizes millions of people to take action that is changing the world. Through affiliates in 250 cities and partnerships with thousands of nonprofits and corporations, Points of Light engages 4 million volunteers in 30 million hours of service each year. We put people at the center of change. For more information, go to www.pointsoflight.org.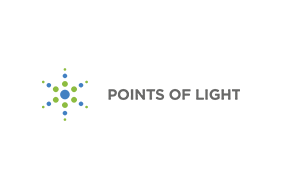 Points of Light
Points of Light
Points of Light is a nonpartisan, global nonprofit organization that inspires, equips and mobilizes millions of people to take action that changes the world. We envision a world in which every individual discovers the power to make a difference, creating healthy communities in vibrant, participatory societies. Through 177 affiliates across 38 countries, and in partnership with thousands of nonprofits and corporations, Points of Light engages 5 million volunteers in 16 million hours of service each year. We bring the power of people to bear where it's needed most.
More from Points of Light