Published 02-11-13
Submitted by 3BL CSRwire
Ecodesk, the world's largest sustainability database, and CSRwire, the leading digital media platform for corporate social responsibility (CSR) and sustainability news, have created a unique project to develop a compelling, data-driven business case for supply chain sustainability everywhere.
The Ecodesk Global Supply Chain Innovator Program is a VIP Project,
which currently includes some of the world's highest profile businesses including GlaxoSmithKline, MGM, CA Technologies, Eurostar, ISS, MITIE, Del Monte, Reed Elsevier and Compass Group, among over 25 global organizations, representing over one million suppliers. 
The program is designed to work closely with the world's most innovative organizations in sustainability to develop a clear and unambiguous business case for supply chain efficiency, which precisely quantifies the savings opportunities in time, money and energy for each company individually. Microsoft, Starbucks and Coca-Cola are among thousands of organizations already using Ecodesk to maintain a single update point for sustainability information, saving time and money in supplier and customer communication.
Ecodesk has delivered data and results to many of the biggest global organizations, and now wants to widen that remit to cover a broader range of sectors.
"Supply chain sustainability questionnaires and survey programs are unsustainable, costly and annoying to most, and entirely miss the point, which is the benefit to business and society that sustainability brings. So Ecodesk is investing our own funds to aid suppliers to drive cost reduction, risk mitigation and revenue generation, which is where the real action is," says Robert Clarke, Ecodesk CEO. "We're excited to partner with CSRwire on this program because of their proven dedication to CSR and sustainability and for their diverse array of member organizations."
How does The Ecodesk Global Supply Chain Innovator Program work?
Ecodesk work with top tier organizations to petition and gather data from supply chains on their behalf. Once completed and maintained, Ecodesk Innovators see a live supplier dashboard tracking fuel, energy, carbon, waste, water use in the supply chain, customer downstream flow, and even facility data. Dashboards with data visualization and tables map adherence to certification, accuracy, financial risk, conflict minerals and much more. Some Innovators are onboarding over 100,000 suppliers each to Ecodesk because of the ease and simplicity of the platform, and, of course, because it is completely free for suppliers to manage information.
"This moment reminds me of the time I discovered LinkedIn, and how it provided an instant cure for resume fatigue…Ecodesk is simple and makes sense. Having an easy-to-use and easy-to-read interface in this capacity is a breakthrough in supply chain innovation," says Aman Singh, CSRwire's Editorial Director.
"Our goal in working with Ecodesk is to provide a catalyst for all companies to rethink and redesign their supply chains in a sustainable way, meaning affordable as well as efficient – and be able to truly leverage data by offering critical benchmarking."
What Can Customer and Suppliers Expect?
Benefits to suppliers include:
Saving money and time – find fuel and electricity savings through live carbon emissions data, and much more. No more surveys!
Keep up-to-date on sustainability information, all in one place
Accelerating and measuring viewership of key sustainability information including reports
Link your profile for other customers and stakeholders to see, reducing survey time, and enhancing reputation
Demonstrate your commitment to sustainability and enhance your reputation
To sign up to the Ecodesk Global Supply Chain Innovator Program, visit www.ecodesk.com/innovator2013. Entry to Innovators is available until 31 March 2013 with a strict limit on numbers.
About Ecodesk
Ecodesk is the world's largest sustainability database – a live, free to use, transparent, user managed sustainability communication platform for business of any size. Over 1million businesses are currently onboarding to Ecodesk. Ecodesk™ is a registered trademark. All rights reserved. For more information, visit www.ecodesk.com.
About CSRwire
CSRwire is a digital media platform and the leading global source of corporate social responsibility (CSR) and sustainability news. Founded in 1999 to advance the movement towards a more economically just and environmentally sustainable society and away from single bottom line capitalism, CSRwire has paved the way for new standards of corporate citizenship, earning the international respect of thought leaders, business leaders, academics, philanthropists, activists and the media community. Through innovative techniques and strategic partnerships, CSRwire continues to expand its content, communication technology and distribution channels exponentially.
CSRwire is a Certified B Corp, United Nations Global Compact Signatory, member of Social Venture Network, and supporter of the Gasoline Alley Foundation. In 2012, CSRwire supported over 250 non-profit organizations worldwide. 
Find CSRwire on LinkedIn, Facebook and Twitter, and get up-to-date news, views and trends in CSR and sustainability with the CSRwire Talkback blog.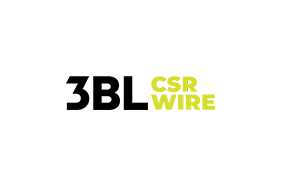 3BL CSRwire
3BL CSRwire
Respected and relied on by journalists, bloggers, business leaders and academics around the world, 3BL CSRwire is a dedicated, real-time source for major news and updates from within the worlds of ESG, corporate social responsibility and sustainability.
3BL CSRwire offers a-la-carte press release distribution to a global network of influential stakeholders and mainstream audiences—perfect for organizations just getting started in CSR or for those looking to get the most out of their corporate communications.
More from 3BL CSRwire