Published 01-23-13
Submitted by Green America
Fair Trade USA's Multi-Stakeholder Group (MSG) for apparel today released a report on the recently completed Fair Trade Certified™ apparel pilot program. Launched in 2010 after an extensive feasibility study and stakeholder consultation period, the pilot project was the first global program to certify facilities making clothing and accessories with a consumer label to signal social and environmental sustainability.  It is also the first time that a Fair Trade certification attempted to deliver direct economic benefit at two different levels of the supply chain: cotton farmers and cut-and-sew factory workers. The report, co-written by the MSG and Fair Trade USA, reveals that Fair Trade can play a role in promoting ethical and sustainable supply chains in the apparel sector.
During the two year pilot period, four factories out of 55 applicants were certified, with four more in process—a testament to the rigorous Fair Trade standards. A total of 16,000 cotton farmers in India, Egypt and Nicaragua directly benefited from participation in the program, along with 1,300 factory workers in India, Liberia and Costa Rica. This impact was made possible due to participation and purchases made by pioneering brands, including prAna, Maggie's Organics, HAE Now and Good & Fair.
Key findings include:
Workers in certified factories earned 15 percent above local minimum wage on average, and up to double the minimum wage in one facility.
Distribution of the Fair Trade premium resulted in tangible change in the local community (e.g. building a school in war-torn Liberia, and distributing cash bonuses equivalent to one week's pay).
Impact (as measured by Fair Trade premiums) tripled each year of the program, due to availability of certified products through national channels like REI and Zappos.com.
There is no one-size-fits-all approach to worker representation in cut-and-sew factories, and worker training is needed to ensure that all employees understand their rights, including the right to freedom of association as required by Fair Trade standards.
Several members of the MSG, a working group of 12 diverse representatives from across the apparel supply chain, visited pilot partners in India in 2011 with generous support from Catholic Relief Services' Fair Trade Fund. One NGO participant, Green America, observed a transformation in worker attitude, confidence, and sense of security.
"[Workers] had more pride in their work and felt more respected at this factory than at previous jobs," said Elizabeth O'Connell, Fair Trade Campaigns Director at Green America. "They stressed the importance of being paid on time, and relief that their payments went via direct deposit into their personal bank accounts—something especially important for the women, as their cash wages were often taken by their husbands in the past."
The full report outlines recommendations from the MSG, and includes Fair Trade USA's approach to promoting continuous improvement and economic development, premium management, higher wages, worker representation, and consumer transparency. All recommendations are intended to address the complexity of the apparel supply chain while providing the greatest benefit to farmers and workers. For example, the MSG recommends two distinct certifications, with corresponding labels for Fair Trade Certified Cotton and Fair Trade Certified Sewing. The goal of this is to increase impact for subsistence cotton farmers AND factory workers, and communicate clearly to consumers. Second, they also identified the need for a more inclusive and flexible approach to the certification of artisan-made apparel and textiles. These and all other recommendations made by the MSG will be adopted in the Fair Trade apparel program moving forward.  
The report also addresses key issues and challenges faced during the pilot period. One challenge was an economic climate not conducive to new sourcing commitments that may have a higher price tag for brands, even if they deliver impact to workers. As a result, brands were slow to participate in the pilot and to adopt Fair Trade in a significant way, making it difficult to assess impact on a large scale.
"Consumers want sustainably-sourced apparel," said Heather Franzese who managed the pilot at Fair Trade USA. "A recent Harvard study showed a 14 percent sales lift on clothing labeled 'socially conscious' in Banana Republic outlet stores. People want to know more than 'Made in Bangladesh.' They want to know that the woman at the sewing machine can afford to send her kids to school. The question is which leading brands will be the first to step up and provide that assurance?"
Why Fair Trade Apparel?
Americans today buy more clothing than any other nation in the world: 64 items a year, on average. In an industry infamous for dangerous working conditions, child and slave labor, gender discrimination and workplace abuse, Fair Trade certification offers a road not only to worker safety, empowerment, and community development, but also a potential solution for the apparel industry as it seeks ways to improve lives and protect the environment.  
"This innovative work in Fair Trade is an important step toward setting a precedent for sustainably-sourced apparel," said Kelsey Timmerman, author of Where am I Wearing? "The industry knows it needs to move in this direction, and I applaud Fair Trade USA and their partners for working to offer a tangible, impactful solution."
Fair Trade USA, a nonprofit organization, is the leading third-party certifier of Fair Trade products in the United States. Fair Trade USA audits and certifies transactions between U.S. companies and their international suppliers to guarantee that the farmers and workers producing Fair Trade Certified goods were paid fair prices and wages, work in safe conditions, protect the environment, and receive community development funds to empower and improve their communities. Fair Trade USA also educates consumers, brings new manufacturers and retailers into the Fair Trade system, and provides farming communities with tools, training and resources to thrive as international businesspeople. Visit www.fairtradeusa.org for more information.
Multi-Stakeholder Group (MSG): The MSG is a diverse group of NGOs, buyers, suppliers, trainers, auditors and cotton producers in the apparel industry that have met quarterly for the last two years to guide the implementation of the US Fair Trade apparel pilot. Members bring specialized knowledge, skills and expertise to tackle the challenges of improving the lives of garment workers and cotton farmers through this pilot. Members have regional expertise that covers Central and South America, Bangladesh, and other parts of Asia.
Members of the MSG:
ASK India (a Verité affiliate)
As You Sow / Responsible Sourcing Network
The Cahn Group, LLC
Catholic Relief Services (CRS) Fair Trade
Chetna Organic Agriculture Producers' Company
Counter Sourcing
Coverco
Indigenous Designs
Liberian Women's Sewing Project
Maggie's Organics
Rajlakshmi Cotton Mills Pvt Ltd
World of Good Development Organization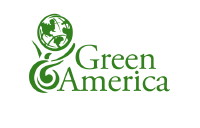 Green America
Green America
Green America is United States' leading green economy organization. Founded in 1982, Green America provides the economic strategies, organizing power and practical tools for businesses and individuals to solve today's social and environmental problems. Green America's green economy programs encourage corporate responsibility, tackle climate change, build fair trading systems, advance healthy, local communities, and provide green purchasing and investing information for families and businesses. To receive Green America's popular publications, including the Green American and the National Green Pages™, participate in Green Festivals, or to get its free e-newsletter, providing the latest green news, green discounts, and opportunities to take action for a green economy, visit http://www.GreenAmerica.org, email info@GreenAmericaToday.org, or call at 800-58-GREEN.
More from Green America