Published 01-10-13
Submitted by Points of Light
Points of Light has joined with The Allstate Foundation (NYSE: ALL) and Target (NYSE: TGT) to launch Good & Ready, an initiative designed to help people prepare themselves, their families and their communities before disaster strikes.
As winter weather affects much of the country and many continue to recover from the devastation of Hurricane Sandy, we are reminded that knowing what to do before, during and after a disaster can make all the difference when seconds count.
Good & Ready is a year-round, online and on-the-ground emergency preparedness program that brings together resources, tips and volunteer opportunities into one centralized site, GoodandReady.org.
"Good & Ready is powered by technology. It creates online engagement that results in on-the-ground action," said Kellie Bentz, Points of Light's director of disaster services. "People across the country will be creating in-home and in-community disaster readiness kits, preparing homes and families, helping prepare neighbors and getting trained to assist with disaster response and recovery."
Visitors to the Good & Ready website can take an online quiz to find out how prepared they are for disasters, learn how to create a household emergency plan and kit, and find ways to help their community prepare through volunteer opportunities. They can also register to get trained as a first responder and pledge their willingness to help in a time of disaster.
"Target is committed to supporting our communities before, during and after a crisis," said Brad Brekke, vice president of Corporate Security for Target. "We're proud to partner with Points of Light and Allstate to launch Good & Ready, which will help bring preparedness awareness and action to the forefront."
"Helping Americans prepare for life's uncertainties is at the core of our values," said Vicky Dinges, vice president of public social responsibility for Allstate. "The launch of this important new resource comes at a time when disaster preparedness is on the minds of many throughout the country. We hope that this program will help individuals and families protect life's treasures and invaluables."
Research shows only one in 10 Americans is prepared to protect themselves, their families or homes in a natural disaster. Good & Ready is designed to help more people become prepared, allowing first responders to focus on the most critical situations. The program's goal is to engage five million Americans by 2014.
As an incentive to get prepared, periodic sweepstakes are featured on the website. Visitors can win a $50 Target gift card or a ReadyBox Emergency Preparedness Case for taking a preparedness action. Through January 31, 2013, those who return to the Good & Ready website and submit a story and photo or video about how they fulfilled their pledge will be eligible to win the grand prize of a $500 Target gift card.
"Good & Ready promotes collaboration and focuses on increasing volunteer engagement in the emergency preparedness space, especially among youth and families," said Bentz.
The initiative is led by Points of Light and is also supported by Ready.gov, American Red Cross and the Federal Alliance for Safe Homes (FLASH).
To learn more and to find out how prepared you are, visit Good & Ready.
About Points of Light
Points of Light – the world's largest organization dedicated to volunteer service – mobilizes millions of people to take action that is changing the world. Through affiliates in 250 cities and partnerships with thousands of nonprofits and corporations, Points of Light engages more than 4 million volunteers in 30 million hours of service each year. We put people at the center of change. For more information, go to www.pointsoflight.org.
About The Allstate Foundation
Established in 1952, The Allstate Foundation is an independent, charitable organization made possible by subsidiaries of The Allstate Corporation (NYSE: ALL). Through partnerships with nonprofit organizations across the country, The Allstate Foundation brings the relationships, reputation and resources of Allstate to support innovative and lasting solutions that enhance people's well-being and prosperity. With a focus on teen safe driving and building financial independence for domestic violence survivors, The Allstate Foundation also promotes safe and vital communities; tolerance, inclusion, and diversity; and economic empowerment. For more information, visit www.AllstateFoundation.org.
About Target
Minneapolis-based Target Corporation (NYSE: TGT) serves guests at 1,782 stores across the United States and at Target.com. The company plans to open its first stores in Canada in 2013. Since 1946, Target has given 5 percent of its profit through community grants and programs; today, that giving equals more than $4 million a week. For more information about Target's commitment to corporate responsibility, visit Target.com/hereforgood.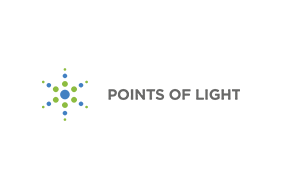 Points of Light
Points of Light
Points of Light is a nonpartisan, global nonprofit organization that inspires, equips and mobilizes millions of people to take action that changes the world. We envision a world in which every individual discovers the power to make a difference, creating healthy communities in vibrant, participatory societies. Through 177 affiliates across 38 countries, and in partnership with thousands of nonprofits and corporations, Points of Light engages 5 million volunteers in 16 million hours of service each year. We bring the power of people to bear where it's needed most.
More from Points of Light