Published 01-16-13
Submitted by 3BL CSRwire
Per Grankvist named European Editorial Advisor
for CSRwire.
CSRwire has named Per Grankvist the European Editorial Advisor for its steadily expanding brand, which includes Press Release distribution services, CSRwire Talkback editorials, social media campaigns including CSR and sustainability-focused webinars and Twitter chats, and other editorial services serving sustainability and communications professionals.
Per has a long history of working with companies that are embedding sustainability into their business models, including Danone, Coca-Cola and Staples. He is the author of the Swedish bestselling book CSR i praktiken (CSR in practice), and has been a CSRwire Talkback columnist since May 2012. A common theme in his articles and columns is how sustainability can enhance profitability and offer new opportunities in a time where the view on the role of corporate responsibility in society is shifting.
"CSRwire plays a key role in informing and educating business professionals on the tremendous changes shifting capitalism from single bottom line focus to the triple bottom line," Grankvist says. "I'm eager to cover how innovative companies around the globe operate and collaborate to find new solutions to old problems. Being a part of CSRwire's global community will help amplify these sustainability messages."
Grankvist, as one of the leading authorities on sustainability in Scandinavia, will be responsible for developing relationships with key European organizations and will represent CSRwire at workshops and discussions with business and academic audiences on sustainability. He will work closely with Aman Singh, CSRwire's Editorial Director, to serve the CSRwire audience with industry-leading CSR and sustainability news and services.
"Per is an excellent advisor and columnist with tremendous industry knowledge that will help us take CSRwire to new heights this year and beyond," says Aman. "Our clients value our team's editorial expertise and Per's acumen in how sustainability leads to profitability and his communication skills add incredible value to our growing suite of services. We are honored to have Per on our team."
Grankvist is based in Stockholm, Sweden, and can be reached at per@csrwire.eu. Follow him on Twitter @pergrankvist. Or connect with him on Facebook or Google+.
About CSRwire
CSRwire is a digital media platform and the leading global source of corporate social responsibility (CSR) and sustainability news. Founded in 1999 to advance the movement towards a more economically just and environmentally sustainable society and away from single bottom line capitalism, CSRwire has paved the way for new standards of corporate citizenship, earning the international respect of thought leaders, business leaders, academics, philanthropists, activists and the media community. Through innovative techniques and strategic partnerships, CSRwire continues to expand its content, communication technology and distribution channels exponentially.
CSRwire is a Certified B Corp, United Nations Global Compact Signatory, member of Social Venture Network, and supporter of the Gasoline Alley Foundation. In 2012, CSRwire supported over 250 non-profit organizations worldwide.
Find CSRwire on LinkedIn, Facebook and Twitter, and get up-to-date with the CSRwire Talkback blog.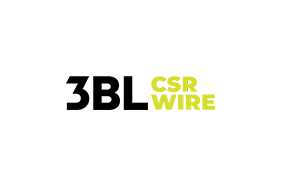 3BL CSRwire
3BL CSRwire
Respected and relied on by journalists, bloggers, business leaders and academics around the world, 3BL CSRwire is a dedicated, real-time source for major news and updates from within the worlds of ESG, corporate social responsibility and sustainability.
3BL CSRwire offers a-la-carte press release distribution to a global network of influential stakeholders and mainstream audiences—perfect for organizations just getting started in CSR or for those looking to get the most out of their corporate communications.
More from 3BL CSRwire