Published 01-09-13
Submitted by 3BL CSRwire
CSRwire, the largest repository of voluntary disclosure research in the world and leading global source of corporate social responsibility (CSR) and sustainability news, has released its third annual United Nations Global Compact (UNGC) Communication on Progress (COP).
The UNGC is the largest voluntary corporate responsibility initiative in the world that asks companies and organizations to honor UN goals, including the Millennium Development Goals.  
"We're proud to share how our core values, business operations and commitment to social and environmental responsibility align with the UN Global Compact's principles," said Joe Sibilia, CSRwire CEO. "Every step we take brings us closer to a more economically just and environmentally sustainable society and away from single bottom line capitalism."
The COP reports on continued growth for CSRwire: membership continues to expand at the rate of 400-600 members per year, due in part to a new membership structure launched in 2011, and a very conscious and active presence on social media channels. Additionally the COP reports on CSRwire's recertification as a B-Corporation and notes that CSRwire employees volunteered over 1,600 hours in community causes. 
"Sustainability means taking responsibility for our actions and ensuring our social, economic and environmental impact is net positive. I have been with CSRwire now for just over one year and am delighted to be part of a vibrant team which makes a tremendous contribution to creating awareness for corporate responsibility, sustainability and philanthropy."

"Almost everything that happens in the sustainability space appears somewhere on CSRwire.com, either through our Press Release service or through exclusive content developed by our community of writers," said Aman Singh, CSRwire's Editorial Director.
"Recently we were thrilled to find that, unbeknown to us, research was conducted by the University of California, Davis and Berkeley, showing that companies saw significant increases in their stock prices just days after issuing CSR releases through CSRwire. This is an independent and objective testimony
to the validation of the impact of our broad reach and wide readership," continued Sibilia.
With such emphasis on growth, community development and corporate responsibility, come new services for members, including new media list services that supplement CSRwire's broad, worldwide distribution channels. CSRwire now offers custom list development: news is sent directly to opt-in, targeted outlets (print, broadcast, online, bloggers and freelance writers) – precisely the people who are requesting CSR-related news. The Editorial Department, led by Singh, also leads industry-influencing webinars, Twitter chats and editorials on the most pressing sustainability issues affecting the triple bottom line. 
CSRwire also makes a commitment to employee transparency: formal and informal meetings to communicate updates as well as four "Town Hall" meetings take place each year for interacting, sharing, and celebrating with staff members, investors and stakeholders.
To view the third annual United Nations Global Compact Communication on Progress, please visit http://www.unglobalcompact.org/COPs/detail/20349.
About CSRwire
CSRwire is the leading global source of corporate social responsibility (CSR) and sustainability news. Founded in 1999 to advance the movement towards a more economically just and environmentally sustainable society and away from single bottom line capitalism, CSRwire has paved the way for new standards of corporate citizenship, earning the international respect of thought leaders, business leaders, academics, philanthropists, activists and the media community. Through innovative techniques and strategic partnerships, CSRwire continues to expand its content, communication technology and distribution channels exponentially.
CSRwire is a Certified B Corp, United Nations Global Compact Signatory, member of Social Venture Network, and supporter of the Gasoline Alley Foundation. In 2012, CSRwire supported over 250 non-profit organizations worldwide.
Find CSRwire on LinkedIn, Facebook and Twitter, and get up-to-date with the CSRwire Talkback blog.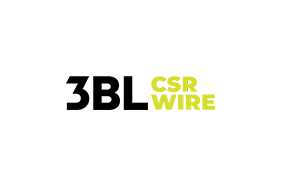 3BL CSRwire
3BL CSRwire
Respected and relied on by journalists, bloggers, business leaders and academics around the world, 3BL CSRwire is a dedicated, real-time source for major news and updates from within the worlds of ESG, corporate social responsibility and sustainability.
3BL CSRwire offers a-la-carte press release distribution to a global network of influential stakeholders and mainstream audiences—perfect for organizations just getting started in CSR or for those looking to get the most out of their corporate communications.
More from 3BL CSRwire