Published 12-11-12
Submitted by Ceres
As numerous western states are considering massive new water supply projects, a new Ceres report is suggesting caution.
Citing shrinking federal funds, uncertain water demand and declining revenues to pay for the projects, the report recommends that utilities move carefully before embarking on major pipelines, reservoirs and other new infrastructure that will create financial risks for investors and utility customers alike. Major pipelines with construction costs of $1 billion to $7 billion are currently proposed in Nevada, Utah and Colorado. Financing costs can double the total cost of customers for such projects.
"U.S. water utilities are facing a brave new world of more vulnerable water supplies, declining household demand and huge financing costs in tapping new sources," said Sharlene Leurig, water program manager at Ceres, who authored the report, Water Ripples: Expanding Risks for U.S. Water Providers. "The report makes clear that water utilities, especially those in arid western states, should think carefully before embarking on expensive new projects that will be financially burdensome for consumers."
The Ceres report is a follow-up to its 2010 report The Ripple Effect: Water Risk in the Municipal Bond Market, co-authored with Water Asset Management.
The new report cites increasing financial risks to water utilities and their investors, as well as tangible progress in how credit rating agencies and capital markets are evaluating these risks. Among the report's key findings:
Water availability pressures are intensifying in many parts of the country, in part due to climate change which is contributing to more pronounced droughts and heat waves. Though most water providers were able to meet demand during the severe droughts of 2011 and 2012, water supply security remains an urgent challenge, especially in the U.S. West and Southeast.
The capital markets are paying closer attention to water scarcity risks and potential ripples to investors holding water bonds. Once viewed as ultra-safe, low-risk investments, more water systems are seeing their credit ratings downgraded than ever before.
Water providers are being squeezed by a "perfect storm" of trends that are driving the cost of water up while driving down demand. Major new investments are needed to modernize the nation's aging water infrastructure, but lack of federal funding, slow economic and housing growth, and uncertain demand has widened the chasm between borrowing costs and the revenue needed to cover those obligations.
Because projecting future water demand is extremely difficult, building costly water pipelines - such as those proposed in Nevada, Utah and Colorado - to meet demand that may not materialize poses enormous financial risks for water utilities, investors and consumers. One thing is certain, however: water services are going to cost more in the future.
Utilities should be more pro-active in pursuing and funding water conservation programs. Demand management measures, such as lawn watering limits and tiered pricing, must be done on an ongoing basis, not simply when droughts hit, if utilities are to protect their financial viability and keep costs to consumers stable over the long term.
"Utilities should be doubling-down on water conservation efforts that will help them avoid the need for new supply projects," Leurig said. "Among the options in this regard is investing in flexible supply arrangements like long-term leases with agricultural water users, which typically are pennies on the dollar compared to the development of new supplies." Agriculture accounts for most of the water used in the United States, including more than 90 percent in some Western states.
To better manage water risks and ensure sustainable supplies for consumers and revenue streams for utilities, the report calls for improved market transparency through better public disclosure by water utilities of information about how they assess and manage these risks.
The report also recommends that water demand projections be viewed skeptically by credit rating agencies, investors and policymakers; that investors and credit rating agencies seek better understanding of how rate structures influence demand and revenue streams; and that environmental and consumer groups actively work to build public support for water rates that ensure future water security and affordability.
"The future availability of freshwater, which is essential to the U.S. economy, can no longer be taken for granted," Leurig concluded. "Policymakers, water utilities, investors and environmental and consumer advocates must all be engaged in the effort to ensure smart stewardship of this precious resource on which all economic activity and life itself depends."
About Ceres
Ceres is an advocate for sustainability leadership.  Ceres mobilizes a powerful coalition of investors, companies and public interest groups to accelerate and expand the adoption of sustainable business practices and solutions to build a healthy global economy. Ceres also directs the Investor Network on Climate Risk (INCR), a network of 100 institutional investors with collective assets totaling more than $11 trillion.  For more information, visit http://www.ceres.org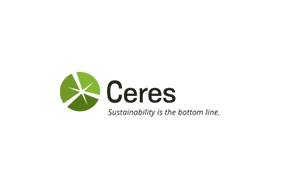 Ceres
Ceres
Ceres is a sustainability nonprofit organization working with the most influential investors and companies to build leadership and drive solutions throughout the economy. Through powerful networks and advocacy, Ceres tackles the world's biggest sustainability challenges, including climate change, water scarcity and pollution, and human rights abuses.
More from Ceres