Published 12-07-12
Submitted by AccountAbility
The AA1000 Standards Board Nominating Committee is pleased to announce the new members of the AA1000 Standards Board. Since 1999, the AA1000 series of Standards are widely used tools for integrating and embedding sustainability and accountability into the governance and performance of institutions. They address issues affecting governance, business models, and organizational strategy, providing operational guidance to corporate leaders. The Standards Board approves standards strategy and oversees the ongoing development of the Standards used by institutions worldwide. The composition of the Board is designed to provide broad representation from the public and private sectors, civil society, and the standards community.
Commenting on the composition of the Board, the independent Nominating Committee stated, "This slate of board members has the global representation, diversity, and knowledge to significantly enhance the leadership of the Standards internationally. We greatly value their expertise and enthusiasm."
The new Board members are:
Carol Adams – Global Director of Standards, Australia (Ex Officio)
Assheton L. Stewart Carter – Senior Vice President, Equitable Origin, USA (Chair)
Andrew Cave – Head of Group Sustainability, Royal Bank of Scotland, UK
Beat Grüninger – Founding Partner, BSD Consulting, Brazil
Dongsoo Kim – Director of the Sustainability Management Center at the Korea Productivity Center (KPC) , Korea
Alwin Kopse – Transition Director at the Roundtable on Sustainable Biofuels Association, Switzerland
Anant Nadkarni – Vice-President of Group Corporate Sustainability, TATA Industries, India
Jennifer Seif – Executive Director for Fair Trade, Tourism South Africa, South Africa
Director of Standards Dr. Carol Adams commented, "The Board represents a range of constituencies and geographical regions. I look forward to the differing perspectives and insights each member will bring that will contribute to the further development of quality Standards."
To increase diversity in sector representation, the Nominations Committee sought agreement for an additional Board position to accommodate an experienced NGO representative. 
Additional information concerning the Standards, the Standards Board, and the nominating committee can be found here.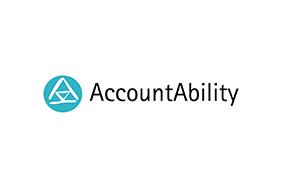 AccountAbility
AccountAbility
AccountAbility is a global consulting and standards firm that works with businesses, investors, governments, and multi-lateral organizations to achieve opportunities, advance responsible business practices, and transform their long-term performance. We focus on delivering practical, effective, and enduring results that enable our clients to succeed.
More from AccountAbility