Published 12-03-12
Submitted by 3BL CSRwire
September and October were busy months here at CSRwire. With 11 conferences, workshops and panels crowding our calendar, welcoming over 70 new members to CSRwire, and keeping up with our reporting on the latest news, views and trends, we've decided to combine the Top 3 Report for September and October.
This report celebrates analytics. Articles that were most widely read, columns that received the most comments and air time on social media, reports that received the highest exposure, and news with the best conversion rates. We're talking the TOP 3 news items, editorials and reports that led the analytics. Let's get started:
SEPTEMBER
Top News:

No. 1: ING U.S. Awards $125,000 in Grants to Combat Childhood Obesity
No. 2: Avon Hello Green Tomorrow Makes $1 Million Contribution, Bringing Program Total to More Than $4.5 Million Since 2010


Our audience continues to concentrate and pay attention to a variety of topics but corporate philanthropy was clearly on everyone's mind with two press releases – ING and Avon both announcing new grants – taking top spots for the month of September.

No. 3: Chevron Targeting Private Email Accounts of 101 People Linked To Ecuador Environmental Case

Also continuing to receive attention is the ongoing Chevron debacle in Ecuador. It not only illustrates the power of the impact of new media locally and globally, the numbers also signify that in today's multi-stakeholder world, its hard for organizations to hide behind their corporate curtain.
Top Blogs:

No. 1: Employee Engagement & Sustainability: The Employees' Perspective

No. 2: Inexperienced But Passionate: 4 Essential Tips for CSR & Sustainability Job Seekers
Meanwhile, our blogs continue to attract attention for information, research and advice on how to pursue a career in CSR and sustainability. And companies are responding by actively demonstrating that they are engaged in these initiatives. If a company's greatest asset is their employee who wants
to work at companies with an active CSR and sustainability mindset, the intensity and longevity of good corporate citizenship will increase a company's value. Consequently, communicating those initiatives makes good business sense.
No. 3: Socially Conscious Siblings: What CSR & Impact Investing Can Learn From Each Other
The number three blog for the month demonstrates the hunger for best practices among impact investing 'siblings.' We're also hearing a lot of talk about the need for more data related to impact investing. It's not a secret that the Rockefeller Foundation wants to rebrand 'socially responsible investing' into 'impact investing' and is investing a lot of capital to shift the language. Consequently, we'll be seeing more research and activity with the 'impact investing' language.
Top Members:
We took a little shift in our reporting this month. It appears that a lot of interest is being drawn to what the Fortune 100 are doing in CSR and sustainability with Wal-mart, Nestle and The Coca Cola Co. receiving the most traffic for the month of September and in that order.
OCTOBER
Top News:
No. 1: Whole Foods Drops Hershey's Scharffen Berger Chocolates Over Child Labor Abuses

October witnessed a subtle shift in attention but, not too subtle for Hershey's.  Green America's campaign resulted in Whole Foods dropping Hershey's Scharffen-Berger Chocolate from its stores.  Over 15,000 Whole Foods customers demanded action and Whole Foods took action.  This release came in strong at number one.
No. 2: Ben & Jerry's Joins the Growing B Corporation Movement

We're not sure if the second highest viewed release for October was because of the B Corporation movement, which continues to gain momentum and attract attention or a continued interest in Ben & Jerry's. Regardless of the reason -- both good ones -- news that Ben & Jerry's became a B Corp came in number two for the month of October.
No. 3: Webinar: Influencing Consumers & Fighting Hunger and Malnutrition Through Pro Bono Service

At number three was news about the webinar we held in partnership with the Points of Light Foundation and A Billion+Change on how pro bono and volunteerism can target hunger and malnutrition internationally. With General Mills, Wholesale Grocers and Ritz Carlton presenting, it was clear that we hit a nerve with the topic. There is growing interest in the power of multimedia engagement offered via webinars and we'll continue to focus on those that really make a difference. [Email editor@csrwire.com to receive the recorded version.]

Top Blogs:

No. 1: When a CEO Turns Activist: Why H&M Wants Bangladesh to Increase Workers' Wages
The number one blog for the month of October was by Per Grankvist, our newest partner and European correspondent, who has been capturing big numbers in the U.S. since his debut on CSRwire, with articles that are compelling, fascinating and unique.
No. 2: How Would We Know a Business Case for Sustainability if We Saw One?

If you haven't been following Bob Willard over the years, this is a good time to start.  His blog came in
at number two for the month and his three part series did exceptionally well.
No. 3: Waddling the Waddle: Corporate Social Responsibility in the Baby Market

Christine Bader's blog filled with interesting facts, links and anecdotes about a CSR practitioner faced with confusing eco-labels and marketing promises came in at number three. Although there has been great attention paid to 'mommy bloggers' in recent years, Christine makes a great point about the ongoing struggle in the baby market about the validity of organic vs. sustainable. A must read for any parent.
Subscribe to the CSRwire News Alert here.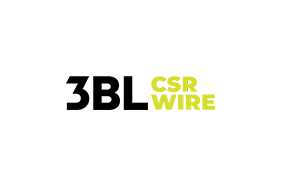 3BL CSRwire
3BL CSRwire
Respected and relied on by journalists, bloggers, business leaders and academics around the world, 3BL CSRwire is a dedicated, real-time source for major news and updates from within the worlds of ESG, corporate social responsibility and sustainability.
3BL CSRwire offers a-la-carte press release distribution to a global network of influential stakeholders and mainstream audiences—perfect for organizations just getting started in CSR or for those looking to get the most out of their corporate communications.
More from 3BL CSRwire