Published 11-12-12
Submitted by The Mosaic Company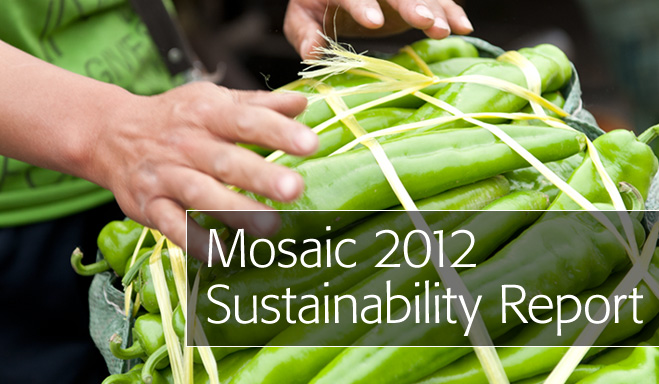 The Mosaic Company 2012 Sustainability Report
The Mosaic Company (NYSE: MOS) today released its 2012 Corporate Sustainability Report, which includes information on 86 indicators according to the Global Reporting Initiative 3.1 and the Mining and Metals sector supplement. The web-based report highlights Mosaic's progress in the areas of food, the environment, community and people.
For Mosaic, the sustainability of its organization begins with the health and safety of employees and contractors. In fiscal 2012, Mosaic made great progress in its relentless pursuit of an injury-free workplace with a more than 50 percent improvement in its Mosaic Safety Index over fiscal 2011—achieving its best year of safety performance in company history. Learn how Mosaic continues to develop its safety culture across global operations in the video, "Safety: The Bottom Line is People."
"Sustainability is embedded in virtually everything we do, from stringent safety programs to energy efficiency, water conservation and community investment," said Jim Prokopanko, President and CEO of Mosaic. "It's also reflected in our commitment to increased transparency and accountability companywide."
Putting promise into action at the facility level, Mosaic's Phosphates and Potash businesses produced enough electrical energy to satisfy 47 percent of companywide demand through cogeneration, the process of converting waste heat to energy. As a result, Mosaic reduced its carbon emissions by approximately 1.2 million tonnes and lowered electricity expenditures by approximately $100 million in 2011.
Additional accomplishments in this year's sustainability report include:
Ranked No. 28 in Corporate Responsibility Magazine's 100 Best Corporate Citizens in the United States, up from 67 in 2011.
Scored 90 out of 100 for disclosure of information in the 2012 Carbon Disclosure Project report—a 12-point increase from last year--and received a grade "B" for climate performance.
Signed the United Nations Global Compact, affirming the company's deep commitment to operate according to universally accepted principles in the areas of human rights, labor, environment and anticorruption.
Improved Recordable Incident Frequency Rate by 25 percent versus fiscal 2011, and Lost Time Incident Frequency Rate improved by 33 percent over last year.
Reused or recycled approximately 95 percent of water used at Florida Phosphates operations in 2011. Over the last 20 years, these operations have decreased groundwater use by more than 50 percent.
Satisfied approximately 80 percent of water needs through recycling and reuse at Canadian potash shaft facilities.
Developed Nexfos® feed-grade phosphate, a new product that requires approximately 90 percent less water and 55 percent less electricity per ton to produce than traditional feed-grade phosphate.
Mosaic's Florida Phosphates operations reclaim every acre of land they mine, with an emphasis on the connectivity of natural systems to ensure viable ecosystems and to maximize biodiversity. In 2011, the company mined 2,255 acres of phosphate reserves and reclaimed 6,474 acres of Central Florida land. In total, Mosaic has preserved 19,709 acres in permanent conservation easements; acres that include all areas designated as non-impacted floodplain, preservation and granted conservation easements for existing mines and permits. Watch the video, "For Generations to Come: Mosaic's Commitment to the Land," to see the comprehensive reclamation efforts that help make Mosaic's phosphate rock one of the most responsibly sourced minerals in the world.
"Through advanced science and technology practices, we're setting new standards for quality reclamation and ensuring that the habitats and developments we create can be sustained for generations to come," Prokopanko said. "We take great pride in keeping our promises to stakeholders to protect the well-being of our environment, strengthen our communities and operate with integrity."
In fiscal 2012, The Mosaic Company, The Mosaic Company Foundation and The Mosaic Institute in Brazil invested a combined $23.6 million in food, water and local community enrichment programs. Funding also helped expand The Mosaic Villages Project, a smallholder farmer initiative started in 2008 to help families escape a cycle of hunger and poverty. Each year, the Villages Project helps farmers in India, Guatemala, Mali, Ghana, Nigeria, Malawi, Kenya, Uganda, Tanzania and Ethiopia increase yields an average of three to five times, over traditional farming practices. Watch the "Krishi Jyoti Villages Project in India" video to learn more about smallholder farmers' crop yield successes.
For more information on The Mosaic Company and its 2012 Sustainability Report, visit www.mosaicco.com/sustainability/report and The Mosaic Company YouTube channel www.youtube.com/MosaicCompany.
About The Mosaic Company
The Mosaic Company is the world's leading producer and marketer of concentrated phosphate and potash. Driven by its mission to help the world grow the food it needs, Mosaic is committed to strengthening global food security and protecting critical water resources. The Mosaic Company and The Mosaic Company Foundation make investments in and partner with best-of-class leaders in the focus areas of food, water and local community investments. For more information on The Mosaic Company, visit www.mosaicco.com.
About the Global Reporting Initiative
The Global Reporting Initiative (GRI) is an independent, network-based organization that has pioneered the development of a widely used sustainability reporting framework and is committed to its continuous improvement and application worldwide. Learn more at www.globalreporting.org.
This press release contains forward-looking statements within the meaning of the Private Securities Litigation Reform Act of 1995. Such statements include, but are not limited to, statements about future financial and operating results. Such statements are based upon the current beliefs and expectations of The Mosaic Company's management and are subject to significant risks and uncertainties. These risks and uncertainties include but are not limited to the predictability and volatility of, and customer expectations about, agriculture, fertilizer, raw material, energy and transportation markets that are subject to competitive and other pressures and economic and credit market conditions; the level of inventories in the distribution channels for crop nutrients; changes in foreign currency and exchange rates; international trade risks; changes in government policy; changes in environmental and other governmental regulation, including greenhouse gas regulation, implementation of the U.S. Environmental Protection Agency's numeric water quality standards for the discharge of nutrients into Florida lakes and streams or possible efforts to reduce the flow of excess nutrients into the Gulf of Mexico; further developments in judicial or administrative proceedings; difficulties or delays in receiving, increased costs of or challenges to necessary governmental permits or approvals or increased financial assurance requirements; resolution of global tax audit activity; the effectiveness of the Company's processes for managing its strategic priorities; adverse weather conditions affecting operations in Central Florida or the Gulf Coast of the United States, including potential hurricanes or excess rainfall; actual costs of various items differing from management's current estimates, including, among others, asset retirement, environmental remediation, reclamation or other environmental regulation, or Canadian resources taxes and royalties; accidents and other disruptions involving Mosaic's operations, including brine inflows at its Esterhazy, Saskatchewan potash mine and other potential mine fires, floods, explosions, seismic events or releases of hazardous or volatile chemicals, as well as other risks and uncertainties reported from time to time in The Mosaic Company's reports filed with the Securities and Exchange Commission. Actual results may differ from those set forth in the forward-looking statements.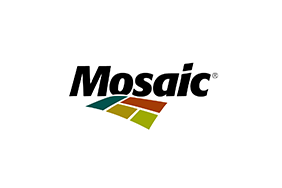 The Mosaic Company
The Mosaic Company
The Mosaic Company is the world's leading combined producer and marketer of concentrated phosphate and potash, two of the primary nutrients required to help the world grow the food it needs. Mosaic engages in every phase of crop nutrition, from the mining of resources to the production of crop nutrients, feed and industrial products for customers around the globe. Our customer base includes wholesalers, retail dealers and individual growers in more than 40 countries.
Headquartered in Plymouth, Minn., Mosaic employs approximately 8,000 people in eight countries. Our shares trade on the New York Stock Exchange under the ticker symbol MOS.
More from The Mosaic Company