Published 10-17-12
Submitted by 3BL CSRwire
It's common knowledge that prevention is better than cure; yet, every year an estimated 2 million children don't reach their fifth birthday due to largely preventable diseases like diarrhea and pneumonia.
On the occasion of Global Handwashing Day, join us for a thought provoking hour to discuss the issue of prevention and how the simple act of washing hands with soap could lead to saving millions of lives. On the agenda:
How can multinationals like Unilever help influence our community to adopt healthier lifestyles with brands like Lifebuoy?
What role can organizations like Population Services International [PSI] play?
How do we shift from short-term campaigns to long-term behavioral change?
Where does government action come in?
What if the real issue is access to water?
The Millennium Development Goals are critically integrated but the solutions so far have not been. How can the private and public sectors collaborate with an eye on integration?
Most importantly: how do we together elevate the importance of hand washing on the global agenda?
Lest you think this is just an issue for countries with high child mortality rates, think again. According to Myriam Sidibe, Global Social Mission Director for Unilever-Lifebuoy, the average rate of handwashing after using the toilet is only 17 percent. This dips as low as 3 percent in Ghana and 1 percent in rural India. In Kenya, for example, 28 percent of school children report washing their hands with water at key times during the day, yet only 1 percent report using soap. And rates of handwashing in the U.K. and U.S. are surprisingly low - proving that handwashing with soap is by no means an integral part of everyone's daily routine.
Moderated by CSRwire's Editorial Director Aman Singh, the conversation will feature Anila Gopal, Unilever-Lifebuoy's Global Social Mission Manager and Katharine McHugh, PSI's Water, Sanitation, and Hygiene (WASH) Technical Advisor.
Details:
Date: Monday, October 22, 2012
Time: 1:00pm EST
Where: To register, drop us an email at aman@csrwire.com and join us on Twitter at #IWashMyHands
Accounts to follow: @unilever @psihealthylives @csrwire
About Unilever:
Unilever is one of the world's leading suppliers of fast moving consumer goods with operations in over 100 countries and sales in 190. Our portfolio includes some of the world's best known brands including Knorr, Hellmann's, Lipton, Dove, Vaseline, Persil, Cif, Radox, Sure and Lifebuoy. Our ambition is to double the size of our business, whilst reducing our overall environmental impact (including sourcing, consumer use and disposal).
We are also committed to doing what we can to improve health, nutrition and hygiene, with a target to help more than a billion people take action to improve their health and well-being, as well as sourcing all our agricultural raw materials sustainably by 2020. All of these goals are itemized in around 50 time-based commitments in our Unilever Sustainable Living Plan. For more information about Unilever and its brands, please visit www.unilever.com
About PSI:
PSI is a global health organization dedicated to improving the health of people in the developing world by focusing on serious challenges like a lack of family planning, HIV and AIDS, barriers to maternal health, and the greatest threats to children under five, including malaria, diarrhea, pneumonia and malnutrition. PSI currently manages diarrhea control programs in more than 30 countries across Africa, Asia and the Caribbean.
About CSRwire
CSRwire is the leading global source of corporate social responsibility and sustainability news. Founded in 1999 to advance the movement toward a more economically-just and environmentally-sustainable society and away from single bottom line capitalism, CSRwire has paved the way for new standards of corporate citizenship, earning the international respect of thought leaders, business leaders, academics, philanthropists, activists and the media community.
CSRwire content reaches a broad and highly engaged audience of over 87 million readers in the international CSR/ESG market. With more than 7,500 corporate, nonprofit and public sector members distributing news, CSRwire provides comprehensive coverage in 25 CSR-related categories complimenting traditional newswire services with its customized global distribution, daily alerts, events calendar, thought-provoking editorials, social media channels, popular Talkback blog, report distribution, and searchable archives.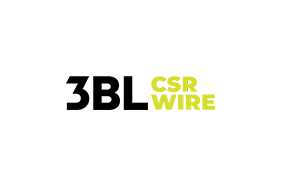 3BL CSRwire
3BL CSRwire
Respected and relied on by journalists, bloggers, business leaders and academics around the world, 3BL CSRwire is a dedicated, real-time source for major news and updates from within the worlds of ESG, corporate social responsibility and sustainability.
3BL CSRwire offers a-la-carte press release distribution to a global network of influential stakeholders and mainstream audiences—perfect for organizations just getting started in CSR or for those looking to get the most out of their corporate communications.
More from 3BL CSRwire