Published 10-15-12
Submitted by PwC Canada
PwC is pleased to announce that Nelson Switzer, former CEO of asherleaf consulting inc. (asherleaf) , a leading sustainability and business management advisory firm, has joined PwC to lead the firm's Toronto-based Sustainable Business Solutions (SBS) practice.
"Nelson's addition will help PwC to strengthen its ability to help clients add value, reduce risk, and enhance their reputation as it relates to environmental, social, and economic issues," says Bruce McIntyre, partner and leader of PwC's Sustainable Business Solutions Practice. "Nelson will be instrumental to the delivery of our business advisory services, which includes climate change consulting, corporate responsibility reporting, and the certification of environmental, health and safety management systems."
Switzer says, "I look forward to bringing my experiences with asherleaf to the team at PwC to help clients find innovative solutions to complex business problems. Together, we will help companies identify, mitigate and manage their environmental, social and economic impacts to preserve and enhance the communities we live in."
For more information, please visit www.pwc.com/ca/sustainability.
Follow PwC on Twitter at @PwC_Canada_LLP and on Facebook at www.facebook.com/pwccanada.
About PwC Canada
PwC Canada helps organizations and individuals create the value they're looking for. More than 5,700 partners and staff in offices across the country are committed to delivering quality in assurance, tax, consulting and deals services. PwC Canada is a member of the PwC network of firms with close to 169,000 people in 158 countries. Find out more by visiting us at www.pwc.com/ca.
© 2012 PricewaterhouseCoopers LLP, an Ontario limited liability partnership. All rights reserved.
PwC refers to the Canadian member firm, and may sometimes refer to the PwC network. Each member firm is a separate legal entity. Please see www.pwc.com/structure for further details.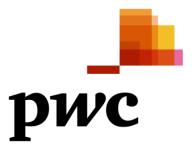 PwC Canada
PwC Canada
PwC firms provide industry-focused assurance, tax and advisory services to enhance value for their clients. More than 161,000 people in 154 countries in firms across the PwC network share their thinking, experience and solutions to develop fresh perspectives and practical advice. See www.pwc.com for more information. In Canada, PricewaterhouseCoopers LLP (www.pwc.com/ca) and its related entities have more than 5,300 partners and staff in offices across the country.
More from PwC Canada