Published 10-09-12
Submitted by Chimpanzee Productions, Inc.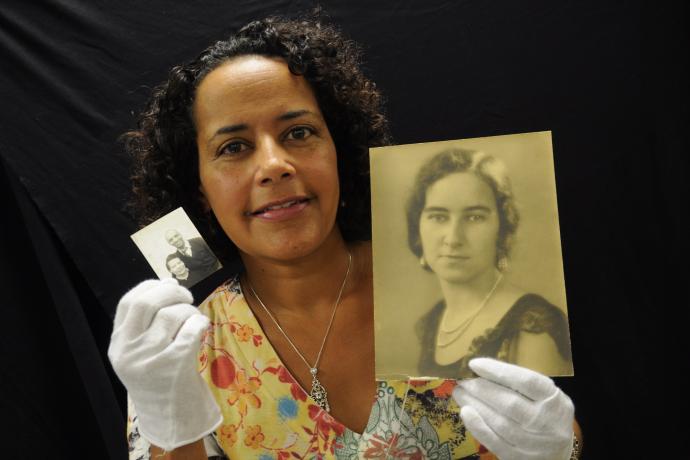 Digital Diaspora Family Reunion Roadshow participant Lisa Simmons, courtesy of Chimpanzee Productions, Inc.
The Brooklyn College Community Partnership (BCCP) will host the Flatbush Brooklyn edition of the Digital Diaspora Family Reunion (DDFR) Roadshow this October on the Brooklyn College Campus. The DDFR Roadshow—the brainchild of filmmaker, journalist and educator Thomas Allen Harris—will bring together students, staff, alumni, faculty and the local community to share stories contained in their family photographs during a week-long, multimedia community photo-sharing event funded by the Rockefeller Foundation NYC Cultural Innovation Fund.
"So much of our family histories are hidden away in attics and basements or buried on hard drives and cell phones. Yet those family photos are a treasure trove of stories about where we come from and how we are connected across our various differences, which is especially important at a time when we as Americans are grappling with who we are as a country," said Harris, CEO of Chimpanzee Productions and award-winning filmmaker whose own family archives serve as the basis for many of his films. "We are happy to be working with BCCP to bring this experience to Brooklyn College in our first campus-wide DDFR Roadshow and hope it will be a model for community engagement partnerships across the country."
From October 16-18, the BCCP invites the Brooklyn College community, local Flatbush residents and general public to participate in a series of entertaining and informative community photo-sharing sessions, a veritable "show and tell" revealing the diverse individual and family stories from the extended Brooklyn College community and surrounding neighborhoods. Dozens of campus groups will take part in the innovative DDFR Interactive Rodashow including: the Student Leadership Council, Black Male Initiative, LGBT Student Group and Advisory Board, Brooklyn College Alumni Association, Retirees, BCCP High School Program and the Brooklyn Arts Council.
The groundbreaking week of community photo-sharing will culminate in a "Grand Finale" on Thursday, October 25 featuring a sampling of the stories and personal reflections of many of the individuals who participated in the Roadshow, interactive narratives wherein the participants' family photo archives will be shown. The event will be streamed live on several social media platforms, inviting audiences from throughout New York and around the world to participate in the process by asking questions and contributing comments in real-time. Each individual photo-journey gathered during the DDFR Roadshow will be edited into "mini-movie" webisodes and shared on Brooklyn College, BCCP and DDFRtv websites and social media sites.
"We are really pleased to be working with DDFR on this inventive project," said Steve Ausbury, Deputy Director of BCCP. "We have been looking for fun ways to engage all the different members of the Brooklyn College community and the DDFR Roadshow offers an exciting series of opportunities to do just that."
The public is strongly encouraged to share their images and stories online as part of the DDFR SocialNet http://ddfrsocialnet.ning.com, even if they cannot attend the Brooklyn College events in person. To learn more about DDFR Roadshow and how to participate, contact BCCP at http://thebccp.org or steve@thebccp.org. The DDFR Roadshow has visited several communities within New York City and been a part of major gatherings in Georgia, Maryland, Massachusetts and New Jersey. To bring the DDFR Roadshow to your community, visit www.DDFR.tv or email DDFRtv@gmail.com.
About the Brooklyn College Community Partnership
Brooklyn College Community Partnership (BCCP) was founded in 1994 to create networks of educational innovation that connect under-served youth, local middle and high schools, high-need communities, and Brooklyn College.  The BCCP services include: school day and after-school programs that use service-learning, college prep and the arts to tap into the varied interests and learning styles of youth to link them to educational success, underscore the importance of social-emotional development and build resilience in youth by developing effective strategies to thrive.
About Chimpanzee Productions, Inc.
Chimpanzee Productions, Inc. (CPI) is a Harlem-based film, television and multimedia production company founded by Thomas Allen Harris in 1992 that is dedicated to producing unique visual experiences that embody the search for identity, family, and spirituality. Chimpanzee Productions utilizes film, video, still photography, installations, performance and interactive technology to draw audiences into dialogue that transcends the artificial barriers which separate people. CPI's award-winning films include, The Twelve Disciples of Nelson Mandela, E Minha Cara/That's My Face and Marriage Equality: Byron Rushing and the Fight for Fairness, as well as the much anticipated feature documentary for PBS (currently in post-production), Through A Lens Darkly: Black Photographers and the Emergence of a People. The company's innovative Digital Diaspora Family Reunion multimedia community engagement initiative is gaining audiences through the www.DDFR.tv website and family photo-sharing "roadshows" currently touring the North America. CPI films and commissioned projects have screened at festivals around the world including Sundance, Berlin, Toronto, FESPACO, and Outfest and been broadcast on PBS, the Sundance Channel, ARTE, CBC, Swedish broadcasting Network and New Zealand Television.