Published 10-03-12
Submitted by Points of Light
Scholastic Media, a division of Scholastic Inc., the global children's publishing, education and media company, and HandsOn Network, the volunteer activation division of Points of Light and the largest volunteer network in the nation, announced today the winners of its fourth annual 'BE BIG In Your Community Contest,' a signature program of the ongoing Clifford The Big Red Dog®  BE BIG!™ campaign.
Sixteen-year-old Zachary Certner from Morristown, N.J., was selected as the grand prize winner for his BIG idea to help provide special needs children with athletic and social programming to improve their physical abilities, communication skills and self-esteem. Zachary's idea has been awarded with a $5,000 grant from the BE BIG Fund to help support his program SNAP, Special Needs Athletic Programs, which also provides sensitivity training to schools throughout New Jersey. Certner said his goal for SNAP is to help create a more empathetic, compassionate and accepting world. He created a schedule of sports clinics that have given special needs children the chance to learn and play sports, with peer mentors, in a safe environment. Over five years, the program has grown from one basic sports clinic to include programs in art, music, tae kwon do, yoga, golf and swimming.
"Zachary saw the BE BIG Contest as an opportunity to expand a successful program to help more children," said Deborah Forte, president of Scholastic Media and executive vice president of Scholastic Inc. "Scholastic is proud that the BE BIG program continues to inspire and engage young people to improve the lives of others – and we're proud of Zachary and his impact in his community."
"Zachary realized at a young age that he could take steps – big steps – to improve the lives of others," said Michelle Nunn, CEO of Points of Light and author of Be the Change. "He's an inspiration to people of all ages and we see big things in his future."
The national contest invited participants to submit a BIG idea that demonstrates Clifford's Big Ideas (Share, Help Others, Be Kind, Be Responsible, Play Fair, Be a Good Friend, Believe in Yourself, Have Respect, Work Together and Be Truthful) for a chance to win a community grant to be used toward implementing the winning proposals. Since its inception in 2009, the contest has generated more than 3,400 entries from more than 82,000 children, parents, teachers and community leaders ranging in age from 2 to 70 years old, and has awarded more than $210,000 in grants to bring these BIG ideas to life.
Five additional contest entries were selected as first-place prize winners in the 'BE BIG In Your Community Contest;' each idea will be awarded a $1,000 community grant. The five first place prize winners are:
Laura Kooyman, 42, of Catonsville, Md., will create a program for parents living on the military base where she is a teacher to bring their kids to school one evening a month. The kids will attend 'Culture Camp' and learn about art and music, among other topics, while an activity such as bowling, dinner or a museum outing would be planned for parents to interact and connect with other parents to build a local network and support system.
Luke S., 16, of California, and his team will publish an elementary student newspaper for five local lower-income school districts.
Dana Halle, 48, of Newport Beach, Calif., and her team will create a Teen Club to educate and support young teens with Down syndrome. The Teen Club is intended to serve as an after-school education and social club where teens with Down syndrome can receive tutoring, work on developing social skills and make new friends.
Kristen Young, 35, of Lafayette Hill, Pa., and her team will expand on a program called upcycling. Young's first grade class, along with her school's life skills K-3 class, collects trash that is not recyclable, sorts it, and sends it to Teracycle. In turn, Teracycle sends the team checks for the trash that they collect. They donate the money they receive to various charities. Young will expand this program to other schools in the district and organizations in her community.
Victoria B., 14, of Texas, will create 'Clothes Closet', a program to help orphaned or foster children in instances when they have been left with very little clothing. Victoria hopes that these kids will help underprivileged kids to feel like 'regular teens.'
The winning BIG Ideas were selected by a panel of judges based on four criteria: feasibility, creativity, sustainability and impact. A complete list of winners, and profiles about their BIG ideas, can be found at www.scholastic.com/cliffordbebig.
The Clifford BE BIG campaign invites everyone to take action and raise awareness for how Clifford's BIG Ideas can make the world a better place. Its mission is to recognize and reward others for their BIG actions, to catalyze change in local communities, and to provide resources for everyone to share BIG ideas. Clifford's Big Ideas came out of the curriculum developed for the award-winning animated television series Clifford the Big Red Dog, based on the books by Norman Bridwell, currently in its twelfth consecutive season on PBS KIDS®. Scholastic is currently celebrating Clifford the Big Red Dog's 50th anniversary.  Since the first Clifford book was published in 1963, the property has expanded to include 126 million books in print and remains a literary classic embraced by parents, teachers and kids.
For information about Clifford's – please visit www.scholastic.com/clifford, www.facebook.com/officialclifford or Scholastic's media room at http://mediaroom.scholastic.com/clifford.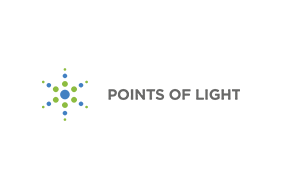 Points of Light
Points of Light
Points of Light is a nonpartisan, global nonprofit organization that inspires, equips and mobilizes millions of people to take action that changes the world. We envision a world in which every individual discovers the power to make a difference, creating healthy communities in vibrant, participatory societies. Through 177 affiliates across 38 countries, and in partnership with thousands of nonprofits and corporations, Points of Light engages 5 million volunteers in 16 million hours of service each year. We bring the power of people to bear where it's needed most.
More from Points of Light