Published 10-01-12
Submitted by Points of Light
Points of Light and BoardSource are proud to announce the launch of the Board Member of the Month Award, which will honor outstanding Americans for their commitment to advancing the public good through exceptional nonprofit board leadership. 
"The leadership of board members is critical to the effectiveness of nonprofits. Their personal commitment to the organization's mission makes them important advocates for the cause and multiplies the organization's message and connection to the community," said Michelle Nunn, CEO of Points of Light. "By recognizing the impact board members make through their work, we hope to inspire others to use their time, talent, voice and money for a cause close to their heart."
Nominees for the Board Member of the Month Award will be evaluated based on their record of excellence in board leadership, their strong commitment to their organization and the positive impact their actions have had on advancement of their organization's mission. 
"With nearly 25 years of experience building effective nonprofit boards, BoardSource understands how critical it is to have board members who are deeply committed to its mission and who bring expertise and a depth of experience in key areas," said Linda Crompton, BoardSource president and CEO. "We are thrilled to partner with Points of Light to recognize individuals whose exceptional leadership has been a driving force within their organizations and whose commitment to board service has enhanced the public good."
Recipients of the Board Member of the Month Award will receive complimentary registrations to Points of Light's annual Conference on Volunteering and Service and the BoardSource Leadership Forum. In addition, they will receive a one-year BoardSource membership that includes access to hundreds of members-only resources addressing the latest news, issues and best practices in nonprofit governance. 
The recipients of the Board Member of the Month Award will become candidates for the Board Member of the Year Award, which will be presented by Points of Light and BoardSource at a jointly hosted signature event in 2013. 
To learn more and to nominate someone for the Board Member of the Month Award, please visit www.pointsoflight.org/programs/recognition
About Points of Light           
Points of Light is the leading volunteer organization with more than 20 years of history and a bipartisan presidential legacy. Our mission is to inspire, equip and mobilize people to take action that changes the world. We connect people to their power to make a meaningful difference by providing access to tools, resources and opportunities to help them use their time, talent, voice and money to meet the critical needs of our communities. We are organized into three divisions: Programs, Civic Incubator and Action Networks, which include HandsOn Network, the largest network of 250 local volunteer centers across the country and around the world; generationOn, the youth service movement that ignites the power of kids to make their mark on the world; AmeriCorps Alums, the national service alumni network that activates the next generation of service leaders; and Points of Light Corporate Institute, our enterprise that enables companies to engage their employees and customers in service. For more information, visit www.pointsoflight.org. 
About BoardSource
BoardSource has long recognized the critical role that boards play in overseeing their organizations' mission, finance, and strategic direction. With nearly 25 years of hands-on experience working exclusively with nonprofit boards, BoardSource has become the go-to resource for funders, partners, and nonprofit leaders who want to magnify their impact within the community through exceptional governance practices. BoardSource supports a community of more than 60,000 individuals with customized diagnostics, in-person and virtual trainings, and original publications. BoardSource is a 501(c)(3) organization. For more information, visit www.boardsource.org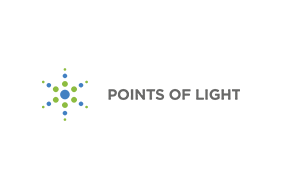 Points of Light
Points of Light
Points of Light is a nonpartisan, global nonprofit organization that inspires, equips and mobilizes millions of people to take action that changes the world. We envision a world in which every individual discovers the power to make a difference, creating healthy communities in vibrant, participatory societies. Through 177 affiliates across 38 countries, and in partnership with thousands of nonprofits and corporations, Points of Light engages 5 million volunteers in 16 million hours of service each year. We bring the power of people to bear where it's needed most.
More from Points of Light