Published 09-12-12
Submitted by Points of Light
Points of Light is hosting an online auction in conjunction with its inaugural 2012 Tribute Awards gala. Proceeds will support the organization's mission to inspire, equip and mobilize people to take action that changes the world. Bidders can view the items online. Bidding went live on Friday, Sept. 7, and ends at 10 p.m. ET on Friday, Sept. 21.
A limited number of items will be provided that include exclusive experiences and one-of-a-kind items only available during this auction. Items include:
Airline tickets to Istanbul
Round of golf with NBA Legend Dikembe Mutombo
President George H. W. Bush's signed book collection
Private dinner with international superstar musician and producer YOSHIKI
Linkin Park VIP fan experience
New York Yankee signed memorabilia
Gift certificates for some of D.C.'s finest restaurants
Autographed children's book written by Olympian Kristi Yamaguchi
The 2012 Tribute Awards, entitled "Changing Lives Through Service," honored five individuals who embody the vision of "a thousand points of light" that President George H. W. Bush first invoked during his acceptance speech at the 1988 Republican National Convention. Neil Bush, chairman of the Points of Light board of directors, and His Excellency the Ambassador of Japan and Mrs. Fujisaki chaired the event.
The 2012 Tribute Award honorees were Bonnie McElveen-Hunter, chair of the American Red Cross; Wes Moore, Army combat veteran and host of the TV show "Beyond Belief;" Aya Higa and Naho Hozumi, both of Hands On Tokyo; and Scott Davis, chairman and CEO of UPS.
ABC News correspondent Deborah Roberts and Al Roker of NBC News served as emcees at the event, which gathered 250 corporate, political and community leaders to celebrate individuals and organizations whose extraordinary contribution to volunteering and service has made their communities and the world better. Special guests include Yamaguchi, two-time U.S. Olympian ice hockey player Bret Hedican, Mutombo, YOSHIKI and TV producer Ann Lopez, co-founder of the Lopez Foundation and Points of Light Service Ambassador.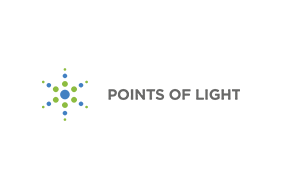 Points of Light
Points of Light
Points of Light is a nonpartisan, global nonprofit organization that inspires, equips and mobilizes millions of people to take action that changes the world. We envision a world in which every individual discovers the power to make a difference, creating healthy communities in vibrant, participatory societies. Through 177 affiliates across 38 countries, and in partnership with thousands of nonprofits and corporations, Points of Light engages 5 million volunteers in 16 million hours of service each year. We bring the power of people to bear where it's needed most.
More from Points of Light