Published 09-10-12
Submitted by SharedXpertise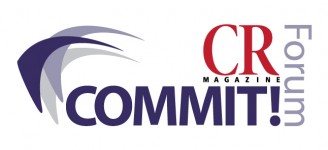 The 2012 COMMIT!Campaign today announced Environmental Defense Fund (EDF) is joining the campaign to ask companies to make a commitment to participate in the EDF Climate Corps program, the innovative fellowship program that matches specially trained graduate students with businesses to identify cost-effective opportunities to save energy and reduce emissions.
By becoming part of the COMMIT!Campaign – a multimedia platform for over 100 other corporate and individual commitments – EDF is asking leading companies to host an EDF Climate Corps fellow for 10-12 weeks over the summer in 2013. Progress on all the commitments made as part of the Campaign is tracked and reported on quarterly through media outlets including CR Magazine.

In 2012, more than 90 fellows from the nation's top graduate programs worked in 87 organizations, including companies such as Boeing, Facebook, Google and Verizon. EDF Climate Corps is a high-profile, cost-effective way for companies to save energy, save money and improve productivity, regardless of whether they have advanced energy management strategies or are just starting out.
Since 2008, EDF Climate Corps fellows have identified energy-saving opportunities that could:
Cut enough energy usage to power nearly 100,000 homes a year
Avoid the carbon emissions of 200,000 cars annually
Save more than $1 billion in net operating costs over the project lifetimes
"Energy efficiency is a huge, and largely untapped, opportunity at a time when organizations everywhere are looking for ways to boost their bottom line," said Victoria Mills, managing director with EDF's Corporate Partnerships Program. "EDF Climate Corps has delivered proven results for organizations committed to cutting costs and greenhouse gas emissions. Participating in the COMMIT!Campaign will help expand our reach and bring in more leading organizations to seize the value provided by EDF Climate Corps ."
"We greatly value EDF's participation in the COMMIT!Campaign which provides motivation for organizations to not only improve the role of their businesses in society but also to become leaders in responsible, sustainable and transparent practices," said COMMIT!Forum Chairman Richard Crespin.
The COMMIT!Campaign provides a constant drumbeat, deadline and platform for showcasing corporate commitments that meet the following criteria: aligned in serving the company's business and corporate responsibility strategy; verifiable with defined outcomes to monitor progress against; and sustainable where companies have a long-term stake in the success of the commitment. 
These are then featured on a world stage at the COMMIT!Forum, taking place October 2-3 at the Cipriani Wall Street in New York City, in front of over 800 C-suite executives, heads of corporate responsibility, sustainability officers, investment analysts, NGO and government leaders, academics, and more.  During the exciting "Big Idea Lightning Round" presenters have just 10 minutes to pitch the plenary audience on how their idea is changing the world, inviting others to sign on.  The complete conference agenda can be found at www.commitforum.com.

Thanks go to Forum sponsors Adecco MSP, AHA!, Allegis Talent2, AT&T, BrownFlynn, Deloitte, Green Mountain Coffee Roasters, Guidant Group, MGM Resorts International, Mosaic, Staff Management, and State Street for their support.
About the COMMIT!Forum 
The COMMIT!Forum, calls people to commit to changing the world. How? By inspiring, educating, and engaging them in ways that prepare them to make the commitments necessary to change themselves and their organizations. The path to COMMIT, which began on April 17th at the New York Stock Exchange with the announcement of CR Magazine's 13th Annual 100 Best Corporate Citizens, culminates October 2-3 in New York City at the Forum and continues well beyond through commitments people make there.
About CR Magazine
CR Magazine is the voice of the corporate responsibility profession covering case studies, best practices, and trends in the 5 primary segments of the CR profession: a) Governance, Risk, Compliance, b) environmental sustainability c) Corporate Social Responsibility, d) philanthropy, and e) workforce/diversity. 
About Environmental Defense Fund 

Environmental Defense Fund is a leading national nonprofit organization that creates transformational solutions to the most serious environmental problems. EDF links science, economics, law and innovative private-sector partnerships. Connect with EDF on Twitter and Facebook.
SharedXpertise
SharedXpertise
About CR Magazine www.thecro.com CR Magazine is the only print publication covering the full range of corporate responsibility, providing decision-makers with the data and insights they need to maximize their positive impact while reducing or eliminating the negative. CR covers case studies, best practices, and trends across the CR field: a) governance, b) environmental sustainability c) employee relations, d) human rights, e) financial performance, and f) philanthropy.
More from SharedXpertise