Published 09-05-12
Submitted by Avon Products, Inc.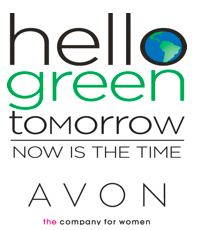 The Avon Hello Green Tomorrow project, a global fundraising and mobilization program of Avon Products, Inc. [NYSE: AVP], has awarded a total of $1 million to The Nature Conservancy (TNC) and World Wildlife Fund (WWF) to help end deforestation. This latest contribution brings total Hello Green Tomorrow funds raised to over $4.5 million since the program was launched in 2010. The $1 million represents funds raised through midyear 2012 from ongoing Avon Hello Green Tomorrow global efforts.
The funds are raised through special Hello Green Tomorrow fundraising products sold in more than 50 countries by Avon Sales Representative and online, creating a virtual "green army" engaged in helping end deforestation. All proceeds are contributed to help restore two sites: the Atlantic Forest in Brazil, in partnership with The Nature Conservancy, and the tropical forests of Indonesia (Borneo and Sumatra), with World Wildlife Fund. These forests are two of the most critically endangered in the world, and are important for mitigating climate change, supporting biodiversity and providing for the health and economic well being of millions of people.
In addition to fundraising, Hello Green Tomorrow is committed to educating the 6.4 million independent Avon Sales Representatives, 300 million Customers and the public on "5 Simple Things" everyone can do in their daily life: Reduce, Reuse, Recycle, Rethink, Replant, including through the website http://www.hellogreentomorrow.com/
Avon has a unique capacity to engage and mobilize people, as it has done for the issues of breast cancer and domestic violence, and, since 2010, to help end deforestation. Highlights can be seen in the Hello Green Tomorrow Impact Video.
Tod Arbogast, Avon Vice President, Sustainability & Corporate Responsibility, noted that: "Avon is committed to doing our part to help end deforestation. Forests serve as the lungs of the entire earth and they provide critical ecosystem support. The scope and reach of Avon's worldwide network, coupled with the expertise of WWF and TNC, allow Avon Hello Green Tomorrow to be a powerful force in helping end deforestation."
WWF President and CEO Carter Roberts noted that "of all the places WWF works, the rate of destruction in Borneo and Sumatra defies the imagination. Devising a solution equal to the weight of humanity's pressure on this rich place will take persistence, creativity and collaboration. We are grateful for the support and leadership of partners like Avon who realize we all have an important role to play in meeting this challenge."
"With support from Avon, The Nature Conservancy has made significant progress in restoring Brazil's Atlantic Forest, one of the most endangered and biologically diverse forests in the world," said Mark Tercek, president and CEO of The Nature Conservancy. "The Atlantic Forest is home to tens of thousands of plant and animal species - many found nowhere else on Earth – and it is the source of drinking water for 70 percent of Brazil's population. It is critical that we save the Atlantic Forest for both people and nature."
Avon Products, Inc.
Avon, the company for women, is a leading global beauty company, with over $11 billion in annual revenue. As the world's largest direct seller, Avon markets to women in more than 100 countries through approximately 6.4 million active independent Avon Sales Representatives. Avon's product line includes beauty, fashion and home products, and features such well-recognized brand names as Avon Color, Anew, Skin-So-Soft, Advance Techniques, Avon Naturals, and Mark. Avon is a global leader in the causes of breast cancer and domestic violence, with more than $860 million raised and awarded worldwide through the Avon Foundation for Women and global philanthropic programs. The company is committed to continual improvement in environmental stewardship, and is included in the Newsweek green rankings of the top 500 largest US companies and the 100 Best Corporate Citizens. Learn more about Avon at www.avoncompany.com.
The Nature Conservancy
The Nature Conservancy (TNC) was founded in 1951 and is a leading conservation organization working around the world to protect ecologically important lands and waters for nature and people. The organization is headquartered in the US and works in more than 30 countries. The Nature Conservancy has protected more than 119 million acres of land and 5,000 miles of rivers worldwide, and they operate over 100 marine conservation projects globally. Visit www.nature.org to learn more.
World Wildlife Fund
WWF is one of the world's leading conservation organizations, working in 100 countries for the past 50 years. With the support of almost 5 million members worldwide, WWF is dedicated to delivering science-based solutions to preserve the diversity and abundance of life on Earth, halt the degradation of the environment and combat climate change. Visit http://www.worldwildlife.org to learn more.

Avon Products, Inc.
Avon Products, Inc.
Avon Products, Inc. recognized the beauty of "corporate responsibility" nearly a century before the term became part of the cultural lexicon. From the very beginning, in 1886, forward-thinking Avon founder David H. McConnell committed his company "to meet fully the obligations of corporate citizenship by contributing to the well-being of society and the environment in which it functions" - words that still guide the company more than 125 years later.
Avon is committed to the mission to "do well by doing good," managing its business enterprise to the highest standards while leveraging its unique capacity to mobilize and engage people to be agents of change in their lives, communities and the world.
Avon's Corporate Responsibility reflects the three pillars of Avon's corporate mission and drives the focus of the company's corporate responsibility efforts and achievements:
More from Avon Products, Inc.